Analysis
Can Trump Secret Service agent be forced to testify? Clinton's was.
By
The Washington Post
June 28, 2022
---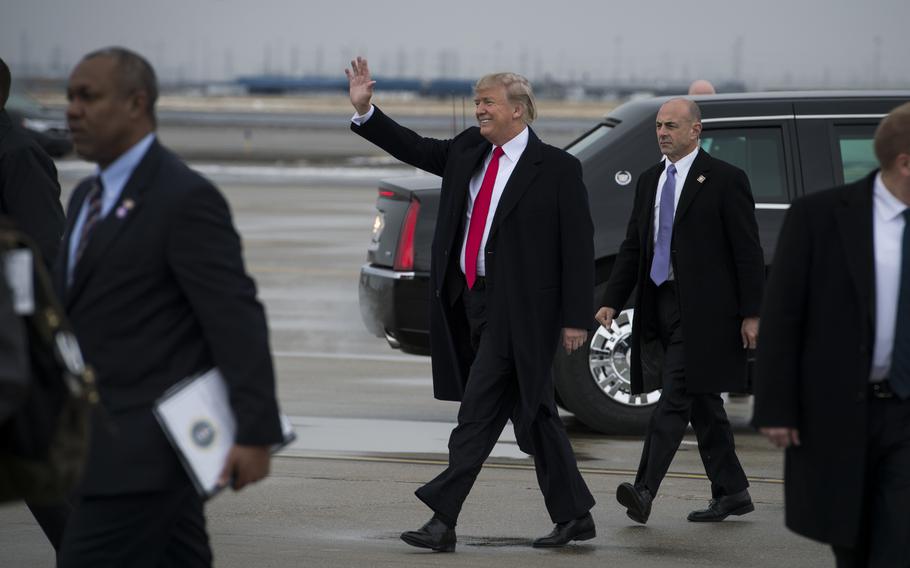 Can a Secret Service agent be subpoenaed? Well, there's precedent.
Cassidy Hutchinson, an aide to former White House chief of staff Mark Meadows, gave stunning testimony Tuesday to the House committee investigating the Jan. 6, 2021, attack on the Capitol.
After President Donald Trump's speech at the Ellipse that day, he lunged at a Secret Service agent who refused to take him to the Capitol, she testified. Hutchinson was told of the incident by Anthony Ornato, a senior Secret Service official, minutes after it happened in the presence of the agent Trump allegedly attacked, who appeared to be shaken up, she testified.
The Twitter account for Republican members of the House Judiciary Committee immediately dismissed Hutchinson's testimony as hearsay.
The agent in question, Robert Engel, has already testified behind closed doors, Politico reported, though it did not include a description of this alleged altercation.
So could he be called again and forced to testify about this specific incident? Can a Secret Service agent be subpoenaed?
Well, there's precedent. In 1998, several agents protecting President Bill Clinton were compelled to testify before a grand jury about the president's affair with a young intern as he was being investigated by independent counsel Kenneth W. Starr.
The Clinton administration fought the move for months - a fight that made it all the way to the Supreme Court. Just four minutes before the scheduled testimony, then-Chief Justice William H. Rehnquist declined to stop it.
Moments later, behind closed doors on July 18, 1998, a Starr deputy questioned then-agents Gary J. Byrne and John Muskett, plus retired agent Robert Ferguson. Days later, Clinton's security lead, Larry Cockell, was also compelled to testify. Though the testimony was not public, it was ultimately published as part of the Starr report.
In her 2021 book, "Zero Fail: The Rise and Fall of the Secret Service," Washington Post reporter Carol Leonnig got a behind-the-scenes look at how the agents reacted to the subpoenas. In short, they hated it.
There were exceptions. Lew Fox had just retired from the Secret Service and was living in Pennsylvania when news of Clinton's affair first broke, according to Leonnig. While in the White House, Fox had struck up a friendship with the intern, Monica Lewinsky, and so when a local reporter called him later that day, he confirmed that he had seen her a lot around the West Wing. Soon his comment was national news, and a Secret Service agent in public affairs called him, "asking him gruffly whether he planned on doing anymore interviews," Leonnig wrote. He said no.
"You're probably going to get a subpoena," the agent warned him.
Fox wasn't concerned. A few weeks later, FBI agents interviewed him in his home. He didn't know it then, but his account appeared to contradict Clinton's, who had testified he had never been alone with Lewinsky.
Pandora's box had been opened: An agent, though a retired one, had spoken publicly and to authorities about his work for a sitting president. Soon, Starr's office subpoenaed Secret Service logs and warned Secret Service Director Lew Merletti that it planned to subpoena agents on active duty.
Merletti met with Starr at Starr's office and took him on a tour through history, according to Leonnig. Every president who had been assassinated had his security officials standing more than a few feet away, Merletti told him. President Ronald Reagan could easily have died when shot in 1981 if agent Tim McCarthy hadn't been within arm's reach. If presidents began to worry agents could be called to testify about them, it could seriously harm the Secret Service's mission. Keeping a president safe meant trusting the agents enough to keep them close.
Starr didn't care, and the ensuing legal battle lasted more than six months, with Secret Service lawyers arguing agents had "executive protection privilege." They lost every time, then appealed to a higher court. On the day of the scheduled interviews, Rehnquist delivered the final blow.
---
---
---
---