Buffalo suspect charged with federal hate crimes, could face death penalty
By
The Washington Post
June 16, 2022
---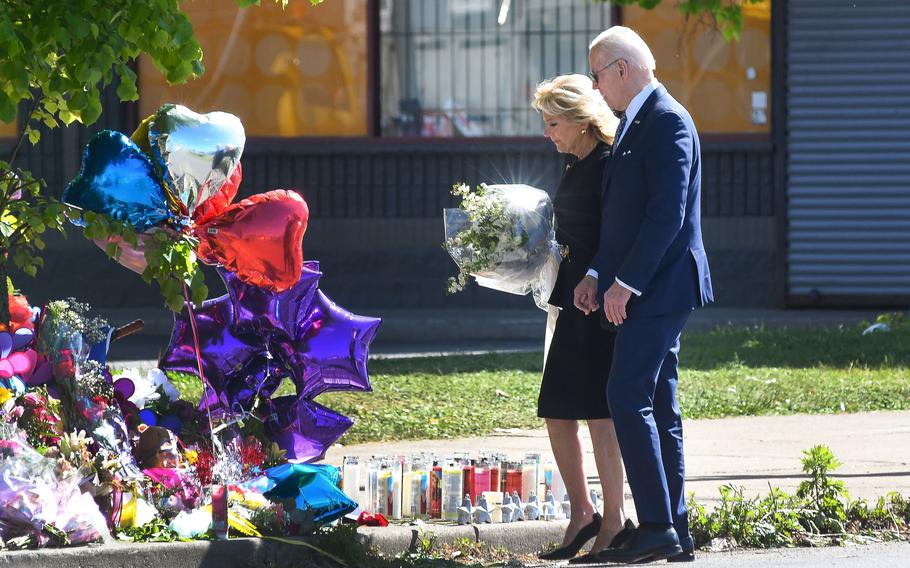 Payton Gendron, an 18-year-old white man, was charged Wednesday with federal hate-crime violations and a federal gun offense in the mass shooting at a Buffalo, N.Y., grocery store that left 10 Black people dead last month, making him potentially eligible for the death penalty.
Authorities announced the 27-count indictment as Attorney General Merrick Garland met in Buffalo with dozens of survivors of the May 14 shooting and family members of those who were slain. He spoke in broad terms about the federal government's efforts to address rising white nationalism.
"Hate-fueled acts of violence terrorize not only the individuals who were attacked, but also entire communities," Garland said at a news conference. "We will be relentless in our efforts to combat hate crimes, to support communities terrorized by them and to hold accountable those who perpetrate them."
In an 11-page criminal complaint filed in U.S. District Court, the FBI's lead investigator wrote that the evidence showed there is probable cause that Gendron shot 11 Black people at the Tops Friendly Markets because of "their actual and perceived race and color" and shot two white victims while trying to harm the others. One Black victim and both white victims survived.
Two weeks ago, a state grand jury indicted Gendron on 25 state counts, including domestic terrorism and murder as a hate crime. New York law prohibits the death penalty in state cases, but the federal charges open Gendron to potentially facing capital punishment.
Garland announced the day of the shooting that the Justice Department would conduct a parallel investigation, while also supporting local officials. Before the rampage, investigators say, Gendron wrote online that he subscribed to a racist ideology called the "great replacement" theory.
Experts said the federal charges came relatively quickly, amid a broad national debate over hate crimes and racial justice. Hate crimes have been rising in the United States for the past several years, according to statistics compiled by the FBI. Last fall, the agency reported a total of 8,305 hate crimes, the most since 2001 and third-highest number since the federal government began tracking such data nearly three decades ago.
"If there was ever a case when hate crimes charges were appropriate, this was the one," said Damon T. Hewitt, president and executive director of the Lawyers' Committee for Civil Rights Under Law. "What we so often see is federal prosecutors waiting to see what plays out on the state and local level. We saw the opposite here with the parallel investigations."
Garland met privately with about 40 Buffalo residents at the Apollo Media Center. He was joined by Trini E. Ross, the U.S. attorney for the Western District of New York; Associate Attorney General Vanita Gupta; Assistant Attorney General Kristen Clarke, who leads the civil rights division; and Paul Abbate, deputy director of the FBI. The attorney general also laid a bouquet of white roses at a memorial for the victims near the Tops market, on the corner of Jefferson Ave and Landon Street.
Amanda Drury, whose sister Roberta Drury was among those killed, attended the meeting with Garland and said the attorney general made clear that Justice officials were determined to take a strong stand against attacks motivated by racial hate.
"They're doing very well to make sure that surviving family members are informed of the process, prepared for the process and understand what is happening in real time," Drury said in an interview.
Ross, the U.S. attorney, who grew up in Buffalo, said Gendron spent months planning and arming himself for the attack and that "no words can adequately capture this kind of terror." She said the federal investigation, which remains ongoing, "may not be as fast as some hope, but it will be thorough, it will be fair and it will be comprehensive."
The criminal complaint documents how Gendron allegedly planned and carried out his attack, authoring a lengthy, racist screed that included a detailed plan for the shooting and then recording the carnage with a GoPro video camera. In the document, Gendron declared that he is a "white man seeking to protect and serve my community, my people, my culture, and my race." His goal, he allegedly wrote, was to kill "as many blacks as possible."
Authorities said that the federal investigation, which remains ongoing, includes an examination of Gendron's contact with other individuals in online chatrooms. They emphasized that no one else has been charged in the case.
Gendron allegedly used a Bushmaster XM-15 semiautomatic rifle, which he purchased legally from a licensed dealer but then illegally modified to hold more ammunition. In the wake of several recent mass shootings — including a massacre in Uvalde, Texas, last month in which an 18-year-old killed 19 students and two teachers — federal lawmakers have debated stiffer gun-control measures, including raising the minimum age to buy an assault rifle from 18 to 21.
President Joe Biden has backed that provision, but most Republicans oppose it — and it is not included in the compromise deal currently under consideration. In response to a question about the minimum-age requirement, Garland said the Justice Department supports Biden's position and is providing information for lawmakers during the legislative negotiations.
The federal case against Gendron could present a tricky situation for Garland, who has placed a moratorium on executions in federal cases while the department reviews regulations on the death penalty made during the Trump administration.
Some civil rights groups have pressured the Biden administration to abolish capital punishment, citing moral objections and concerns that such punishments disproportionately harm racial minorities. Hewitt said he has been asked by some advocates to call on Garland not to pursue the death penalty in the Buffalo shooting for those reasons.
Garland said prosecutors will follow Justice Department guidelines on capital cases and consult with the survivors and family members of the victims when deciding how to move forward. Drury said family members agreed during their meeting with Garland on Wednesday to put off discussing the death penalty issue until a later date.
"We don't want to come to anything quickly, and we want to make sure we're making the right decision," she said. "As a group, we realize the discussion will come up. And when it gets to that point, we'll tackle it as a group."
The Justice Department under the Biden administration has defended existing federal death sentences when they have been challenged in court, including for a gunman who killed nine Black parishioners at a Charleston, S.C., church in 2015 and the surviving Boston Marathon bomber. In both cases, the death sentences were pursued during the Obama administration.
Jonathan M. Smith, a Justice official during the Obama administration, said prosecutors typically give great weight to the desire of survivors and family members of victims in assessing how to proceed.
He pointed to Garland's decision in February to prosecute hate crimes charges against three white men already convicted of killing Ahmaud Arbery, a Black man, after Arbery's mother objected to a proposed federal plea deal. The men were subsequently convicted in the federal case.
"The families' wishes are very influential and very important," Smith said.
Hewitt said the question of whether to pursue the death penalty is "very complicated."
"But the bigger story here is not whether [the Buffalo gunman] is charged with a capital offense or put to death — but the fact that he was charged with a hate crime," Hewitt said. "The mirror was held up to him. Hate crimes themselves are message crimes. The prosecution of such have to send messages too."
---
---
---
---