Osprey carrying 5 Marines crashes in California 
By
Stars and Stripes
June 9, 2022
---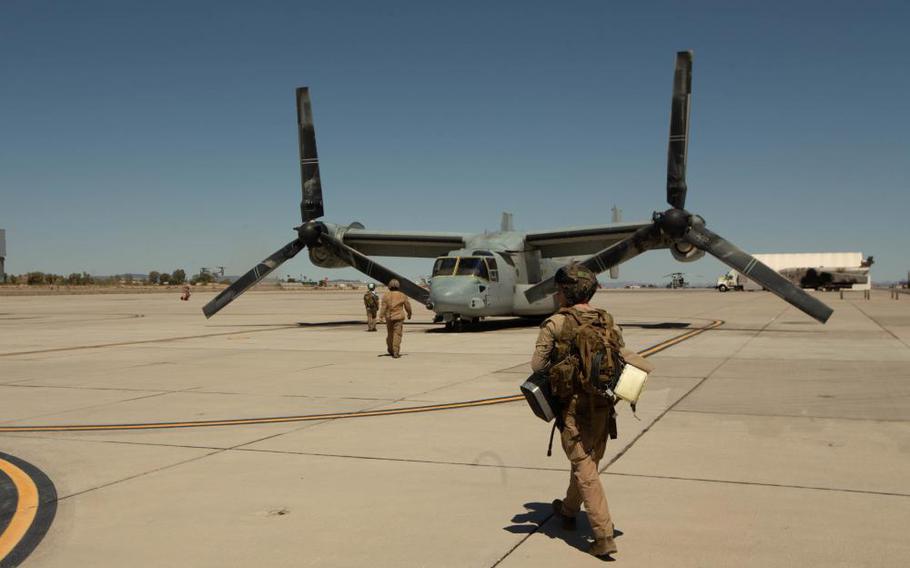 A Marine Corps MV-22B Osprey crashed Wednesday afternoon in Southern California about 35 miles from the Mexican border, killing as many as four people on board, according to an area media report.
The Osprey, assigned to a squadron in Marine Aircraft Group 39 at Marine Corps Air Station Camp Pendleton, went down around 12:25 p.m. near Glamis, Calif., according to a tweet Wednesday afternoon by the Marine Corps.
The Corps said it was waiting for further information on the five Marines aboard the tiltrotor aircraft. But the Los Angeles Times, citing a "federal source who spoke on condition of anonymity," reported that four people on board were killed.
Glamis, Calif., is about 30 miles from the border with Mexico and about 50 miles from Yuma, Ariz. The North Algodones Dunes Wilderness, or the Glamis Dunes, are nearby.
Reports that the Osprey carried nuclear material on board were incorrect, according to the Marine Corps tweet. It did not elaborate.
A spokesperson from 3rd Marine Aircraft Wing at Marine Corps Air Station Miramar in San Diego had not responded to an email from Stars and Stripes by 8 p.m. Wednesday in California.
Emergency personnel with the Imperial County Fire Department and a federal fire department responded shortly after noon to the crash site in the vicinity of Coachella Canal Road and Highway 79, according to a tweet by Naval Air Facility El Centro, Calif., about 45 miles southeast of Glamis.
Video footage posted by News 11 Yuma, Ariz., of emergency vehicles by the crash site show a sign that reads, "Danger. Military training in progress. Do not enter."
The 3rd Marine Aircraft Wing also has units at Marine Corps Air Station Yuma and in California at Marine Corps Air Ground Combat Center Twentynine Palms.
The Osprey is the second military aircraft to fall in Southern California this month.
A Navy pilot was killed June 3 when his F/A-18 Super Hornet came down near Trona. Lt. Richard Bullock was on a routine training mission when the Super Hornet crashed around 2:30 p.m. in a remote section of the Mojave Desert, according to the Navy.
Bullock was assigned to Strike Fighter Squadron 113 at Naval Air Station Lemoore, about 40 miles southwest of Fresno, Calif. Trona is about 300 miles northwest of Glamis.
---
---
---
---