VA secretary sets goals to house more veterans in LA, prevent homelessness
By
Stars and Stripes
June 3, 2022
---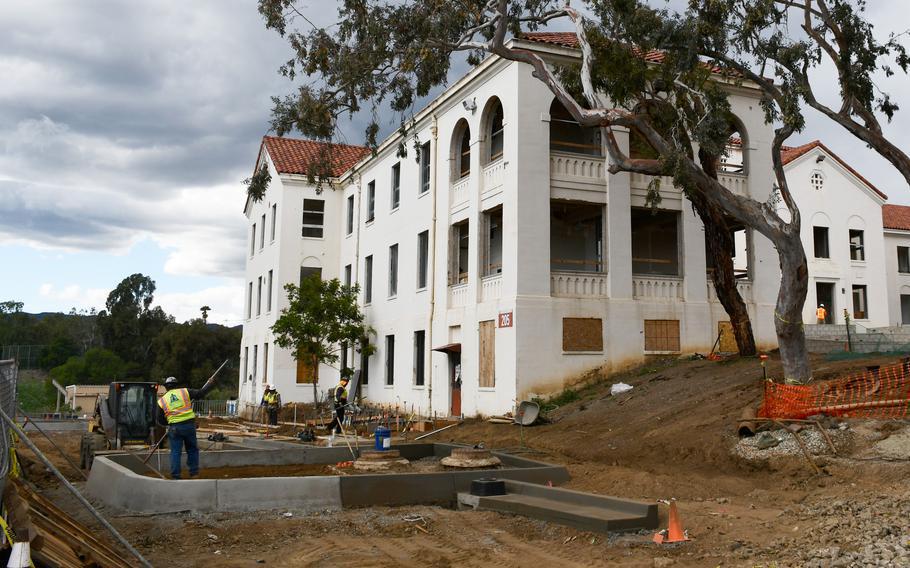 WASHINGTON– Department of Veterans Affairs Secretary Denis McDonough said Friday that the agency will get more veterans into homes this year in Los Angeles and help prevent homelessness.
The agency will get 1,500 additional veterans into homes, and 180 housing units will be added to the campus of the West Los Angeles VA Medical Center, along with 535 individual veteran housing units through project-based vouchers, McDonough told attendees at the National Coalition for Homeless Veterans Conference, a three-day event that gathers community-based service providers working with veterans experiencing or at risk of homelessness.
The coalition held the conference for the first time in two years. The theme for this year's conference was "Coming Together: Facing the Future," and consisted of more than 600 service providers and partners who sought resources and technical assistance for homeless veterans in other areas.
McDonough said the VA would use 75% of its U.S. Department of Housing and Urban Development-VA Supportive Housing vouchers. According to the VA Homeless Programs website, the program pairs HUD's Housing Choice Voucher rental assistance with VA case management and supportive services for homeless veterans.
McDonough said 60% to 63% of the vouchers are used yearly.
"We're going make sure that 50% of veterans who receive HUD-VASH vouchers find permanent housing within 90 days," he said. "So we're not only going to use the vouchers more aggressively, we're going to use them in a more timely manner."
McDonough also said the agency will get 38,000 veterans into permanent housing and is "driving hard" to prevent veterans from becoming homeless.
"It means making existing housing more affordable through HUD-VASH and through supportive services for veteran families," he said. "It means helping unsheltered vets get off the street through the grant [and] per diem program, and it means learning every veteran's unique story and getting them the wraparound service they need."
McDonough said those services include food, health care, mental health care, and child care.
"Whether a veteran needs assistance addressing physical or mental health, a substance use disorder, justice involvement, or anything else… we're going to be there to help," he said.
The VA campus in West Los Angeles is 388 acres. The land was donated to the government in 1888 by a wealthy California landowner who wanted the area to be used to provide health care and homes for disabled veterans. There are several historic structures on the campus, and most of the buildings were built in the Spanish Colonial Revival style, with their characteristic red-tile roofs and stucco walls.
The campus contains a nine-hole golf course, a Japanese garden and plenty of open space. Many of the buildings now sit vacant, some because of their states of disrepair. Others are vacant due to the coronavirus pandemic pushing employees out of their offices.
In one part of the campus, construction workers are restoring two large buildings into permanent housing units. The VA expects to have 186 apartments ready for use by the end of the year.
The Department of Housing and Urban Development estimated in January 2020 that 37,252 veterans experienced homelessness in a single night. An estimated 10% of those veterans lived in Los Angeles.
McDonough also spoke about two successes from last year.
In October, McDonough vowed to get all homeless veterans living in the area known as "veterans row" in Los Angeles into housing by Nov. 1. At the time, about 40 people lived along veterans row, a homeless encampment just outside the West Los Angeles VA Medical Center.
McDonough said the agency succeeded in placing Los Angeles homeless veterans into housing by the deadline.
In November, the secretary promised the VA would house an additional 500 homeless veterans in Los Angeles in time for the holidays. In December, VA Deputy Secretary Donald Remy said the VA had surpassed that goal and found housing for 537 veterans.
Of those veterans, 46% have found permanent housing using government vouchers, and the rest have been accepted into temporary housing, Remy said.
In April, McDonough signed an updated plan for a long-delayed housing development intended to help solve the veteran homelessness crisis in Los Angeles.
The 656-page plan, called Master Plan 2022, contains details for a major construction project on the VA campus in West Los Angeles. The updated plan calls for more than 1,000 housing units for homeless veterans to be under construction within one to five years. The plan states 220 additional units will be built within six to 10 years, and the VA will add 350 more units sometime after that.
---
---
---
---