Federal veterans committee proposes sending PTSD services to Arizona
By
The Santa Fe New Mexican
June 1, 2022
---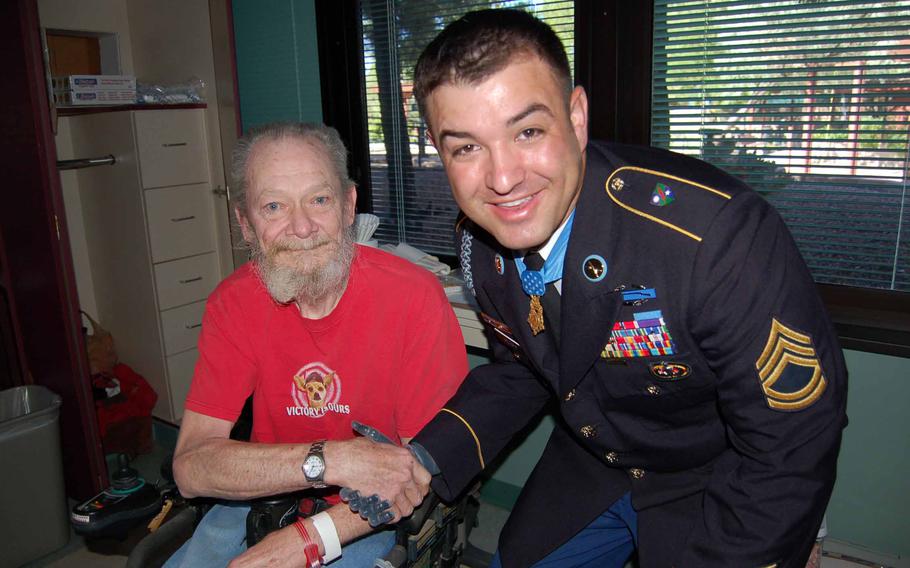 The Cabinet secretary for the state Department of Veterans Services, Sonya Smith, told lawmakers Tuesday there's more bad news stemming from a federal committee's recent recommendation to close small veterans health care clinics in Northern New Mexico.
The recommendation also suggests moving behavioral health services for many rural New Mexico veterans struggling with post-traumatic stress disorder to an Arizona clinic.
"For those of us who served ... we know that mental health is something that is critical, and the notion that we would move services out of state ... only creates more trauma," Smith said during a hearing held by the Legislature's interim Military and Veteran Affairs Committee.
The one-sentence proposal, couched within the larger context of recommendations from the U.S. Department of Veterans Affairs' Asset and Infrastructure Review Commission, says "demand for post traumatic stress disorder (PTSD) services (in the Albuquerque veterans' hospital) will be met at the proposed new Anthem (Ariz.)" clinic.
Anthem, a Phoenix suburb, is more than 400 miles from Albuquerque. That clinic has not yet been built.
The recommendations also include transferring some "rural residential rehabilitation treatment" programs to veteran health facilities in Tucson and Prescott, Ariz., as well as facilities in California.
Smith, a U.S. Air Force veteran, said after the hearing such a proposal would "have a terrible impact on our veterans" dealing with mental and emotional challenges created by their military service.
Sen. Nancy Rodriguez, D-Santa Fe, blasted the idea, saying because New Mexico is already struggling with providing adequate mental and behavioral health services for its residents, it's "unconscionable" to even consider such a move.
She said to "displace" those patients from their home state and say, " 'Sorry, if you need services, go get them in Arizona,'" is no way to respect veterans.
National reports have said veterans suffering from PTSD are more likely to consider taking their own lives. A 2021 suicide prevention report prepared by the Office of Mental Health and Suicide Prevention said veteran suicides made up 13.7 percent of all adult suicides in 2019.
Based on state Department of Health data, New Mexico suffered 515 suicides in 2019, the most recent year data was available. Of those, 68, or 44.2 percent, were veterans.
Tuesday's interim committee hearing focused around concerns raised by the report's recommendations, released in mid-March, which said veterans' agencies should centralize services in major hubs nationwide, where demand remains high.
It recommends shutting down smaller facilities and letting community health centers provide services for veterans in affected areas. In New Mexico, the report suggests closing the veterans' clinics in Española, Gallup, Las Vegas and Raton. Among other measures, that report used veteran health care enrollment data as a guidepost.
The Las Vegas site saw a decrease in enrollment of over 55 percent in the past five years, the report says. Enrollment dropped by just 2.1 percent in that period at the Española facility, according to the report, but is expected to continue declining. The report suggests veterans in Española could drive to Santa Fe for services.
While the report also recommended expanding space and services at the Albuquerque veterans' hospital, its closure proposals drew immediate criticism and objections from New Mexico's congressional delegation, as well as state legislators and leaders of statewide veterans' groups.
New Mexico is home to over 148,300 military veterans, according to data provided by the state Department of Veteran Services.
Several lawmakers, noting the report's reliance on military patient enrollment data, asked Smith if the state also keeps track of New Mexicans currently serving in the military. Those figures could be used to more accurately predict future veteran statistics and medical demand for those veterans, they said.
Smith said her agency does not currently compile those numbers but said she will look into the possibility of doing that going forward.
Smith said U.S. Secretary of Veterans Affairs' Denis McDonough plans to visit New Mexico in late June to "learn more about our concerns regarding potential closure" and visit the Gallup veterans' medical clinic.
Several lawmakers asked Smith to ask McDonough to take part in a public town hall meeting on the issue. They also suggested committee members sign off on a letter to McDonough voicing their objection to the report's closure recommendations. Smith emphasized that the federal suggestions remain just proposals at this point.
"Nothing has been set in stone yet," she said.
___
(c)2022 The Santa Fe New Mexican (Santa Fe, N.M.) Visit The Santa Fe New Mexican (Santa Fe, N.M.) at www.santafenewmexican.com Distributed by Tribune Content Agency, LLC.
---
---
---
---