Dog goes home after saving California woman from mountain lion attack
By
Ryan Sabalow and Xavier Mascarenas
The Sacramento Bee
May 21, 2022
---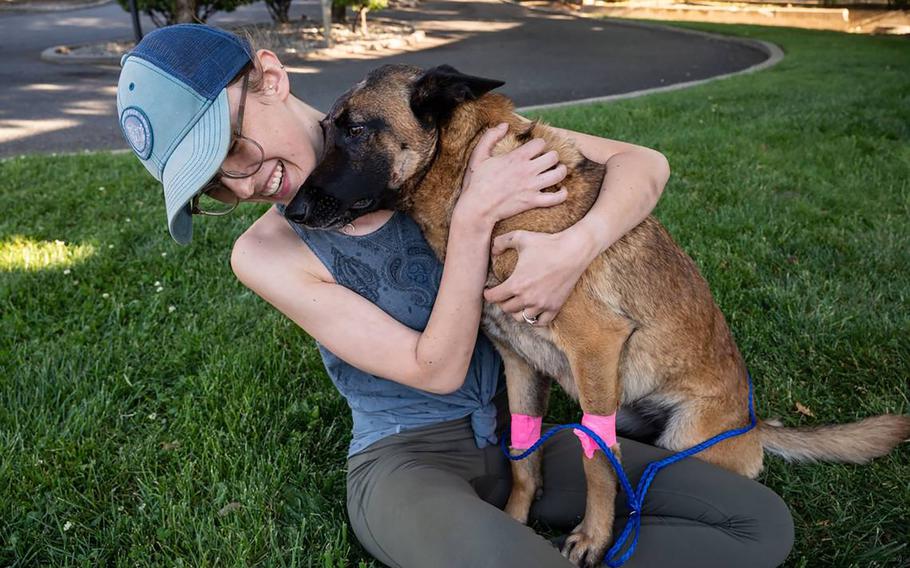 REDDING, Calif. (Tribune News Service) — Eva didn't look too bad, considering three days earlier she nearly died in the jaws of a mountain lion.
The 2½-year-old Belgian Malinois on Thursday night walked out of the VCA Asher Animal Hospital in Redding with her owner, Erin Wilson, at her side.
Eva was a little groggy from the pain meds, a few patches of her fur were shaved for stitches, and she had pink surgical tape wrapped above each of her front paws.
But Eva was wagging her tail as Wilson sat down on some grass outside the clinic and wrapped her arms around the dog that she credits for saving her life.
"I would do anything for her," she said. "And I know now she would pretty much do anything for me. So it's a good relationship to have. I know I can trust her."
Wilson said Eva came to her rescue while the two were on a hike along the remote Trinity River in Northwestern California Monday afternoon. Trinity County is about a four-hour drive northwest of Sacramento.
Wilson had just pulled her pickup off Highway 299 west of the town of Weaverville and headed down the trail to the river.
Eva was a few feet ahead of her and off a leash, when a mountain lion that had been hiding in some bushes along the trail jumped up and clawed her shoulder through her jacket, Wilson said.
The cougar growled and reared back as if it was going to attack Wilson, who's 24 and a petite 115-pounds. Wilson screamed "Eva!" and the dog turned around and tackled the cat.
Wilson said Thursday she has no doubt Eva saved her life.
"If (Eva) had waited another second or two more," Wilson told The Bee on Thursday, "it probably would have either jumped up and bit me in the face, in the head and the neck."
The dog quickly found itself outmatched, despite the cat appearing sickly.
Wilson said the cat clamped its fangs onto the dog's head and wouldn't let go. She tried hitting the cat with rocks and her fists. She tried getting her arm around its throat to pry it off. She gouged at its eyes. No matter hard she tried, it held on.
She ran back to her truck, grabbed a tire iron and flagged down Sharon Houston, who happened to be passing by on the highway. Houston grabbed a PVC pipe and some pepper spray, and the pair raced down and began beating the cat and screaming at it to let go.
"I was yelling at it, 'Get the f--- off my dog. Get the f--- off my dog,' Wilson said. "And eventually it just let go, and Eva ran off."
Wilson picked up her glasses that had fallen off during the scuffle, and she gave Houston a hug before hopping into the truck. She never learned Houston's name until reading it in news articles following the attack.
Wilson raced down toward Redding with Eva bleeding on the seat beside her. She struggled not to cry Thursday outside the vet's office as she remembered what it was like to see Eva start convulsing on the frantic drive down the hill.
"I was begging her the whole time," Wilson said as she fought back tears. "I was like, 'Just stay with me, dog. I love you. I can't live without you. Just don't go. Don't leave me.' "
Wilson said she got the dog when Eva was about 4 months old from a family with young kids. They were overwhelmed by the dog.
Belgian Malinois are commonly used by members of the military and police officers (A Belgian Malinois named Cairo accompanied the Navy SEALs on the raid that killed Osama bin Laden). They're a high-strung breed that Wilson admits probably wouldn't be an ideal choice for everyone.
"They're really high drive, and they're really intense," she said. But the pair just meshed, she said. They've since traveled around the country together with Wilson's fiance, Connor who was with Wilson Thursday to escort Eva home to the duck and turkey farm they're starting in rural Trinity County, a place where Eva has lots of room to roam.
"Eva is as close to a kid as she can come," Wilson said. "I raised her from when she was a little, little baby. And she's always been really affectionate and really just a loving dog. And so, you know, you get a really close bond."
When they got to the Redding animal hospital, Eva was loaded on a stretcher and raced inside for treatment.
It was only then that Wilson said she thought about getting treated for her own wounds. Wilson only has a few bruises and scratches — thanks to Eva's heroics.
State officials visited both Eva and the Wilson as they were beginning their investigation and hunt for the cat.
Department of Fish and Wildlife Capt. Patrick Foy said Thursday that DNA from samples taken off Eva and Wilson came back from a Sacramento-area lab showing that the animal that attacked them was indeed a mountain lion.
Despite thousands of mountain lions sharing California with 39 million people, there have only been around 20 confirmed cougar attacks in California over the past four decades. Three have been fatal.
Foy said Thursday that efforts to trap the mountain lion have so far been unsuccessful. If the cat's caught, biologists will use the DNA to confirm its the same animal before deciding whether to kill it. A 1990 voter-approved law that banned mountain lion hunting in California gives wildlife officials discretion to kill mountain lions that attack pets, livestock or people.
As Eva has been recovering, Wilson began getting a series of rabies shots as a precaution.
After leaving the hospital, Wilson set up a GoFundMe account to get help for the vet bills. After Eva's heroism became a national news story, more than $32,000 in donations poured in — far exceeding Thursday's vet bill that came to a little more than $3,000.
The money, Wilson said, will be used to pay for any medication Eva needs as well as Wilson's trip to the ER and her shots.
The rest Wilson said she plans to donate, maybe to a Belgian Malinois rescue or to mountain lion conservation and wildlife groups and charities for police and firefighters.
In the meantime, Eva is going to need weeks of rest, soft food, medicine and love.
Wilson knows just what to give her. Lots of treats and stuffed animals.
"Eva is home and tucked in with a few new toys," she wrote Thursday night on an Instagram post featuring a photo of the sleepy dog snuggling with a red stuffed bone and a couple of pink stuffed animals. "She got a milkshake on the way home."
©2022 The Sacramento Bee.
Visit at sacbee.com.
Distributed by Tribune Content Agency, LLC.
---
---
---
---