FDA sharply limits use of Johnson & Johnson shot due to rare blood clots
By
Laurie McGinley, Carolyn Y. Johnson
The Washington Post
May 6, 2022
---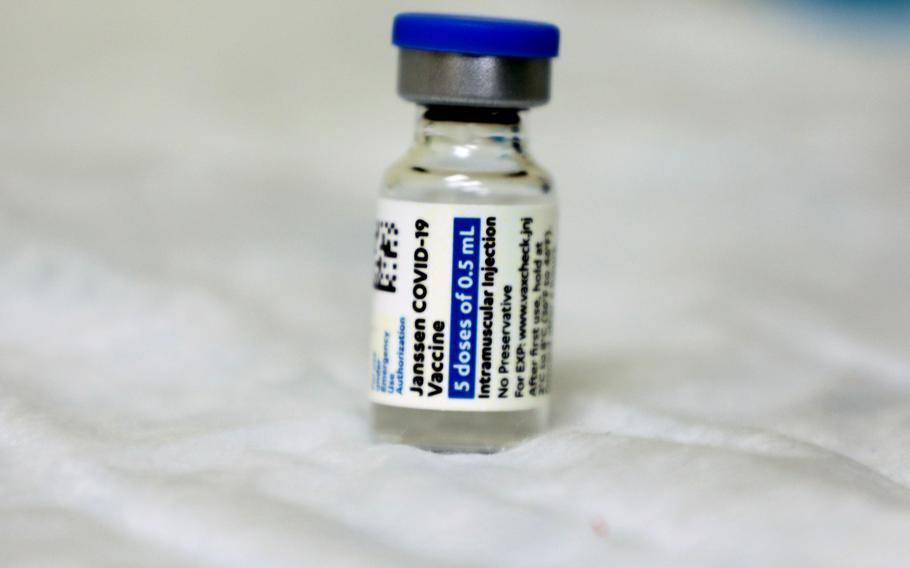 Stars and Stripes is making stories on the coronavirus pandemic available free of charge. See more stories here. Sign up for our daily coronavirus newsletter here. Please support our journalism with a subscription.
The Food and Drug Administration imposed new restrictions Thursday on the Johnson & Johnson coronavirus vaccine, saying the risk of a rare and life-threatening blood clot syndrome outweighed the benefits of the vaccine for people who are 18 or older and can get another shot, unless they would otherwise remain unvaccinated.
The FDA said only people who are unable to receive other vaccines because they are not accessible or clinically appropriate, or because they refused to get one of the other vaccines, should receive the Johnson & Johnson vaccine.
The Johnson & Johnson vaccine has been associated with a rare but potentially deadly blood clotting and bleeding syndrome called thrombosis with thrombocytopenia syndrome (TTS). The condition usually occurs within one to two weeks of vaccination, and a commonly used treatment to treat clotting, heparin, can cause additional harm.
"This is not a new safety signal - it is based on updated information showing that it is a persistent safety signal," Peter Marks, the FDA's top vaccine official, said in an interview. He said there are other, safer vaccines that can be used to inoculate people against the coronavirus.
Centers for Disease Control and Prevention officials in December already had made a recommendation that other vaccines should be used instead of the Johnson & Johnson shot, but an additional analysis persuaded the FDA to make major changes to the vaccine's emergency use authorization, which stipulates how the shot can be used.
About 18.7 million doses of the vaccine have been administered in the United States, compared with 340.6 million of Pfizer-BioNTech shots and 217.5 Moderna shots. Those two vaccines have not been linked to severe complications.
The Johnson & Johnson vaccine was authorized in February of 2021, a one-shot vaccine that its proponents hoped would ease the logistics of vaccination campaigns globally. The vaccine was somewhat less effective in its clinical trial than messenger RNA vaccines authorized in 2020, and instantly became the butt of jokes and memes portraying it as a lesser vaccine.
Public health officials attempted to message that the vaccines were all valuable and touted the benefits of a one-shot regimen, but Johnson & Johnson shots were paused in April as federal health officials investigated reports of rare but concerning cases of a blood clotting syndrome that could cause death. The vaccine campaign was restarted, but manufacturing and supply problems also slowed the rollout.
An updated analysis of safety data through March 18 found that there were 60 confirmed cases of the blood-clotting syndrome, including nine that resulted in death. Even with quick treatment, vaccine recipients can rapidly worsen, with long-term health consequences.
The FDA said that there were 3.23 cases of the clotting syndrome per million doses of vaccine administered and 0.48 deaths per million doses of vaccine administered.
"That is not what we expect from our prophylactic vaccines in the United States," said Marks, director of the FDA's Center for Biologics Evaluation and Research.
In a statement, Johnson & Johnson emphasized that this was not a new risk "and does not reflect a change in the rate of cases observed." It added that "data continue to support a favorable benefit-risk profile for the Johnson & Johnson COVID-19 vaccine in adults, when compared with no vaccine."
Marks, said that he had hoped regulators and other experts could have found a "mitigation strategy" - a way to determine who was most likely to have the rare blood clots, and to just avoid giving the Johnson & Johnson vaccine to them. But that has not happened, he said. The only pattern researchers have found is that the complication seems much less likely to occur in people 65 and older, he said.
Marks added that the FDA's action should not be a source of concern for people who previously got the vaccine. "This is a complication that occurs within a week or two, at most three weeks," he said.
"We recognize that the [Johnson & Johnson] COVID-19 Vaccine still has a role in the current pandemic response in the United States and across the global community. Our action reflects our updated analysis of the risk of TTS following administration of this vaccine and limits the use of the vaccine to certain individuals," Marks, director of the FDA's Center for Biologics Evaluation and Research, said in a statement.
People who could still consider the shot include people who have an anaphylactic reaction to messenger RNA vaccines, or people who would otherwise not be vaccinated. As part of its action, the FDA updated its fact sheets for health care providers and for vaccine recipients and caregivers.
The agency said in its fact sheet for health care providers that about 15% of the blood clot cases have been fatal. "Cases of TTS following administration of the Janssen COVID-19 Vaccine have been reported in males and females, in a wide age range of individuals 18 years and older, with the highest reporting rate (approximately 8 cases per 1,000,000 doses administered) in females ages 30-49 years," the FDA said.
---
---
---
---