Boeing to move headquarters from Chicago to Arlington, Virginia
By
Taylor Telford, Ian Duncan, Laura Vozzella and Teo Armus
The Washington Post
May 5, 2022
---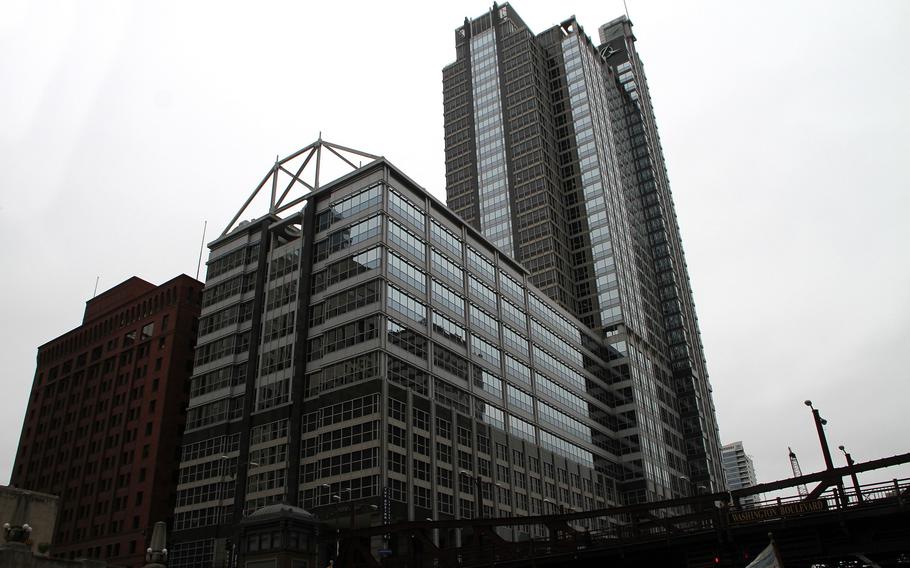 Boeing is moving its headquarters from Chicago to Arlington, Va., a sign the aerospace giant is leaning into its military wing and better positioning itself to navigate the political landscape.
The move, first reported by the Wall Street Journal, comes as Boeing struggles with financial burdens related to the 737 Max, the coronavirus pandemic's effect on travel, and fallout from severing ties with Russia. The company reported a $1.2 billion loss in the first quarter, and its stock is down 25% year-to-date.
"We are excited to build on our foundation here in Northern Virginia," Boeing chief executive David L. Calhoun said in a statement Thursday. "The region makes strategic sense for our global headquarters given its proximity to our customers and stakeholders, and its access to world-class engineering and technical talent."
A new headquarters across from Washington will allow Boeing to assert itself in the world of national security, with more than half of the $62 billion it generated in sales last year coming from military contracts. The Arlington location will place top executives near political leaders, many of the nation's top defense contractors and a stone's throw from one of Boeing's top clients: the Pentagon.
Boeing's decision "shows that the Commonwealth is the premier location for aerospace companies," Virginia Gov. Glenn Youngkin, R, said in a statement.
Boeing is also planning to develop a research and technology hub in Arlington "to harness and attract engineering and technical capabilities," according to a company statement. The hub will focus on developing innovations in cybersecurity, autonomous operations, quantum sciences, and software and systems engineering.
Boeing said it would "maintain a significant presence" in the Chicago area despite the move.
Youngkin's administration has been working with Boeing for the past couple of months to lure the company to the state, according to three people familiar with the deal who spoke on the condition of anonymity because the company had planned to wait until next week to make the announcement. They said the governor, a former Carlyle Group executive, has a personal relationship with Calhoun.
The state did not offer Boeing any "significant" financial incentive, according to the three people. Arlington County offered no incentives.
Sen. Mark Warner, D-Va., had long casually nudged Calhoun and senior Boeing leadership about moving to Virginia. But he said he had a more serious conversation with Calhoun about the benefits last year, pointing to Virginia drawing major tech and defense companies, such as Amazon and Northrop Grumman. Warner also credited Virginia Tech, noting that the university's new innovation campus — slated for nearby Alexandria in 2024 — likely also was appealing as Boeing plans its research hub.
Arlington County Board Chair Katie Cristol, D, said Boeing helped to lay the groundwork for a "renaissance" of the neighborhood, moving its defense headquarters to Long Bridge Drive several years ago. The company recently received county approval for a second phase of construction that would add more than 131,000 square feet of office space.
Boeing also donated $10 million to the county to finance construction and operation of a nearby aquatics center.
"They have been a pretty steadfast partner in Crystal City during a very challenging time for the area," she said. "We were really concerned about Crystal City being hollowed out, but Boeing was willing to make an investment."
The move comes as Boeing has faced heightened scrutiny from the Federal Aviation Administration in recent years, a shift that occurred after lawmakers pointed to close ties between regulators and the company after 737 Max jet crashes in 2018 and 2019. Moving executives to Washington could help to smooth that relationship, but it also could rankle front-line engineering and manufacturing staff, who have raised concerns about being overruled on safety issues by company executives and senior FAA officials.
Boeing moved the headquarters of its Defense, Space and Security division from St. Louis to Arlington in 2017. The company operates a large office in the Crystal City neighborhood, less than a mile from the Pentagon and on the edge of the area that local officials have dubbed "National Landing."
The location is a few blocks from where Amazon is building a second headquarters that is meant to anchor development in the area.
Boeing's move to Arlington confirms the predictions of many National Landing boosters, who said Amazon's arrival would spur economic growth in a neighborhood that had long been considered underused and underdeveloped. After a federal panel's 2005 recommendation to move defense contractors, Crystal City lost about 17,000 military and defense workers who occupied about 4 million square feet of office space.
Told of the company's plans to move, Ed Pierson, a former senior manager at Boeing's Renton, Wash., 737 factory, said his "stomach dropped." He said it will be important for executives to keep in contact with their manufacturing operations in the Seattle area and South Carolina.
"My immediate reaction was Chicago was very far away, and to think it was going farther away was stunning," said Pierson, who approached Congress as a whistleblower after the Max crashes.
Much of the FAA's attention is focused on the 787 Dreamliner, which is manufactured in South Carolina. Quality problems with the planes have piled up, and Boeing has halted deliveries.
The company said when it released quarterly earnings last week that it has submitted paperwork to the FAA that would clear the way for deliveries to resume again, but it remains unclear when regulators might give their approval.
In December 2020, Congress passed a package of reforms designed to strengthen FAA oversight of Boeing and other manufacturers. The agency already had started taking a tougher line with the company under FAA Administrator Stephen Dickson, efforts that continued last year and included a review of allegations that pressure was placed on company safety experts who are supposed to act on the government's behalf.
In February, the FAA announced that it would sign off on individual 787s before they are delivered to customers. Dickson alluded to the reset in the relationship when he announced that he would be retiring at the end of March, telling employees the FAA's staff had "done the hard work to reinvigorate our safety culture."
China's decision to allow the Max to continue flying to that country means the plane's struggles are largely over. But the 787 continues to weigh on the company, which says production issues are likely to cost it $2 billion.
An investigation into the Max crashes by the House Transportation Committee pointed to Boeing's 1997 merger with rival McDonnell-Douglas and the company's subsequent move to Chicago as marking a shift in its core philosophy, placing less emphasis on engineering prowess and more on financial success. The committee pointed to profit-chasing by Boeing as the reason it decided to develop the Max to compete with new Airbus jets, rather than choosing the more costly and difficult — but potentially safer — approach of designing a new plane from scratch.
On Thursday, Rep. Peter DeFazio, D-Ore., who leads the committee, said Boeing's move to the D.C. area was "another step in the wrong direction."
"Boeing's problem isn't a lack of access to government, but rather its ongoing production problems and the failures of management and the board that led to the fatal crashes of the 737 MAX," he said in a statement. "Boeing should focus on making safe airplanes — not lobbying federal regulators and Congress."
Boeing moved its world headquarters to Chicago in 2001, but its commercial airplane division remains based in Renton, outside Seattle, where the company was founded in 1916. The Chicago move was Boeing's effort to cement itself as a global aviation powerhouse, bringing it closer to customers and investors.
In 2020, Boeing executives signaled that they were looking to relocate from the company's 36-floor, $200 million riverfront skyscraper, which one worker described to Reuters as a "ghost town." About 500 employees out of Boeing's workforce of 140,000 were in the corporate building, riling some who saw the company as disconnected from the realities of its plane production and workers.
Company culture has eroded as Boeing suffered high-profile crashes that tarnished its relationship with customers and regulators, while losses have been compounded by supply chain and labor woes. But Calhoun has urged patience as the company tries to recover.
"We are a long-cycle business," Calhoun said in a memo to employees last week. "And the success of our efforts will be measured over years and decades; not quarters."
Peter Rousselot, a leader of the civic group Arlingtonians for a Sustainable Future, said the company's move to the Northern Virginia suburb would be a "net positive" for the county of about 240,000 people.
Traditionally, Arlington has relied on a 50-50 split between commercial and residential property tax revenue to fund county services, although that ratio has been changing: Commercial taxes are now about 46%. "This isn't going to magically change that," Rousselot said, "but it's a good step in that sense."
But Rousselot, whose group advocates for more measured growth in Arlington, also said a lack of long-term planning in the county means it's impossible to measure how Boeing's move might affect roads, sewers and schools.
Tracy Sayegh Gabriel, executive director of the National Landing Business Improvement District, said Boeing's announcement solidifies the area's position as a "global destination for tech and collaboration."
"The gravitational pull for corporations to see a home in this area is going to be really strong," she said. "It's a great place to do business."
- - -
The Washington Post's Meagan Flynn contributed to this report.
---
---
---
---