DOD agrees to give reporter public records through FOIA but not day in court
By
Stars and Stripes
April 25, 2022
---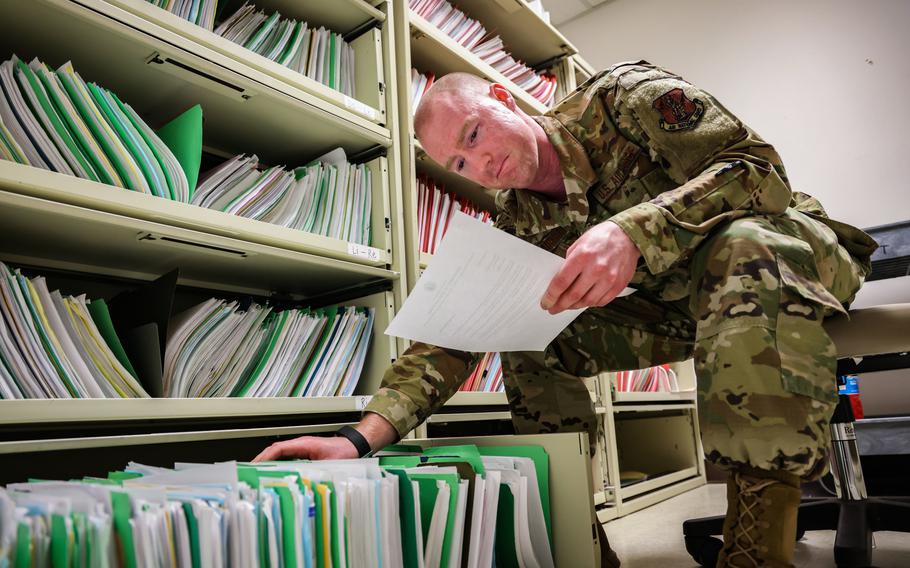 The Defense Department has agreed to fulfill 15 Freedom of Information Act requests it previously denied to a journalist because he worked for a military publication.
In a court filing last week, the DOD, the Department of the Navy, the Marine Corps and U.S. Central Command said they will no longer refuse Stars and Stripes reporter Chad Garland's requests for public records made through FOIA requests filed from August 2020 through August 2021.
The department did not say why it suddenly changed course in the filing Wednesday, which came about two weeks after its lawyers filed an answer to Garland's lawsuit and appeared ready to litigate.
Stars and Stripes was not a party in the lawsuit.
It was unclear from the filing whether DOD intended only to fulfill Garland's requests or whether it would change the policy it cited in rejecting his requests and subsequent appeals.
Pentagon spokeswoman Susan Gough referred a request for comment to the Justice Department, which typically represents federal agencies in lawsuits. Justice Department spokeswoman Danielle Blevins said Monday they would not comment on the case.
"It looks like the government is not going to defend the DOD memos that have been used to block my FOIA rights, in which case that sounds like a positive development," said Garland, adding that he is cautiously optimistic about eventually receiving the records from the department.
A timeline was not specified in the filing, but DOD said it will gather the records and offer them on a "rolling basis."
Kel B. McClanahan, executive director of the Washington, D.C.-based nonprofit law firm National Security Counselors, said that while the filing could be interpreted as a win for Garland, it would be a mistake to conclude that the DOD intends to change its policy preventing Stars and Stripes reporters from making FOIA requests, even as private citizens.
"It's generally better to err on the side that this is not as good as it looks but be open to being convinced otherwise and that DOD has decided to operate in good faith and now they want to do this more," McClanahan said.
McClanahan also pointed out that the filing coincided with the DOD's release of information in response to a FOIA request made by a lawyer who was not involved in Garland's lawsuit. The request was identical to one that Garland made, and that lawyer subsequently gave the records to Garland.
The decision to grant Garland's request could be a DOD effort to make the case go away and represent an acknowledgement that Garland would get the records anyway, he said.
"The timing is fascinating," McClanahan said. "It's straight out of their playbook to take credit after they were forced to do it."
Garland's lawsuit was filed in January. It alleges that DOD, the Department of the Navy, the Marine Corps and U.S. Central Command broke the law in repeatedly denying his requests for information under FOIA.
He made the requests as a private citizen and not in his capacity as a Stars and Stripes reporter.
The DOD regulation pertaining to Stars and Stripes states that its commands and public affairs staffs "shall provide the Stars and Stripes editorial staffs the same help provided to commercial newspapers." It also bars the calculated withholding of publicly releasable information.
But while all commercial newspapers have the legal right to make FOIA requests, DOD policy bars Stars and Stripes and its reporters from using FOIA, under the rationale that the newspaper is administered through the Defense Media Activity and therefore is a federal agency.
DOD referred to this policy and Garland's status as a federal employee in initially denying his requests.
Enacted in 1967, FOIA is designed to enforce government transparency and allows any individual, corporation or partnership to request public information.
But the law specifically excludes an "agency" from making a request, which the Pentagon has determined to mean that "any representative of (Stars and Stripes) cannot use the FOIA to gain access to DoD information," a March 4, 2021, department memo states.
Stars and Stripes, while editorially independent by acts of Congress, receives a DOD subsidy to defray the costs of providing a daily newspaper to troops overseas.
Allan Blutstein, an Arlington, Va.-based attorney specializing in FOIA and information law, said the DOD action puts the central question of Garland's lawsuit in legal limbo.
A court decision would have provided clarity whether the DOD interpretation of FOIA law can be used to restrict a federal employee's rights as a private citizen, he said.
The worst case would be if in the future, reporters were "put through all the paces (to get public information), and they were forced to file lawsuits and only then the government will accept them."
"Will the DOD change any of its previous directives or memos going forward?" Blutstein asked. "We'll have to wait and see from future FOIA requests by other reporters whether there is any real change in policy."
---
---
---
---