Congress breaks deadlock on Ukraine measures, sends bills to White House
By
The Washington Post
April 7, 2022
---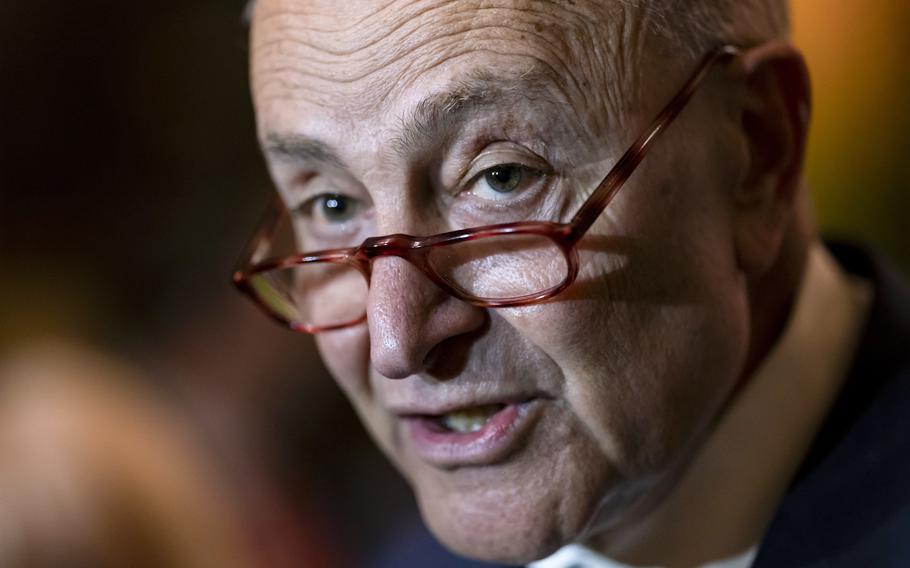 WASHINGTON — Congress on Thursday cleared a months-long partisan impasse over how to respond to Russia's invasion of Ukraine, sending two bills aimed at punishing Russia and aiding Ukraine to President Joe Biden for his signature.
The direct impact of the bills on the course of the conflict is likely to be negligible. They largely reinforce moves that Biden has already made to ban energy imports and remove trade preferences from Russia. But the bills represent a significant gesture signaling ongoing bipartisan interest in supporting Ukraine's quest to maintain its independence amid deadly aggression from its larger neighbor.
Although Congress delivered nearly $14 billion in military and humanitarian aide to Ukraine as part of a recent government-wide spending bill, it has not passed any stand-alone legislation pertaining to the conflict. Efforts to draft a sanctions bill before the invasion as a deterrent fell apart, and post-invasion legislation has not been much easier.
Thursday's votes also come as new evidence of potential war crimes emerged this week from areas around Kyiv following a Russian retreat from the area — bringing new pressure to bear on the United States and other Western powers to mount an even stronger response to Russian President Vladimir Putin.
"Civilians slaughtered with their hands tied behind their backs. Corpses bearing clear signs of torture. Bodies burned to hide evidence of rape," Sen. Ron Wyden, D-Ore., who oversees trade matters as chairman of the Senate Finance Committee, said in a statement. "This package is about bringing every tool of economic pressure to bear on Vladimir Putin and his oligarch cronies. Putin's Russia does not deserve to be a part of the economic order that has existed since the end of World War II."
The trade bill, which passed the Senate 100-0 and the House 420-3, removes Russia and its ally Belarus from the long list of countries that enjoy "permanent normal trade relations" and adds it to a much smaller list of pariah states who do not, currently consisting of Cuba and North Korea. The designation, which Biden has already been made by executive order, means that Russian imports - which amounted to about $30 billion in 2022 — will be subject to higher tariffs.
The bill also orders U.S. officials to seek Russia's expulsion from the World Trade Organization and reauthorizes human-rights sanction authority that has been used against members of Putin's inner circle. The latter provision contributed to the delay in the Senate after some conservatives, including Sen. Rand Paul, R-Ky., objected to a change in the sanctions' applicability — from "gross" human-rights violations to merely "serious" violations.
Some conservative groups claimed the change could open the door for a future president to sanction officials abroad who support right-wing policy positions, such as a ban on legal abortion. The measure's bipartisan sponsors rejected the suggestion but agree to keep the existing standard this week to speed passage of the bill.
A second bill, which passed the Senate 100-0 and the House 413-9, codifies the already-announced ban on Russian energy imports, including shipments of petroleum products that made up a third of all trade between the United States and Russia last year.
A third bill, which passed by the Senate unanimous consent Wednesday night, would authorize the Pentagon to streamline its arms transfer arrangements with Ukraine in a manner that senators are comparing to the "lend-lease" effort that the United States undertook during World War II. It is unclear when the House might take action on that bill.
"This is one important way we can send a message to our friends and allies around the world that you are not alone, that America can be trusted, that our commitments are credible and they will be met not just with words, but with action," said Sen. John Cornyn, R-Texas, a sponsor of the lend-lease bill.
The Russia-Ukraine bills passed on the Senate's last day of business before a two-week recess. They moved along while another top legislative priority for Democrats — a new tranche of coronavirus relief funding — remained mired in partisan politics.
While bipartisan negotiators reached a $10 billion accord earlier this week, Republicans demanded to attach an amendment barring the Biden administration from lifting a pandemic-era policy known as Title 42 that has effectively suspended the normal asylum process at the southern border.
The holdup has frustrated Democrats, who have warned of dwindling U.S. stockpiles of vaccines and therapeutic drugs as the BA. 2 coronavirus subvariant threatens to again increase the number of cases, hospitalizations and deaths. But with the funding in limbo, party leaders were glad to make progress on another nettlesome matter before the long recess.
"No nation whose military is committing war crimes deserves free trade status with the United States," Senate Majority Leader Chuck Schumer, D-N.Y., said. "No vile thug like Putin deserves to stand as an equal with the leaders of the free world. He is a menace and a pariah, who has ensured that his place in history will be one of everlasting shame."
---
---
---
---