Former Marine sentenced to 28 years for molesting child while stationed at Camp Pendleton
By
Stars and Stripes
April 6, 2022
---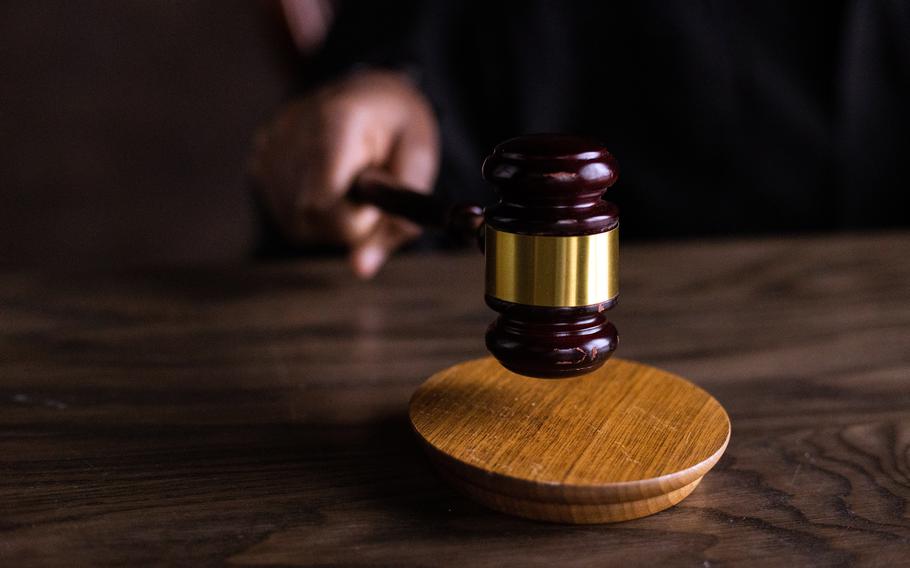 A former Marine sergeant with two combat tours in Afghanistan must serve 28 years in prison for molesting a 3-year-old child, the U.S. Department of Justice said in a news release Monday.
Michael Hamby Jr., 30, was sentenced Monday by Judge John Houston under a plea deal in U.S. District Court for the Southern District of California that also requires 20 years of supervised release for sexually assaulting the child in October 2016.
Hamby, who had been stationed at bases in Okinawa and California, pleaded guilty to enticement of a minor, which carries a maximum sentence of life in prison.
"The record reflects Hamby also advertised the child as available to others and expressed an intent to engage in sexual games with two other children, ages 4 and 8," the news release said.
Hamby pleaded guilty in May 2021 in exchange for a sentence of no less than 20 years and no more than 29.
A co-defendant in the case, Elijah Alexander Vazquez, was scheduled to be sentenced on Tuesday before the same judge.
Hamby's pre-sentencing memorandum, which provides details of the crime to which he confessed, remained sealed as of Tuesday.
A brief sentencing memorandum filed in federal court Monday described Hamby as "a man with two different identities."
"To the public and members of his own family, he was a husband and a step-father who honorably served his country as a Marine," the memorandum states.
Hamby joined the Marine Corps in 2009 at age 18, according to court documents.
"He was a beloved son and brother. Upon completing his first enlistment in 2013 with an honorable discharge, he reenlisted," the memo states.
In stark contrast was his "predatory dark side," the memo states.
"He is someone who handcuffed and sodomized a [3-year-old] child," the memo states. "He is someone who advertised that this child was available for others to enjoy sexually with him."
Hamby admitted that while stationed at Camp Pendleton in October 2016 he engaged in sexual acts with the child, the DOJ news release said.
Hamby transferred to Camp Hansen on Okinawa the following year, where the Naval Criminal Investigative Service began investigating him.
Hamby was arrested in Okinawa on March 4, 2017, after an NCIS undercover agent responded to a posting the Marine had placed on craigslist.com with the title "young girls, incest, taboo," according to a report by the San Diego Union Tribune in September 2017.
The newspaper's report was based on a search warrant affidavit filed in San Diego federal court that was used by agents to gain access to Hamby's laptop.
The female agent presented herself to Hamby as a mother with children ages 4 and 8, and Hamby sought to meet her for a sexual encounter with the children, the newspaper reported.
Hamby was held in the Camp Hansen brig from March 2017 to February 2019, according to court documents. He was indicted by a grand jury in May 2019.
---
---
---
---