US sending additional $300 million in military aid to Ukraine
By
Stars and Stripes
April 2, 2022
---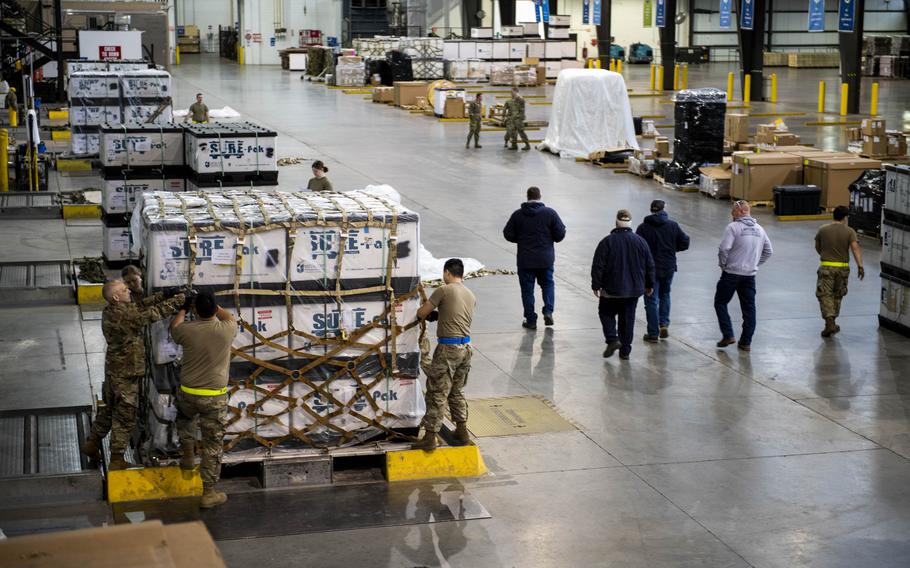 The Pentagon notified Congress on Friday that it is sending Ukraine an additional $300 million of warfighting equipment that includes laser-guided missiles and drones.
The Defense Department is providing the equipment under the Ukraine Security Assistance Initiative, John Kirby, the Pentagon press secretary, said in a news release Friday.
"This decision underscores the United States' unwavering commitment to Ukraine's sovereignty and territorial integrity in support of its heroic efforts to repel Russia's war of choice," Kirby said.
Russia invaded Ukraine on Feb. 24 and has pummeled some of its major cities with missiles and artillery attacks, triggering a mass exodus of refugees from the country.
Ukrainian forces, however, have largely stymied the Russian advance, and in some locations the defenders have even regained territory lost earlier in the conflict.
The new package of assistance for Ukraine that Kirby described includes laser-guided rocket systems, Switchblade tactical drones that in some cases are capable of taking out armored vehicles, Puma drones for surveillance and intelligence gathering, small and large caliber ammunition, night-vision devices, machine guns, communications equipment, medical supplies and other items.
The U.S. has provided Ukraine $1.6 billion in security assistance since the invasion began, Kirby said.
Under the Ukraine Security Assistance Initiative, supplies and equipment are procured directly from defense industry contractors rather than drawing from Defense Department stocks, Kirby said.
Some Republican lawmakers have criticized the Biden administration for taking too long to get warfighting equipment to Ukraine, claims the Pentagon pushed back on earlier this week.
Rep. Rob Wittman, R-Va., during a House Armed Services Committee hearing Wednesday, chided top military leaders that deliveries were not being made fast enough.
Kirby disputed that notion during a news conference Thursday, saying that the first delivery of an $800 million military aid package approved by Biden on March 16 arrived in Ukraine four days later.
That entire package should be fully delivered by mid-April, Kirby told reporters.
---
---
---
---