Republicans turn on Rep. Cawthorn after claims of orgies, cocaine use among politicians
By
Washington Bureau 
April 1, 2022
---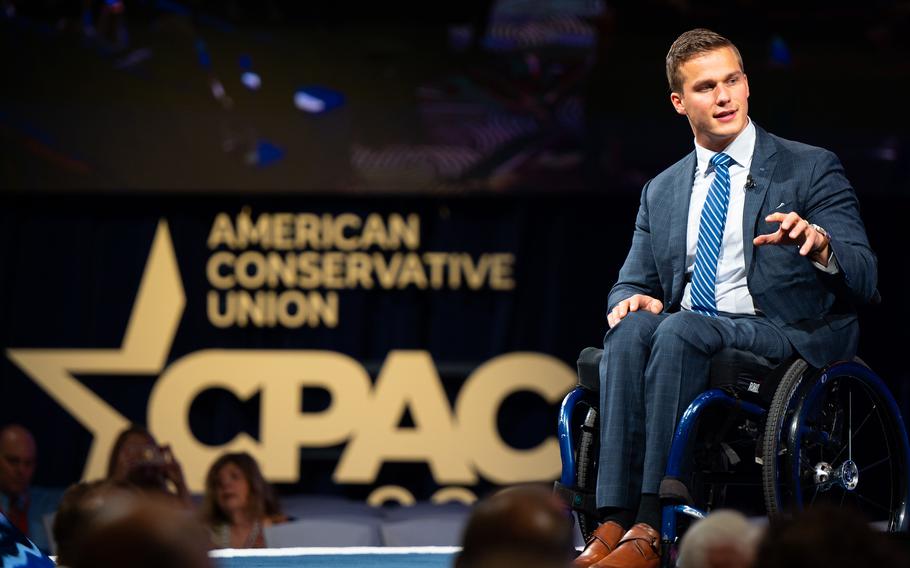 RALEIGH, N.C. (Tribune News Service) — Three of North Carolina's most powerful Republican elected officials are backing a primary-election challenger to U.S. Rep. Madison Cawthorn.
Cawthorn, a first-term representative from far-western North Carolina, has generated headlines and controversies since before joining Congress after a surprising GOP primary victory in 2020.
But the most recent string of controversies — a series of charges of speeding and driving violations, unflattering comments about the Ukrainian president after Russia's invasion, and claims that people in Washington have invited him to orgies and he's seen some do cocaine — represent a breaking point for some.
In particular, the remark about sex and drugs has led to outrage among fellow Republicans, who seemed content to let other controversies surrounding the 26-year-old go.
U.S. Sen. Thom Tillis is backing state Sen. Chuck Edwards in Cawthorn's 11th Congressional District. In addition, state Senate leader Phil Berger and House Speaker Tim Moore planned to host a fundraiser for Edwards on Thursday afternoon. Donations of $250 to $2,900 are required to attend the event, according to an invitation. Edwards is one of seven Republicans running against Cawthorn.
"Mr. Cawthorn hasn't demonstrated much in the way of results over the last 18 months," Tillis told CNN on Wednesday at the Capitol.
The primary is May 17.
Kevin McCarthy, the top Republican in the U.S. House, met with Cawthorn on Wednesday after his sex-and-drug comments alarmed and angered members of the GOP caucus. McCarthy told reporters afterward that Cawthorn exaggerated or lied about the claims, saying he "did not tell the truth."
"I'm very disappointed. I told him he's lost my trust. He's lost my trust. He's going to have to earn it back," McCarthy told Capitol Hill reporters after meeting with Cawthorn. McCarthy did not rule out removing Cawthorn from his committee assignments in his comments.
Cawthorn's office has not responded to several requests for comment. But on Thursday his campaign released a 30-second ad on Twitter saying he "cannot be stopped" even as "the entire left-wing establishment has targeted Madison Cawthorn as Public Enemy No. 1."
Tillis and fellow North Carolina Sen. Richard Burr were critical of Cawthorn earlier in the week as well after the sex-and-drugs remarks became public.
"I thought about the statement, if it's true, then he's got a lot of information to reveal. If it's not true, then he's guilty of being untruthful," Tillis told CNN. "I thought it was a silly statement, and it's not the first one."
Tillis has been critical of Cawthorn over his comments about Ukraine as well.
"At the end of the day, people in the district are going to have to vote for him and I would ask them to look at his record and ask what has he done since he's been here," Tillis continued to CNN "What is his track record of working on tough issues and what's he done for the western part of the state."
Sen. Richard Burr told CNN earlier this week: "That's for his constituents to figure out but clearly he's been an embarrassment at times."
Edwards, who owns several McDonald's franchises in Western North Carolina, is in his third term in the state Senate. He loaned his campaign $250,000 and had raised about $85,000 as of the end of December.
In addition to Edwards, Republicans Bruce O'Connell, Wendy Nevarez, Matthew Burril, Rod Honeycutt, Michele Woodhouse and Kristie Sluder are also running in the May 17 primary. Woodhouse is a former ally of Cawthorn. He donated money to her previously and backed her in the 11th District for a time when it appeared he would run for reelection in a different district.
In 2020, Cawthorn won a primary runoff in the heavily Republican district against Lynda Bennett, even though she was backed by President Donald Trump and former U.S. Rep. Mark Meadows, who held the seat before resigning to serve as Trump's White House chief of staff. After Cawthorn's win, Trump quickly embraced him and gave him a primetime speaking engagement at the Republican National Convention.
Cawthorn has also faced allegations of lying about the accident that left him in a wheelchair and his application to the U.S. Naval Academy. Several women have accused him of sexual harassment and misconduct. He spoke at Trump's rally on Jan. 6 before rioters stormed the U.S. Capitol. He's advocated for threats against members of Congress. Cawthorn tried to bring a gun through airport security. And those are just some of the incidents that have marred his first term in office.
___
©2022 McClatchy Washington Bureau.
Visit at mcclatchydc.com.
Distributed by Tribune Content Agency, LLC.
---
---
---
---