Airman completes arduous 1,000-mile Iditarod footrace through Alaska wilderness
By
Stars and Stripes
March 25, 2022
---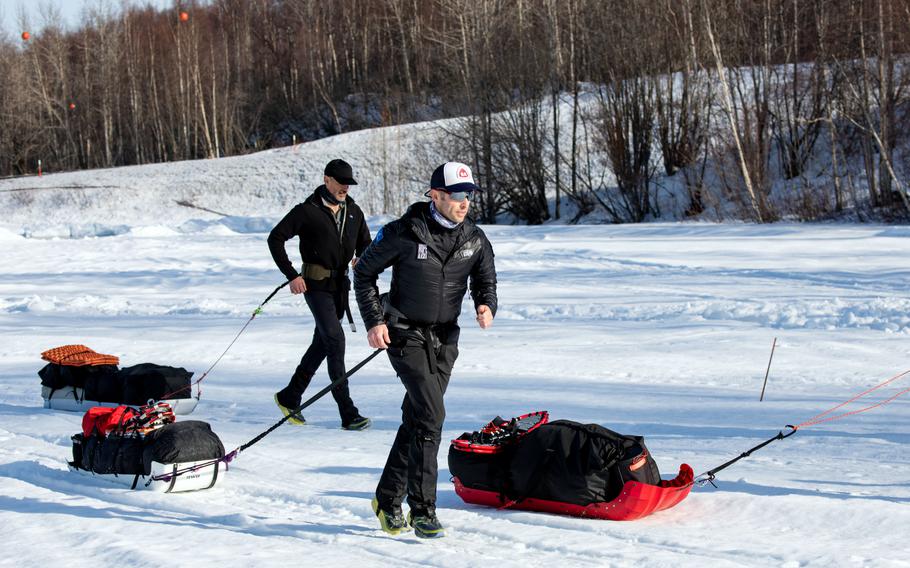 The first active-duty service member to compete in the Iditarod Trail Invitational passed the finish line on Thursday, completing the grueling 1,000-mile-long Alaska footrace in 26 days.
Maj. Joshua Brown, 42, a surgical nurse with the 673rd Surgical Operations Squadron at Joint Base Elmendorf-Richardson, set off on foot Feb. 27 from Knik Lake, about 50 miles north of Anchorage, the Air Force said in a news release March 18. Tethered behind him was a sled holding food, gear and other needed supplies.
Thursday afternoon Brown crossed the finish line in Nome on the state's western coast, according to the website trackleaders.com, which monitors movements through GPS devices carried by participants.
Brown is the first service member to compete in the race since it began 20 years ago, the Air Force said.
A native of Portland, Ore., now living in Eagle River, Alaska, Brown is married and a father of three.
"I can only imagine what's going through his mind right now," Jon Richner, a longtime friend who hiked the first 350 miles of the trail with Brown, told Stars and Stripes in a phone interview from his home near Seattle on Tuesday as Brown neared the finish.
Richner managed to talk with him twice since he left trail.
"He's been in a couple of places where he's had cellphone coverage," Richner said. "He was pretty upbeat."
The main difficulty Brown faced was stomach problems that forced him to slow his pace for a couple days, Richner said. Brown hiked through temperatures that dropped to minus 30 degrees last weekend.
Founded in 2002, the Iditarod Trail Invitational, or ITI, was inspired by the famed Iditarod Sled Dog Race.
There are no dogs in the ITI, however, with all participants competing on foot, skis or bikes.
Athletes must qualify for the race by completing the first 350 miles of the course during a previous year. The race accepts only 75 competitors for the full 1,000-mile course.
Race organizers tout it on their website as "the world's longest and toughest winter race" that draws only "the most intrepid and prepared adventurers."
The course includes seven checkpoints that offer minimal lodging, an opportunity for racers to warm up, rest up and stock up.
Participants must finish the race within 30 days, a timeline that requires hiking into the night, Richner said.
"You have to keep moving out there to finish the course," he said. "You only get a couple hours of sleep every day."
While nights are colder than days, hiking in the dark has one great advantage.
"The ground is more frozen so it's easier to pull stuff," he said. "When the sun is out it can soften up the trail."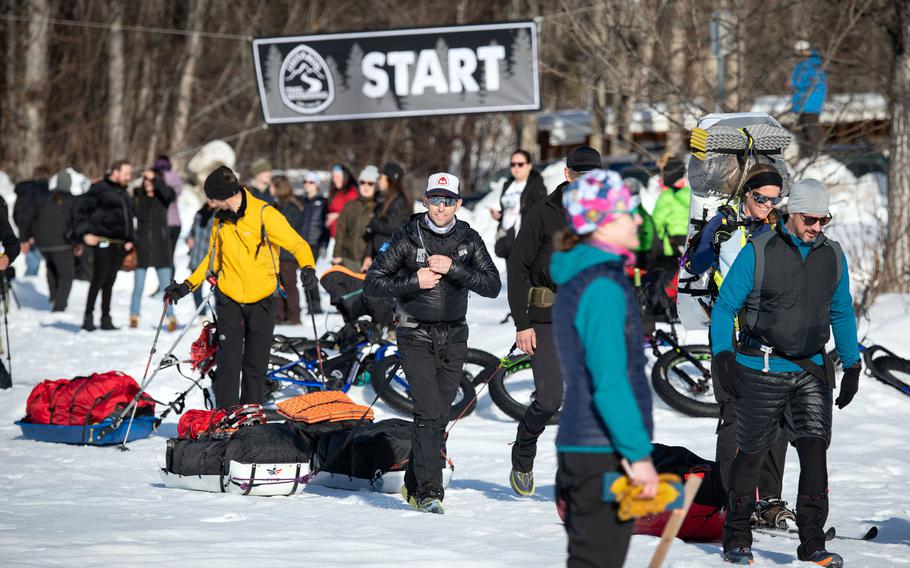 Richner, 56, said he met Brown in 2003 and since that time the pair have participated in evermore challenging races and obstacle courses.
"The human body is a fascinating thing," Richner said. "It's amazing what it will do for you if you put it to the challenge. You obviously have to know your limitations."
He and Brown completed the 350-mile ITI last year, and Richner said he had no plans to hike the course again.
"But when [Brown] said he'd signed up for the 1,000, I thought he might like to have some company," Richner said. "It gets kind of lonely, so I finagled my way in for the first part of the course as well."
Few competitors are left on the trail for that final 600 miles.
"You are alone," he said. "You are very much alone out there."
In Richner's experience, staying focused on short-term goals keeps a hiker mentally focused.
"This is where I'm going today," he said. "This is what I'm shooting for. One day at a time – that's my perspective. I suspect Josh is the same way: I want to get to the next point."
"My hat's off to anyone who steps up to do this," he said.
---
---
---
---