Colorado lawmakers ask Biden to consider Russia's war on Ukraine when making final call on Space Command's location
By
Stars and Stripes
March 23, 2022
---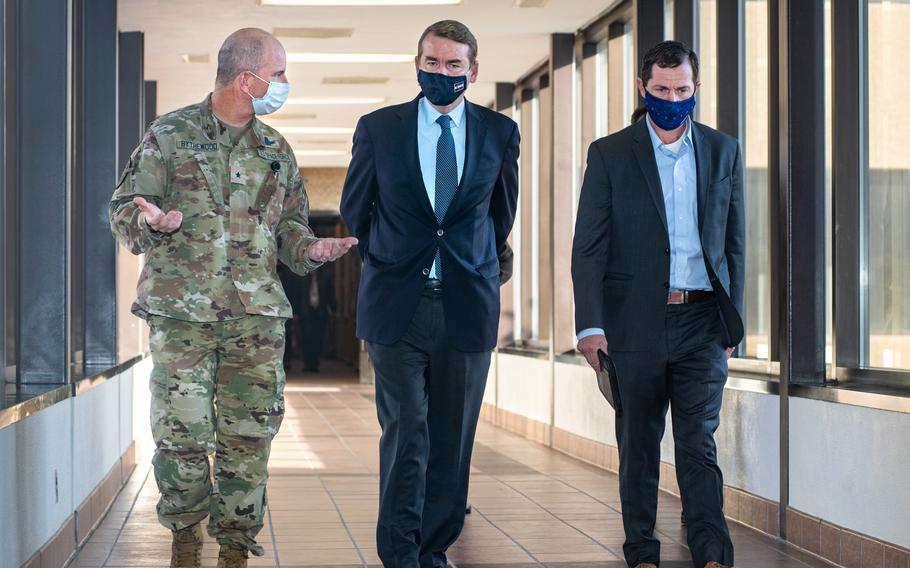 Congressional lawmakers who represent Colorado want President Joe Biden to consider Russia's invasion of Ukraine when making a final decision about a permanent headquarters for U.S. Space Command.
Delaying the command's establishment with a move from Peterson Space Force Base, Colo., to Redstone Arsenal, Ala., could threaten national security, nine lawmakers wrote Tuesday in a letter to Biden.
"As you are well aware, space has become an increasingly critical and contested domain that is central to our economy, communications, and national security. [Russian] President [Vladimir] Putin's lawless, reprehensible aggression against Ukraine in violation of international rules and norms, underscores the urgency for America to maintain superiority in the space domain," the group wrote.
The letter is signed by the entire Colorado delegation to Washington, including Sens. Michael Bennet and John Hickenlooper, both Democrats, Democratic Reps. Jason Crow, Diana DeGette, Ed Perlmutter and Joe Neguse, and Republican Reps. Ken Buck, Lauren Boebert and Doug Lamborn.
Space Command now operates out of a temporary headquarters at Peterson Space Force Base, formerly Peterson Air Force Base, near Colorado Springs.
However, during the final days of former President Donald Trump's administration, former Air Force Secretary Barbara Barrett in January 2021 announced a decision to move Space Command to a permanent home at Redstone Arsenal.
Space Command, which first operated from 1985 to 2002, was reestablished in 2019 just months before the newest military service branch, Space Force, was founded. It is a joint combatant command that oversees the military's various space-based infrastructure and operations.
After concerns were raised that the decision to move the command was politically motivated, the Government Accountability Office and the Defense Department inspector general agreed to review the decision. Those reports are expected "soon," according to the letter to Biden.
"We remain deeply troubled that the decision to relocate [Space Command] undermined the two most important factors for any critical basing decision: protecting national security and minimizing cost. At a time when threats in space are rapidly increasing, particularly from Russia and China, [Space Command] cannot afford any operational interruptions and must achieve full operational capability as quickly as possible," the lawmakers wrote.
Moving Space Command from its temporary headquarters, which is located with several other military space activities, would take additional time and money, according to the letter. In that time, America's adversaries "will waste no time enhancing their space control operations," the lawmakers wrote.
Meanwhile, the command is still about two or three years away from full operational capacity, Gen. James Dickinson, commander of Space Command, told the Senate Armed Services Committee during a March 8 hearing about upcoming authorization requests for the command.
During Dickinson's testimony, Sen. Jeanne Shaheen, D-N.H., said the idea of moving the command was puzzling, "given the urgency." Even if the decision to move to Alabama is confirmed by the pending reports, Shaheen said it would take until 2026 to move the headquarters.
"For me, it is not necessarily about the location. It is about the decision. So, in other words, I need a decision as soon as I can possibly get one so that I can build to full operational capability as quickly as possible," Dickinson said. "I need a decision and, based on that decision, I will do whatever I need to do to make sure that I can achieve my mission."
Sen. Tommy Tuberville, R-Ala., countered Shaheen's concerns and presented an Air Force study to the committee that found Redstone Arsenal to be a better choice for Space Command.
---
---
---
---