After political blowback, US pauses talks with Venezuela to replace oil from Russia
By
Nora Gamez Torres, Antonio Maria Delgado and Michael Wilner
Miami Herald
March 12, 2022
---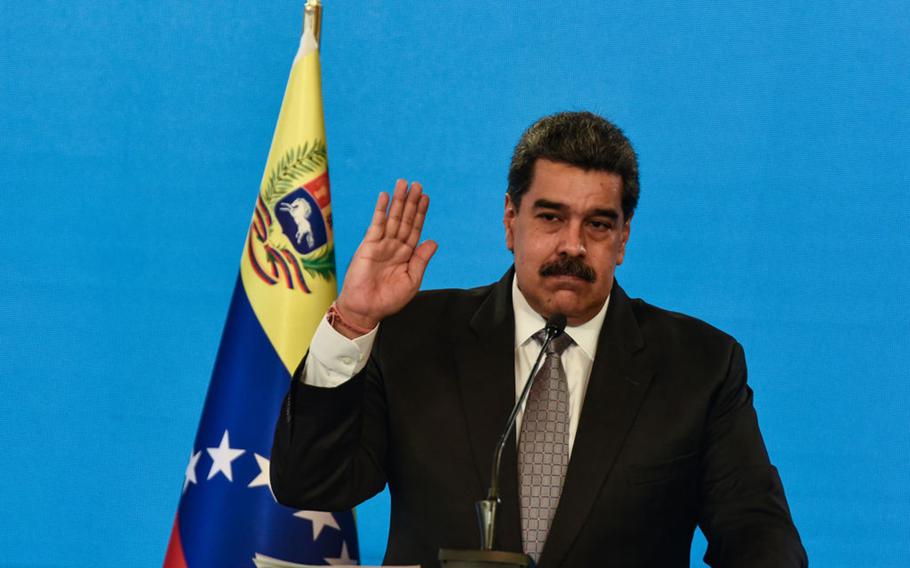 (Tribune News Service) — The Biden administration has put oil talks with Venezuela's strongman, Nicolas Maduro, on hold after receiving blowback from bipartisan lawmakers and the Latin American country's democratic opposition.
But the prospect of a deal is still on the table, U.S. sources said, as gas prices soar and the administration seeks alternative sources of crude in light of Russia's invasion of Ukraine.
Two sources in Venezuela's opposition told The Miami Herald on Friday that the administration was already moving last weekend toward a deal with Maduro on oil imports, and, during a controversial visit to Caracas on March 5, was planning to grant American oil giant Chevron a special license to resume activities in Venezuela.
A third source in the Venezuelan opposition said that Chevron's license was ready to be issued, and that the administration was simply waiting for an opportune moment to announce it.
But following widespread criticism of the meeting, the White House has been changing its message, suggesting there are internal debates on how to move forward with the controversial negotiations.
At the beginning of the week, White House spokesperson Jen Psaki and other members of the Biden administration said they had a "range of issues" to discuss with Maduro moving forward, including "energy security."
But on Wednesday, a senior administration official told reporters that "there are no talks between us and the regime" about restarting oil sales to the United States.
"We traveled down there to secure the release of detained Americans and to urge a return to the negotiating table, which is something that, again, the international community and even representatives from the opposition had urged us to do," the senior official told reporters in a call previewing President Joe Biden's meeting with his Colombian counterpart, Ivan Duque, on Wednesday.
"This is not currently, at this moment, an active conversation about importing their oil," Psaki told reporters on Thursday.
Katie Tobin, senior director for transborder security at the National Security Council, also denied the administration was considering lifting sanctions on the Maduro regime in exchange for oil. On Friday, she told reporters that there was "no connection" between the suspension of Russian oil imports and negotiations with Maduro.
Yet, two U.S. sources with knowledge of the plans said the oil deal with Venezuela was still on the table even if talks are not active. The sources asked for anonymity to discuss sensitive matters.
Another senior White House official pushed back against claims that a specific license to import Venezuelan oil was fully prepared, offered and ready to go, noting that the March 5 discussion was only the first meeting on the matter.
"We would dispute this mischaracterization," the official said.
High-ranking sources within the Venezuelan opposition told The Miami Herald that U.S. officials not only offered Maduro the possibility of granting a special license to Chevron. They also briefed Juan Guaido, the opposition leader Washington still publicly considers the legitimate president of the South American country, directly after the meeting.
Guaido and Gerardo Blyde, head of the opposition team that has engaged in talks with the Maduro regime in Mexico, were told that Washington was about to ban the import of Russian oil, a move that the Biden administration took days later.
Given the likelihood of the war in Ukraine continuing, the U.S. team told Guaido and Blyde that it was a matter of national security for the administration to find additional sources of crude, said two high-ranking opposition officials, speaking under condition of anonymity given the issue's sensitivity.
One source in the opposition who was not in Guaido's briefing said their leadership came away with the impression that a U.S. oil deal would be based on a number of conditions, including that Maduro return to negotiations with Guaido in Mexico City, release U.S. citizens in Venezuelan custody, and send oil directly to the United States.
A U.S. official categorically denied any linkage between discussions over oil and the release of American prisoners from Venezuelan detention.
"This is absolutely false," said Emily Horne, spokesperson for the National Security Council. "We have been very clear: The release of American detainees was the product of months of groundwork by the State Department, especially Special Envoy Carstens, and not conditioned in any way on other steps the U.S. government might take in other areas."
Talks over the release of U.S. prisoners in Venezuela began in the fall, with the U.S. special envoy for hostage affairs, Roger Carstens, making a preliminary trip down to Caracas in December to pave the way for the March 5 meeting. Maduro released two Americans Tuesday evening: Gustavo Cardenas, an oil executive with Citgo, and Jorge Fernandez, a Cuban-American tourist, from Venezuelan prisons. Eight Americans remain in custody there.
Industry sources said that granting a new license to Chevron to import Venezuelan oil would allow the company to carry between 100,000 and 200,000 barrels of oil per day. The amount would slightly offset the deficit in the U.S. oil market caused by Washington's decision to stop importing around 675,000 barrels per day of Russian oil in response to the Ukraine invasion, the sources said.
That volume could be higher if the license were to allow Chevron to act as some sort of overall marketer of Venezuelan oil, selling output from other producers. That could, in theory, increase Venezuelan imports to near 500,000 barrels per day, about the same amount the South American nation is currently sending to China quietly in violation of U.S. sanctions.
Other international oil companies that still have assets in Venezuela and could benefit from a license include Spanish company Repsol, France's Total, India's Reliance and Italy's Eni.
Guaido and Blyde told U.S. officials that it was a mistake to count on Maduro to cover the shortfall, given the country has no real capacity to ramp up production. They told the Americans it was hard for them to understand how the U.S. could stop buying from Russian President Vladimir Putin to put the country's national security in the hands of another dictator and Putin associate, Maduro.
Guaido's team was not informed of the meeting with Maduro before it took place.
The administration's message that it is not currently pursuing an oil deal with Venezuela comes after a stream of criticism from both sides of the aisle over the outreach to Maduro, who has been indicted for narcotrafficking in the United States and faces accusations of committing crimes against humanity at the International Criminal Court in the Netherlands Some opponents to an oil deal believe the move has hurt Biden's efforts to counter democratic backsliding in the region.
"It seems to me that getting an incremental increase of oil from Venezuela isn't worth the cost of now having undermined the democracy agenda in the Americas," said Eric Farnsworth, vice president of the Council of the Americas in Washington. "To me, that's the trade-off. It's a pretty significant one."
The release of the two Americans has not convinced members of Congress to back the overture toward the Maduro regime. Republicans in both the House and Senate introduced legislation to prohibit the importation of "all" petroleum products originating from Venezuela.
Florida Republicans — including Sens. Marco Rubio and Rick Scott, and Miami U.S. Reps. Carlos Gimenez, Mario Diaz-Balart and Maria Elvira Salazar — sent a letter to Biden and Secretary of State Antony Blinken criticizing the administration's decision to open negotiations with Maduro.
Some Democrats have also loudly condemned the trip.
Florida Rep. Debbie Wasserman Schultz, co-chair of the Venezuela Democracy Caucus, praised the Biden administration's effort "to globally isolate Putin" to save lives. "However, rewarding the Maduro regime in Venezuela by swapping out the oil imports of one murderous kleptocrat for another in our own hemisphere would be wrong and shortsighted," she added.
Many observers of Latin American affairs have shared doubts that negotiations with the U.S. delegation, headed by Juan Gonzalez, National Security Council director for Western Hemisphere Affairs, would push Maduro away from the Russian government, one of its main allies.
Russia is Venezuela's main military supplier, and has helped Maduro bypass U.S. sanctions throughout the years. Much of the wealth accumulated by regime officials has been deposited in Russian banks, which have also played a role in handling international monetary transactions for the principal Venezuelan oil company, PDVSA.
Just five days after U.S. officials met with Maduro, Venezuelan Vice President Delcy Rodriguez and Russian Foreign Minister Sergei Lavrov discussed the two nations' "strategic relations" and the "complex" international situation during a meeting in Turkey, she said on Twitter.
Putin said the Biden administration's talks with Maduro about reportedly considering lifting sanctions gave him "confidence" the United States would come to the negotiating table with Russia.
"They are trying to come to terms with the countries against which they themselves had earlier imposed illegitimate restrictions. They are ready to make up with Iran, to sign all the documents immediately. They went to Venezuela to negotiate with them. But there was no need to impose these illegitimate sanctions," he said at a Thursday meeting with government members reported by Russian state news agency RIA Novosti.
"The same will happen in relations with our country," Putin said. "I have no doubt about that."
On Friday, the Biden administration moved to end normal trade relations with Russia and banned imports of vodka and other Russian goods.
©2022 Miami Herald. Visit at miamiherald.com.
Distributed by Tribune Content Agency, LLC.
---
---
---
---