Biden calls on Congress to pass two bills to increase care for veterans exposed to burn pits
By
Stars and Stripes
March 9, 2022
---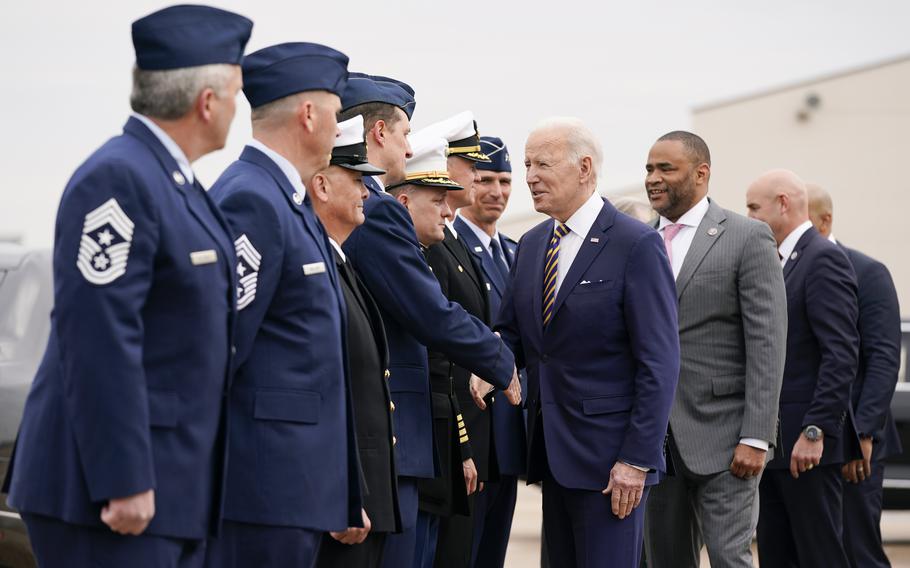 President Joe Biden on Tuesday called on Congress to get two bills to his desk "immediately" that will improve access to care and benefits for veterans affected by exposure to burn pits.
"These are the bills that will deliver necessary care for veterans and their families," he said during a visit to Fort Worth, Texas, to promote his new "unity agenda" that includes improving services for veterans.
Of the two bills that he said would further expand care to veterans, one has cleared the House, the other has cleared the Senate. Both expand aid to veterans who were exposed during deployments overseas to toxic fumes that billowed from massive piles of burning trash, known as burn pits.
"We have many obligations in the United States Senate, the United States Congress and the President of the United States, to the American people, to the elderly, to the poor, to those in need, but we only have one truly sacred obligation," Biden said. "That is to train and equip those we send into harm's way and to care for them and their families when they come home."
The Senate's Health Care for Burn Pit Veterans Act would expand health care eligibility through Department of Veterans Affairs for post-9/11 combat veterans from five years to 10 years following discharge. The move would open VA enrollment to veterans previously ineligible. It also includes critical measures to improve training on toxic exposures for VA employees, mandate clinical toxic exposure screenings, and bolster federal research on the effects of toxic exposures.
The measure unanimously passed the Senate in February.
The House's Honoring Our Promise to Address Comprehensive Toxics Act passed last week, but with only 34 Republicans supporting the measure. It would add 23 cancers and respiratory illnesses to the list of conditions that would qualify veterans for VA benefits and health care.
Neither bill is scheduled yet to move through the other chamber.
Veterans diagnosed with cancer, respiratory issues and lung disease at young ages have blamed exposure to the toxic fumes from these pits, but VA has said there isn't enough evidence to link the illnesses to the exposure.
The department has slowly begun linking some illnesses to toxic exposure, including several rare respiratory cancers that were added last week. Biden said they need to move faster.
"We're following the science in every case but we're also not going to force veterans to suffer in limbo for decades if the science is evenly divided. When the evidence doesn't give a clear answer one way or another, the decision we should favor is caring for our veterans," he said from a stage in a gymnasium at the Tarrant County Resource Connection, a 280-acre campus that houses several social services agencies.
The stop in Fort Worth — the fifth largest city in a state with about 1.4 million veterans — was the president's first in-person push for the veterans-focused policy reform that he announced as part of his unity agenda in last week's State of the Union address. Aside from providing veterans more support, the agenda includes addressing the opioid epidemic, mental health care and cancer treatment – all seemingly uncontroversial issues on which he believes Congress can agree.
Before his speech, Biden visited the Fort Worth VA Clinic to learn about their primary care and specialty health services for veterans. He spoke with staff about two devices enabling veterans with spinal cord disabilities to move and walk more freely, and about the clinic's case management program, which provides mental and physical health care to post-9/11 veterans and advocates for services within VA and the surrounding community, according to the VA.
In the first three months of the year, the clinic has screened more than 650 veterans for case management care and has a case load of nearly 450 veterans, according to the clinic.
VA Secretary Denis McDonough joined the president on the visit to Fort Worth, pledging the administration would keep its promise to veterans, particularly those exposed to burn pits and toxins. Since Biden took office, the administration has expanded care to more than 12,500 veterans, he said.
"This is just the beginning. With President Biden leading the way we will stop at nothing to get these vets timely access to the benefits and care they deserve," McDonough said.
---
---
---
---