'People's Convoy' reaches DC Beltway, plans to continue slow loop on Monday
By
Ellie Silverman, Steve Thompson and Jessica Contrera 
The Washington Post
March 6, 2022
---
Stars and Stripes is making stories on the coronavirus pandemic available free of charge. See more stories here. Sign up for our daily coronavirus newsletter here. Please support our journalism with a subscription.
WASHINGTON — An armada of drivers calling themselves the "People's Convoy" circled the Washington Beltway for more than four hours Sunday to protest pandemic restrictions, and it plans to do so again on Monday.
Organizers said their goal is to be a "huge pain." On Sunday, the disruption they caused was fairly minimal. Though the convoy of hundreds of trucks, cars and SUVs started out in a deliberately slow-moving formation that stretched roughly 30 miles, it became diluted after merging with normal Beltway traffic.
By the time the demonstrators completed their second loop around the District Sunday afternoon, their vehicles were far fewer in number and far more spread out. For most of their journey, traffic around them moved as usual. But their presence could create far more chaos during a weekday, when Beltway traffic will already be thick with commuters.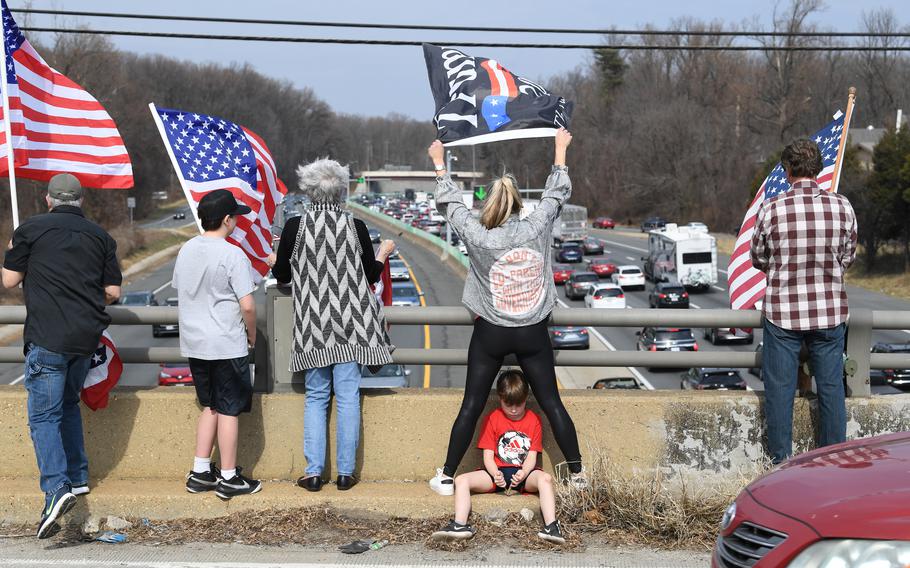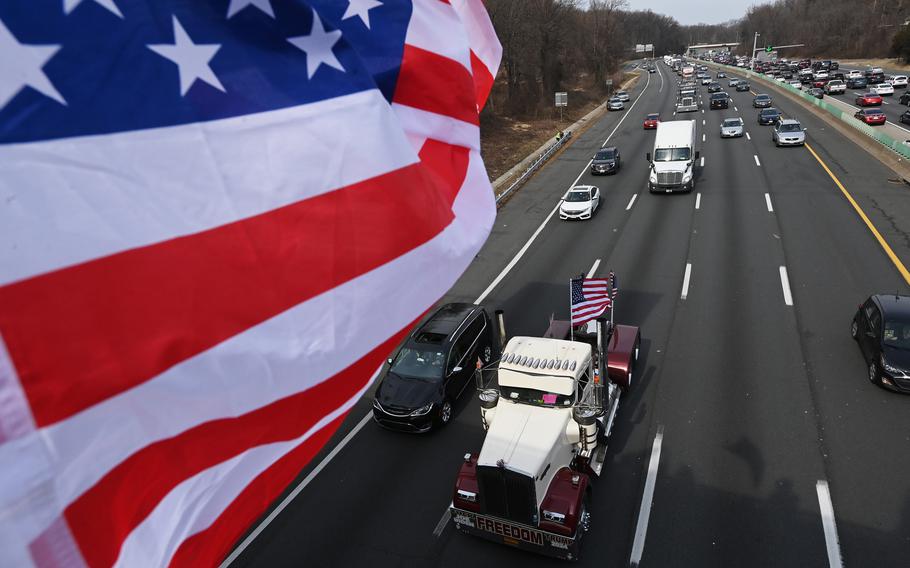 "It is an unpredictable and fluid event that we are witnessing," said Christopher Rodriguez, director of the D.C. Homeland Security and Emergency Management Agency. "Our residents, commuters and visitors should expect traffic disruptions over the next several days."
The Department of Defense has agreed to extend the presence of the D.C. National Guard through Wednesday. Rodriguez said D.C. police are working with Virginia and Maryland state police to monitor the situation. "While we respect everyone's rights to come to the nation's capital and exercise their First Amendment rights, what we won't tolerate are people who break our laws," Rodriguez said.
Convoy organizer Brian Brase has repeatedly said the People's Convoy will not enter the District. Instead, the demonstrators, who have based themselves at the Hagerstown Speedway in Maryland, plan to increase the number of trips around the Beltway each day to pressure lawmakers and public officials.
Brase has said the group wants an end to the national emergency declaration in response to the coronavirus, first issued by President Donald Trump in March 2020 and later extended by President Joe Biden, and for Congress to hold hearings investigating the government response to the pandemic.
"We are law-abiding citizens that are just exercising our rights to this protest," said Brase, a 37-year-old from northwest Ohio. But "every day is going to elevate what we do."
On Sunday, the demonstration began just before 9 a.m. at the Hagerstown Speedway, where many of them had spent the weekend. After a pastor started things off by telling the group they were "heroes," Brase instructed them to drive between 45 and 55 mph and stay in one line to best show their size. The mostly White and mostly male protesters raised their coffees in salute.
Soon, the caravan began rolling toward the Beltway with horns blaring. It took nearly two hours for all of the vehicles to make it out of the speedway, and nearly three hours for the trucks at the front of the line to make it to Interstate 495.
The convoy then began its circuit on the outer loop. The mass of vehicles caused congestion as they merged onto the highway. But once on Interstate 495, they mostly drove in a single-file line at 45 mph, leaving plenty of space for other cars to pass. The first lap took the group roughly an hour and 40 minutes.
Maryland State Police and Virginia State Police increased the presence of patrol vehicles to maintain the flow of traffic. The longer the convoy drove, the more spread out the vehicles became, stretching a distance of about 35 miles.
"We're not even sure we can call it a convoy any more because it's so dispersed among routine traffic at this point," Virginia State Police spokeswoman Corinne Geller said Sunday afternoon.
Throughout the day, regular drivers sped around and wove between the protesters, trying to get to their exits and not get caught in the fray. But no convoy-related accidents were reported.
The demonstrators wailed on their horns any time they navigated beneath overpasses in Maryland and Virginia where people watching the convoy were gathered on foot. While some carried signs that said "go home," the majority were supportive of the protest, waving banners that read "thank you" and "end tyranny."
Their encouragement echoed the supporters on social media, where some protesters broadcast their journeys on YouTube and other platforms. Viewers of the live streams could hear the many drivers talking among themselves on their radios, commenting on the unseasonably warm day and bickering about how best to make an impact. Some truckers scolded others for getting too spread out, worrying that "no one is going to know there's even a convoy."
Local drivers, accustomed to clogs in traffic, had a close view of the many messages the protesters had affixed to their vehicles, declaring their allegiance to Trump and disdain for Biden. On poster boards and tinted windows, they complained about gas prices and vaccine mandates. Using colorful markers, they proclaimed falsehoods such as "Trump won." Dozens of trucks waved American flags. A few sported Confederate battle flags.
Their circling of the District came at the end of a long journey. Hundreds of vehicles began the trek 2,500 miles away in California on Feb. 23. During the cross-country trip, People's Convoy organizers have rallied support by calling pandemic restrictions and mandates an infringement on their freedoms.
Many of those measures at the federal and local levels have been blocked or rescinded. But Brase wants vaccine mandates for health workers, federal employees and military personnel to be eliminated. Other demonstrators spoke only of generic asks, such as "taking back our freedom."
It is unclear just how much disruption the group is planning for the coming days. Since the demonstrators began their journey in California, there has been concern that they could end it on the streets of the District.
Brase said Saturday night they are planning to stick with loops around the Beltway, and promised to preserve a "normal commute" for area workers. He said they plan to call attention to the issues they care about without violence or lawbreaking. "We just have a message that we want heard," Brase said. "We're not going anywhere until it's heard."
As the truckers streamed back to Hagerstown, commenters on their live streams encouraged them to get more aggressive, suggesting they follow in the footsteps of the demonstrators that blocked highways for days in Canada.
One protester broadcasting on a Facebook page with thousands of viewers lamented that he didn't know if the majority of participants would agree to that. "Seems like everybody has their own ideas on how to do this," he said.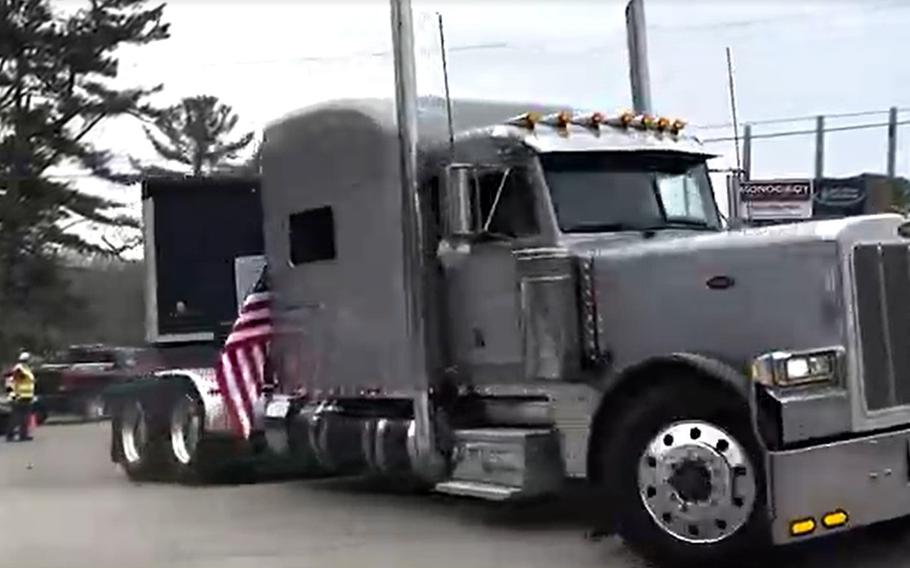 ---
---
---
---