Elsa caused $1 billion in damage amid Florida landfall and beyond, NHC says
By
Orlando Sentinel
February 15, 2022
---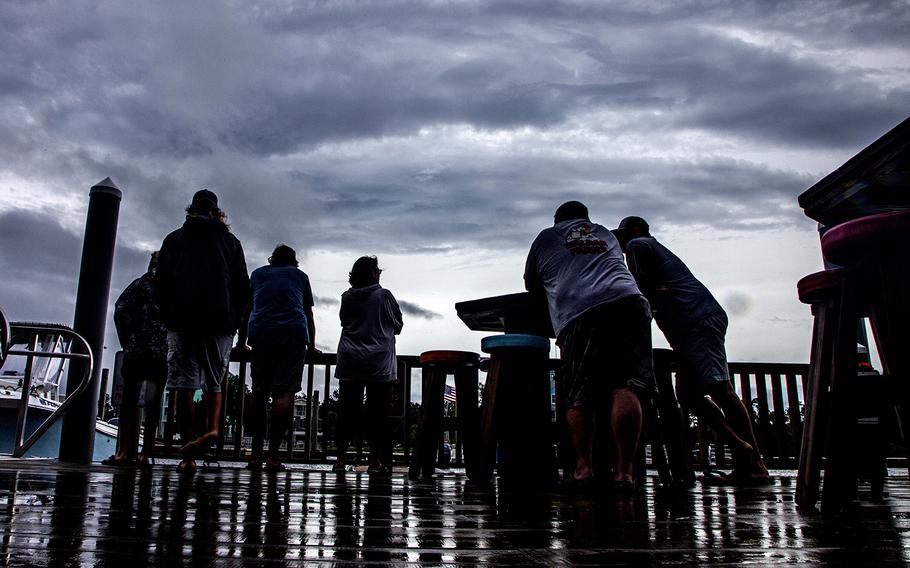 ORLANDO, Fla. (Tribune News Service) — New information on Hurricane Elsa spun into formation last week, seven months after the first hurricane of the 2021 season took form.
The National Hurricane Center released Friday its findings on the Category 1 hurricane that made landfall July 7 in the United States along Florida's big bend as a tropical storm.
The 2021 storm was notable to meteorologists for many reasons, including its longevity. Elsa lasted eight days as a named storm, which was the most named storm days for an Atlantic storm forming in July since 2008′s Bertha, according to Philip Klotzbach, a meteorologist of Colorado State University.
The NHC reported a total of $1 billion of damage to the southern United States and multiple Caribbean countries. Thirteen people were directly killed by Elsa, including a 26-year-old man who died when Elsa's tropical-storm-force winds knocked down a tree and crushed him. Another nine were killed offshore in the Florida Straits, the NHC reported.
Two days before it made landfall, Elsa had become a tropical storm and was getting closer to the Florida peninsula. On the way there, it encountered a boat of 22 people who had departed from Cuba, according to the U.S. Coast Guard. The passengers hoped to arrive in South Florida but were met with Elsa's 50 mph sustained winds, which capsized the boat, forcing the passengers to endure the storm without help for about 18 to 22 hours.
The Coast Guard was able to rescue 13 of the passengers; seven men and two women, before suspending its search for the other nine.
"Our deepest condolences go out to the families and loved ones impacted by this tragedy," said Sean Connett, command duty officer, District Seven. "The decision to suspend a search is always difficult and is made after exhausting all search information."
The survivors were processed as migrants and were to be repatriated to Cuba, the Coast Guard said.
Additionally, Elsa was a noteworthy storm for other reasons such as it being the earliest fifth named storm in history of the Atlantic hurricane season. National Oceanic and Atmospheric averaging data suggests that the fifth named storm of the Atlantic season does not take form until about Aug. 22. The first hurricane of any season usually doesn't appear until Aug. 11.
On July 2, Elsa strengthened into a Category 1 hurricane with maximum sustained winds of 86 mph. The storm's early record occurred during a busy season where 21 named storms were recorded — the third highest ever measured in the Atlantic.. The 2020 season has the most with 30.
After forming into a hurricane, Elsa made landfall over Cuba, where it lost the majority of its power. No major damages or deaths were reported, however, there were reports of mudslides cutting off streets and towns, the NHC said.
Elsa then moved toward the Florida Keys where it caused flooded streets, downed trees and powerlines. It briefly became a hurricane again riding parallel to Florida's west coast before making landfall in a remote location in Taylor County, where it caused numerous reports of tree damage, the NHC reported.
The storm's mayhem didn't stop with its northbound journey as it caused significant flooding to New York and New Jersey.
Along its path, Elsa spawned 17 tornadoes between Florida and New Jersey with two in Florida, two in Georgia, five in South Carolina, three in North Carolina, three in Virginia and two in New Jersey. The strongest tornado, an EF2, touched down in Camden County, Ga., where it passed through an RV park, flipping over several vehicles. Seventeen people were injured.
Once in New Jersey, Elsa transitioned into an extratropical storm on July 9 and continued north before dissipating over the Atlantic Canada area, the NHC reported.
©2022 Orlando Sentinel.
Visit at orlandosentinel.com.
Distributed by Tribune Content Agency, LLC.
---
---
---
---