Vegas valentines: Reunion of US forces' ex-interpreter, wife from Afghanistan makes day extra-special
By
Stars and Stripes
February 14, 2022
---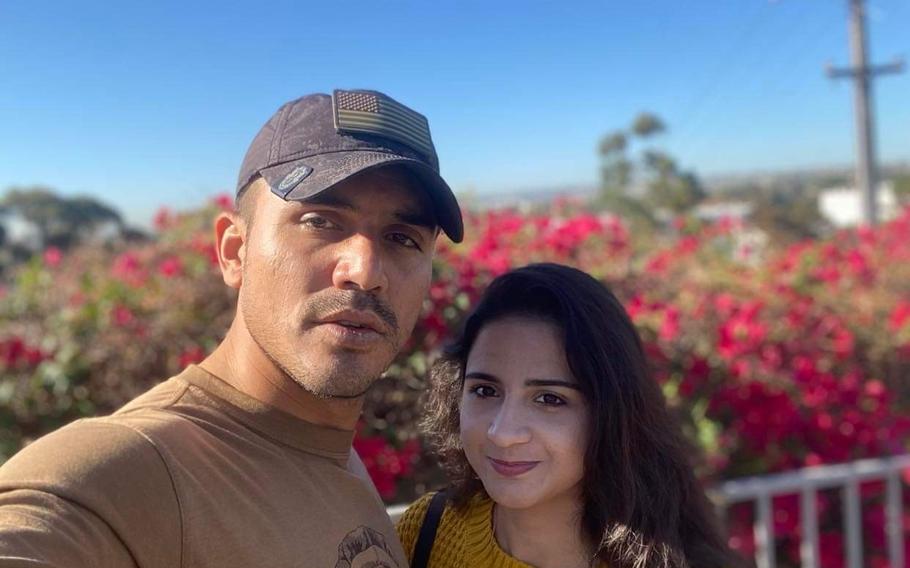 Amid the Taliban's stunningly swift takeover of Kabul last summer, a former combat interpreter for the U.S. military launched a desperate overseas bid to rescue his wife before American troops withdrew from Afghanistan.
A naturalized U.S. citizen who lives in Las Vegas, Hekmat Ghawsi brought his wife, Laily, through the chaos at the Kabul airport with the help of war veterans with whom he had worked. Today, the couple celebrate their first Valentine's Day in the United States.
The two had been kept apart for more than a year by red tape, and they were on the brink of despair during the frenzied evacuation of Kabul in August.
"It's a story of the triumph of heroism and true love set against the backdrop of a geopolitical catastrophe," Seamus O'Fianghusa, an Army veteran who worked with Hekmat Ghawsi on a deployment to Afghanistan in 2010, said in an interview Friday.
Ghawsi served as an interpreter for U.S. troops for eight years. He was mourning the death of a fellow combat interpreter when he received a Special Immigrant Visa to come to the U.S. in 2014, he told Stars and Stripes on Saturday.
Ghawsi settled in Las Vegas, where the mountains surrounding the city reminded him of his former home.
In October 2020, he returned to Afghanistan to marry his sweetheart in a lavish wedding. He had been submitting paperwork for her to come to the U.S. before the wedding, but the bureaucratic process dragged on and he had to return to the United States.
Hekmat Ghawsi was an Uber driver in Las Vegas when his homeland's government collapsed. He believed that his wife was at risk of retribution from the Taliban because of his service with American troops.
She made it to Kabul from her home village, but didn't have a way of entering the airport, where U.S. troops were conducting evacuations.
He got in touch with veterans, government officials and politicians. He became part of the informal networks, often organized via phone messaging apps, that were trying to get Afghans out of the country.
Enormous crowds had gathered at the Kabul airport, hoping someone inside would allow them through the gates and onto a plane.
In the scrum, people were trampled and tear-gassed. Laily Ghawsi recalled shots being fired into the air constantly. Her husband said she was almost killed during the first attempt getting her into the airport.
"She was the wife of an American citizen and yet was forced to wait a few hundred meters away from (the airport), in Taliban country," O'Fianghusa said in a chat interview. "She was in visible sight of freedom."
O'Fianghusa recalled a phone call with his former interpreter during the height of the evacuation.
"I could hear his voice cracking, and the tears starting. 'What is the use of giving people hopes and dreams, and then destroying them?'" O'Fianghusa said.
After many more pleas on her behalf, Ghawsi's wife made it through the crowd and into the airport. She departed just days before the U.S. withdrawal ended.
Life in the United States still feels new to Laily Ghawsi, but she's starting to like it, she said in an interview. The people are nicer than she's used to, she said.
But her rescue remains bittersweet. Shortly after she reunited with her husband, her father and grandmother died in Afghanistan. In gaining her new life, she lost her home and the two relatives who meant the most to her.
Hekmat Ghawsi is still trying to help people in Afghanistan. He has helped send medical aid and food to a charity in Kabul, and he wants to bring other relatives to the United States.
Hekmat Ghawsi said his wife wishes he wasn't always on his phone, focused on problems far away. He said he hopes one day they can have time together with the problems in Afghanistan no longer weighing on them.
This Valentine's Day will be a step toward fulfilling that promise. Hekmat Ghawsi said he designated a special time just for them.
The two nature lovers plan to drive through Red Rock Canyon, a national conservation area west of Las Vegas, and then have dinner on the Strip.
The two are expecting a child, Laily Ghawsi said. If it's a boy, his name will mean bravery, and if it's a girl, her name will mean heaven.
"We're just taking it one (day) at a time and making the best out of it, and preparing for our baby," Hekmat Ghawsi said.
---
---
---
---