Hundreds gather at Dearborn event in campaign to 'befriend' Afghan refugees
By
The Detroit News
February 13, 2022
---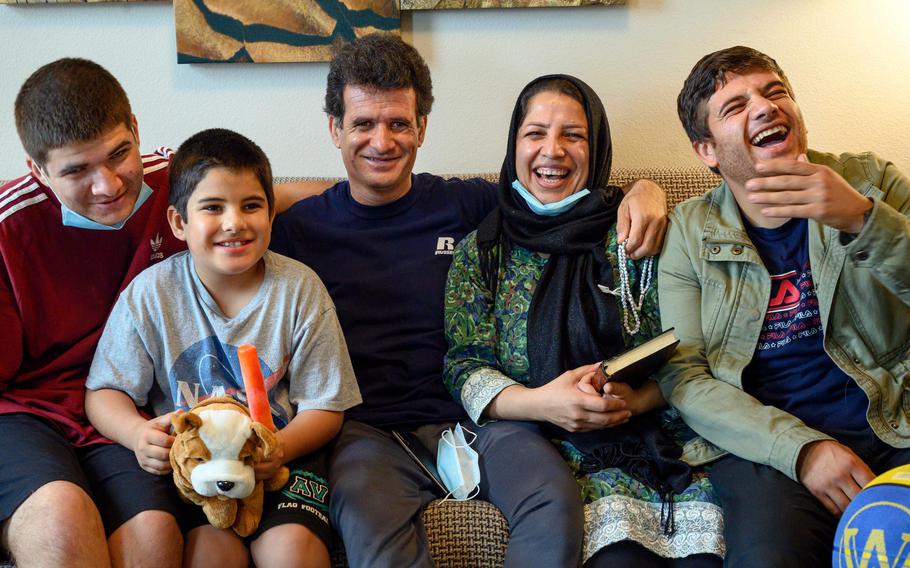 Dearborn (Tribune News Service) — Some of Michigan's nonprofit agencies and community organizers, in a first of its kind attempt as a grassroots- effort, are lining up volunteers to match them with hundreds of Afghan refugees to help with resettling in Michigan.
More than 250 people gathered Saturday evening at the Henry Hotel in Dearborn to join the campaign "Befriend a Family," which seeks to provide refugees with the "intangibles of resettlement," said organizer Palo Barakzai.
The campaign is designed to match families for mentorship, financial sponsorship and other ways to help bridge difficulties in resettlement and build communities for the refugees in Michigan.
"I can only imagine how our new neighbors are feeling," said Barakzai, a New York native with family roots in Kabul, Afghanistan.
"They don't have a support system, education, language, transportation or a cultural understanding. Our new neighbors are struggling with loneliness, confusion, despair and a general misunderstanding," she said.
The goal is to have two or three volunteer families sponsor a refugee family. The attendees at the event filled out forms that asked for details about what they can help with, such as buying groceries, providing mentorship or helping to develop an emotional support system. Campaign organizers will pair up refugee families based on their needs.
The grassroots campaign includes Hype Athletics, Zaman International, Samaritas, Amity Institute, the Muslim Foster Care Association and Wayne County. The program came together in three weeks, Barakzai said.
By Tuesday, the remaining 1,603 Afghan refugees assigned to Michigan, who began arriving in October, are expected in state. The allocation of refugees who were scheduled to resettle here increased from the 1,300 expected in September.
Hundreds of Afghans are living in hotels while awaiting affordable housing; other support has been a challenge during the COVID-19 pandemic, said Mihaela Mitrofan, Samaritas director of new American refugee services.
"The process of moving refugees into their permanent homes is a complex process (including offering) ... continuing access to medical and dental care and employment," Mitrofan said. "There are so many layers to resettlement and we only have 90 days to do this, and for many families, this time is running out."
Refugees have between 90 and 180 days to settle into new housing, at which point they receive a one-time $1,000 stipend from the resettlement agencies.
The event Saturday night displayed a montage of videos of the chaotic scenes at the end of August as Afghans clung to departing military planes, offered a history of Afghanistan and its culture and the difficulties refugees face after they arrive in their host country.
Comedian Amer Zahr touted the accomplishments of immigrants locally saying, "Anything is possible in the city of Dearborn" and pointing out that the city inaugurated its first Arab American mayor last month.
"We're not here as allies or friends of the refugee population that came to Michigan," Zahr said. "We are here tonight as brothers and sisters. Because we are them and they are us. Because we come from the same story, and we will never forget because of our names."
Refugees will be placed under the care of nonprofit resettlement agencies — 36% of the refugees will find homes in southeast Michigan, 21% in Grand Rapids, 18% in Ann Arbor, 16% in Lansing and 9% in Kalamazoo.
In west Michigan, the Grand Rapids-based Bethany Christian Services said it's planning to help resettle 250 refugees and Afghan allies of the United States, who were evacuated when the U.S. exited the country. St. Vincent's Catholic Charities Refugee Services, based in Lansing, will receive 300 Afghans.
Refugee Masih Lame, 24, said Saturday in a speech on behalf of the new refugees in Michigan: "I promise the people of Afghanistan will work hard and contribute to the improvement of the U.S. Thank you for opening your door to us."
Detroit-based Samaritas said 338 of the 550 expected refugees have arrived, and the majority of those based in Metro Detroit are living in hotels, Mitrofan said.
Mitrofan touted the efforts to support refugees in the state.
"We continue to promote the Afghan Network Campaign, which encourages support through mentorship, sponsorship and helping families integrate into the community," Mitrofan said. "We need a lot of hands on the ground getting families into permanent homes. Cultural mentorships are a great opportunity to invite the community to join our efforts (including) helping them learn the U.S. laws and processes and how life works here."
Housing has been more available on the west side of the state: In Kalamazoo and Grand Rapids, about 30% of refugees are living in hotels compared to about 80% in southeast Michigan, Samaritas said last month.
Of the refugees resettled in Michigan since October, 40% are children. Others range from individuals to families of 11. Of the children, about 70 are unaccompanied in west Michigan.
Samaritas has been resettling families for more than 70 years and on average, 75% of families resettled are considered self-sufficient within 180 days of care.
It "only happens with a village," Samaritas leaders have said, adding they don't have the adequate staffing, funding or donations needed to provide care.
Census Bureau data from 2019 indicate that about 668 people born in Afghanistan live in Michigan. That's about one-half of 1% of the total Afghan-born population living in the United States.
Resettlement agencies are given $1,225 by the federal government. Separately, agencies like Samaritas hand out $1,000 per refugee to help them resettle. Rental and utility assistance is not guaranteed in Detroit and Wayne County.
Sheikh Ibrahim Kazerooni from the Islamic Center of America, the largest mosque in the country based in Dearborn, said he is frequently asked not just about Afghanistan culture but "what led to such a mess" in the country.
"What could we say about a beautiful country with this issue of a lack of knowledge in the United States (about Afghanistan)? We have to understand what is the basic necessity for the Afghans before we try to understand them," he said.
Under President Donald Trump's administration, refugee resettlement was heavily curtailed. In 2018, Michigan resettled its fewest refugees in four decades, and what used to be hundreds of placements had dropped to single digits, especially with the travel ban imposed by the administration.
With more than a 60% decline in refugee arrivals as a result, refugee resettlement agencies closed offices.
With the exception of the Afghan refugee crisis spurred by the American pullout in August, Samaritas accepted a total of 168 refugees in 2021. Leaders expect resettlement numbers to increase this year and 2023 under the policies of President Joe Biden.
___
(c)2022 The Detroit News
Visit The Detroit News at www.detnews.com
Distributed by Tribune Content Agency, LLC.
---
---
---
---