RNC censure push pits Trump loyalists against 'D.C. bubble,' widening GOP's internal divide
By
Mike DeBonis, John Wagner
The Washington Post
February 9, 2022
---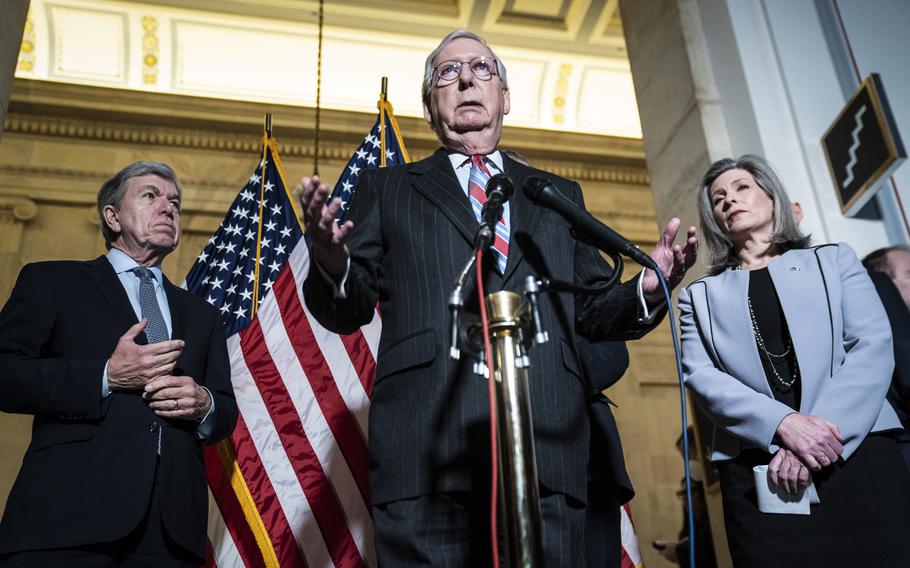 WASHINGTON — The Republican National Committee's decision last week to censure two House Republicans investigating the Jan. 6, 2021, insurrection has widened a gulf between the GOP's activist base — fiercely loyal to former president Donald Trump - and some of the party's most prominent elected leaders in Washington.
The divide was laid bare Wednesday after Trump lashed out at Senate Minority Leader Mitch McConnell, R-Ky., saying he did not speak for most GOP voters when McConnell criticized the RNC's rebuke of Reps. Liz Cheney, Wyo., and Adam Kinzinger, Ill., which also included language describing the events of Jan. 6 as "legitimate political discourse."
"Mitch McConnell does not speak for the Republican Party, and does not represent the views of the vast majority of its voters," Trump said in a statement issued through his Save America PAC. "He did nothing to fight for his constituents and stop the most fraudulent election in American history."
Trump's statement, in which he continued to repeat false claims about election fraud, came a day after an RNC spokeswoman appeared to suggest that the party's own elected officials were out of touch with Republican voters.
"Outside of the D.C. bubble, our grass roots are very supportive of the decision to hold Cheney and Kinzinger accountable," the spokeswoman, Danielle Alvarez, said in a statement to The Washington Post.
Not only did McConnell speak out Tuesday, but numerous other Republican senators also told reporters this week that they found the censure resolution ill-advised and counterproductive — particularly in a midterm election year in which GOP officials believe the party is best served by focusing on the economic record of President Joe Biden and congressional Democrats.
"We have plenty to do to get after the Democrat agenda and to work on regaining our majorities in November," said Sen. John Thune, R-S.D. "And I wish they would focus more on that and less on intraparty, intrafamily fights."
Cheney and Kinzinger joined the House select committee investigating the Jan. 6 attack last year after House Speaker Nancy Pelosi, D-Calif., rejected GOP appointees from Minority Leader Kevin McCarthy, R-Calif., leading to a Republican boycott of the panel. RNC members passed the resolution censuring the two lawmakers on a voice vote Friday at group's winter meeting in Salt Lake City.
McConnell told reporters it was "not the job of the RNC" to be "singling out members of our party who may have different views from the majority." He also reiterated his denunciation of the Jan. 6 riot, calling it a "violent insurrection for the purpose of trying to prevent the peaceful transfer of power after a legitimately certified election" — using terms that Trump and his loyalists have rejected as liberal propaganda.
While Republican senators have become somewhat inured to Trump's attacks on McConnell, several said they were taken aback by the RNC statement, which suggested that the political committee knew their voters better than the lawmakers they actually elected.
"What I think is, the RNC got caught up in its own bubble," said Sen. Kevin Cramer, R-N.D., who said the censure push "demonstrated a complete lack of understanding or awareness of the people they're supposed to be representing. They're the ones in a bubble."
Asked about the "D.C. bubble" comment Wednesday, the RNC said the remark was not specifically directed at congressional Republicans and accused the media of "being dishonest" about the censure resolution and the GOP reaction to it.
"Outside of DC, where grassroots Americans live that the RNC represents, people are more concerned about Joe Biden and Democrats' failed policies burying them," Alvarez said in a statement. "Republicans are united and are fighting to stop Democrats and Biden to take back the House and Senate in November."
The censure dust-up is the latest episode in an open political tussle between Trump and McConnell that dates to December 2020, when McConnell broke with Trump's claims of a stolen election. He later lambasted Trump for his role in the Jan. 6 riot, calling him "practically and morally responsible for provoking" the attack even as he voted to acquit Trump of impeachment articles last February.
While the feud quieted down over the past year, Trump's public attacks on McConnell have accelerated in recent months, criticizing his backing of bipartisan efforts to fund infrastructure projects and raise the federal debt ceiling. In the backdrop, the two men — and the broader Republican camps they represent — have maneuvered ahead of the midterm election to position their favored candidates in what amounts to a battle for the future of the party.
Two prominent Republican Senate candidates, Eric Greitens in Missouri and Kelly Tshibaka in Alaska, are already pledging to oppose McConnell if elected later this year. Contests in some other states are shaping up to be showdowns between the two wings of the party, such as in Alabama, where Trump endorsee Rep. Mo Brooks is facing off with Katie Britt, a former top aide to McConnell ally Sen. Richard Shelby. Even low-key incumbents close to McConnell such as Sens. John Boozman, R-Ark., and John Hoeven, R-N.D., are now facing primary races from political outsiders, though their challengers have been comparatively underfunded and have not attracted Trump's attention.
The broader GOP divide was on display Wednesday as the Republican Governors Association unveiled a television ad, with a reported $500,000 buy, backing Georgia Gov. Brian Kemp, R.
The Republican incumbent faces a primary challenge from David Perdue, the former U.S. senator who was lured into the race by Trump. Trump is heavily featured in Perdue's first television ad, in which Trump criticizes Kemp for not intervening to overturn the presidential election results in Georgia.
The RGA ad makes no mention of Perdue, instead promoting Kemp as a "conservative leader fighting back" against policies of the Biden administration.
Democrats, buffeted by the persistence of the coronavirus pandemic and the impact of inflation on Americans' economic outlook, have reveled in the intraparty fighting between pro-Trump Republicans and the establishment wing of the GOP.
"Grab your popcorn and get ready," Democratic National Committee spokesman Hyma Moore said in a statement in which he described the RGA as being "at war with Donald Trump."
"Georgia Republicans know a little about messy intraparty fights and this primary is already a disaster," Moore said.
In his Wednesday statement, Trump attacked McConnell on several issues beyond his Jan. 6 comments, saying he had not done enough to counter the Biden administration on "the invasion of our Borders," "rising Inflation," "Unconstitutional mandates" and the "incompentent [sic] Afghanistan withdrawal."
Trump then took a shot at McConnell for not intervening to try to overturn the results of the 2020 election: "If Mitch would have fought for the election, like the Democrats would have if in the same position, we would not be discussing any of the above today, and our Country would be STRONG and PROUD instead of weak and embarrassed."
Some Republican senators have defended the RNC's censure effort - or at least pushed back on the backlash to it — including some of the chamber's most prominent Trump loyalists. Sen. Josh Hawley, R-Mo., told reporters Tuesday that the controversy was being fueled by "a bunch of D.C. Republicans bashing other Republicans." The censure, he added, "reflects the view of most Republican voters."
Sen. Ted Cruz, R-Texas, defended the description of "legitimate political discourse" on Jan. 6 in comments to reporters Tuesday. Those who committed acts of violence should be condemned and prosecuted, he said. "But we have seen Democrats and the corporate media cynically trying to paint the thousands of peaceful protesters with a slander, and I think that's what the RNC was speaking out [against]."
McCarthy mostly avoided answering questions this week about the RNC censure but defended its contention that efforts to investigate the Jan. 6, 2021, insurrection amounted to the persecution of individuals engaging in "legitimate political discourse." He said the RNC wasn't referring to people who attacked the Capitol, whose actions he condemned, but others caught up in the probes.
But when it comes to McConnell, even Trump's most avid fans continue to choose their words carefully — mindful, perhaps, of the support and esteem that McConnell has earned among GOP senators during his 15 years as party leader, as well as his influence in the operation of a political fundraising machine that has raised and spent hundreds of millions of dollars to win Republican majorities.
McConnell in a Washington Examiner interview published Tuesday said he was unconcerned that Trump's attacks might provoke some competition inside the GOP ranks for his leadership spot. "Every reporter in town, including, I'm sure, you, have been probing to find one for months, right?" McConnell told reporter David M. Drucker. "Have you found one?"
Indeed, no sitting senator has openly challenged McConnell's leadership.
Cruz said Wednesday that it was a "serious mistake" for McConnell to have called the Jan. 6 attack a "violent insurrection," and he acknowledged frequent disagreements with the longtime leader. But he said he was "more than happy to work hand in hand with him" to deliver on GOP promises where warranted.
Sen. Ron Johnson, R-Wis., another Trump ally who has clashed with McConnell at times, said he did not take issue with McConnell's seeming bravado: "I think we all respect the difficult job Mitch has. I don't agree with anybody 100% of the time, but I think we certainly respect his leadership."
- - -
The Washington Post's Aaron Blake contributed to this report.
---
---
---
---