House Democrats introduce legislation to keep federal government funded until March 11
By
The Washington Post
February 7, 2022
---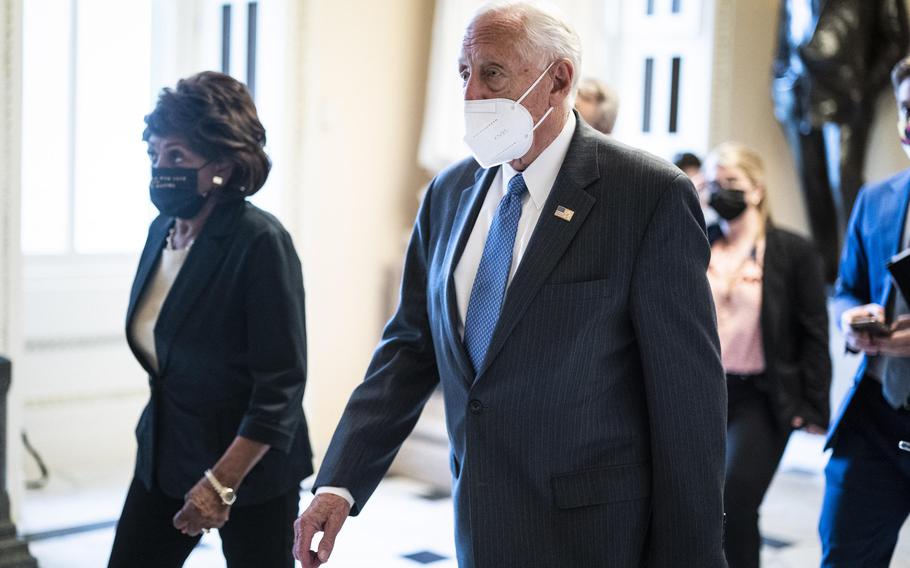 House Democrats introduced legislation Monday to keep the federal government funded through March 11 in an attempt to avoid a shutdown on Feb. 18, when current short-term funding expires.
Rep. Rosa L. DeLauro, D-Conn., chairwoman of the House Appropriations Committee, introduced the new short-term funding measure, saying the continuing resolution will provide time for Congress to complete its bipartisan negotiations on the budget for fiscal 2022.
The House is expected to vote on the stopgap measure Tuesday, and, if passed, it will go to the Senate.
Congressional negotiations for a 2022 deal have been slow, as Democrats attempt to sell Republicans on a $1.5 trillion appropriations package that would pump new spending into health care, transportation, science and defense — many of President Joe Biden's key agenda items.
Since Biden took office, the government has operated under short-term measures that keep federal agencies and programs funded at their existing spending levels but that do not provide new funding for initiatives championed by the president. While Republicans appeared content to continue funding the government in this limited fashion, recent negotiations have signaled the possibility of a longer-term budget resolution.
Until a final deal is reached, however, another stopgap measure is needed before Feb. 18, when the current short-term government funding measure expires.
"Our country needs a government funding agreement to create good-paying jobs, grow opportunity for the middle class, and protect our national security. We are close to reaching a framework government funding agreement, but we will need additional time to complete the legislation in full," DeLauro said in a statement.
Both Democratic and Republican leaders have signaled that the short-term funding measure will pass and have expressed optimism over a larger funding bill.
"We're going to get something done. It will probably be a short-term CR, and it will be this coming week to give us a little more time," House Majority Leader Steny H. Hoyer, D-Md., said Sunday on MSNBC. "Negotiations are very vigorous, and I think that we're going to get agreement both on the top line, how much spending is going to be in, and how it will be spent."
In the Senate, Sen. Roy Blunt, R-Mo., said that while some Republicans would prefer to continue funding the government at its current levels — and through short-term measures — their party also wants to secure more funding for the military.
"Can't have it all the ways," Blunt said, per CNBC. "We still have a likelihood of getting the final bill done."
DeLauro's Monday measure also provides $350 million to address water contamination from the Red Hill Bulk Fuel Storage Facility in Hawaii.
Last year, a fuel storage installation hidden inside a mountain ridge near Pearl Harbor leaked petroleum into a drinking water well, sickening thousands in military housing. The Hawaii Department of Health has ordered the Navy to suspend operations at the fuel storage facility. The Navy sued the state of Hawaii last week over the order to defuel.
Sen. Brian Schatz, D-Hawaii, said in a statement Monday that he helped secure part of that Hawaii funding — $100 million — to cover the cost of draining the tank facility.
"This bill funds defueling, and it establishes Congress's position on Red Hill: the DOD must defuel and follow the state's order immediately," he said.
---
---
---
---