House Democrats seek to halt remaining U.S. support to Saudi air war in Yemen
By
The Washington Post
February 4, 2022
---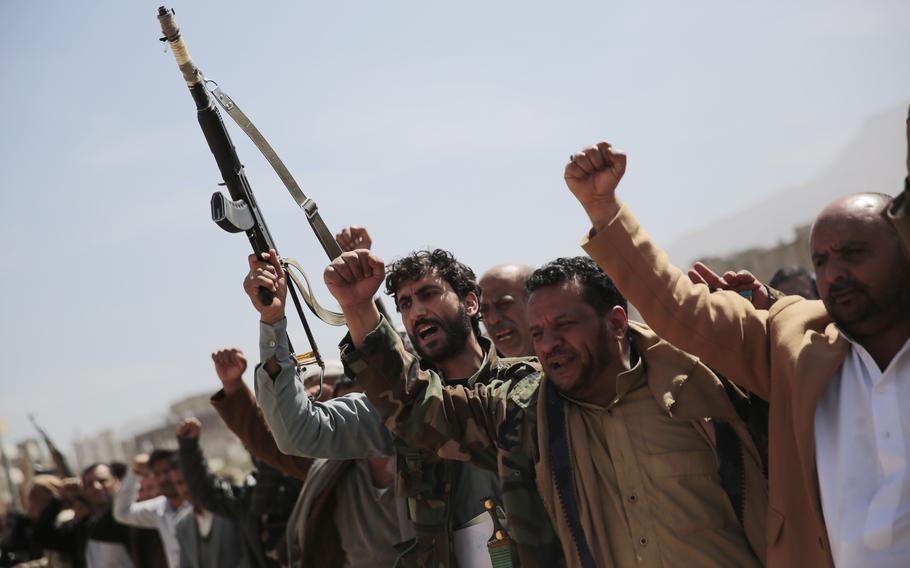 WASHINGTON - A new proposal from Democratic lawmakers would bar U.S. firms from providing maintenance support to Saudi Arabia's air force, an attempt to impose new limits on American involvement in the Gulf kingdom's long war in Yemen.
The bill from Reps. Tom Malinowski, D-N.J., and Jim McGovern, D-Mass., chairman of the House Rules Committee, would prohibit the State Department for a period of two years from granting licenses to American companies that maintain aircraft "belonging to military units that carried out offensive airstrikes inside Yemen over the last year," according to a copy of the measure obtained by The Washington Post. The bill would also suspend current licenses during that time.
Malinowski said the Biden administration, even as it attempts to advance a peaceful end to the war that has pitted Yemen's Houthi rebels against a Saudi-led coalition, must do more to live up to its commitment to halt support for coalition air operations that have killed scores of innocent Yemenis.
"When you've got Saudi aircraft . . . killing dozens and dozens of civilians in strikes that appear to be completely unjustifiable, using planes that are kept in the air under a contract approved by the U.S. government, I think we have an obligation to look at what we're doing," he said.
The proposal coincides with the anniversary of President Joe Biden's vow to cut off aid to offensive flights, a reflection of his administration's attempt to put human rights at the center of its foreign policy.
Since it began in 2015, the conflict has left tens of thousands of Yemenis dead and subjected many more to hunger, deprivation and disease. Over time, American officials, facing mounting congressional outrage over civilian deaths and other actions by Saudi Arabia, including the killing of journalist Jamal Khashoggi, have incrementally curtailed aid to Saudi and Emirati military operations in Yemen. In 2018, the Trump administration halted aerial refueling for coalition jets operating against the Houthis.
While that no longer occurs, "the maintenance contract has always been the least sexy but the most important element of our support," Malinowski said. Saudi Arabia and the United Arab Emirates count among Washington's closest Middle Eastern allies.
It's not clear what support the measure, also sponsored by Reps. Ted Lieu, D-Calif., Colin Allred, D-Texas, and Katie Porter, D-Calif., will receive. Aides said one likely path would be to consider it for incorporation in next year's annual defense bill, which will begin to come together over the summer.
Because similar measures have previously passed the House, the bill's sponsors hope it will garner renewed support.
The new measure, if passed, would permit maintenance work for U.S.-made planes, including those in Saudi Arabia's fleet of F-15 fighter jets, only on the condition they are used exclusively to target the Houthis' missile and drone capability. In practice, the difficulty of drawing such a distinction could mean that all U.S. maintenance would cease, making it harder to keep the aircraft flying.
The bill would also require the administration to provide Congress quarterly updates on Saudi airstrikes in Yemen and would permit Biden the ability to waive the maintenance contract ban on a case-by-case basis.
The legislation comes as the Houthis, who receive military support from Iran, step up their attacks against external adversaries. In recent weeks, the Houthis have launched a series of assaults on the United Arab Emirates, a major escalation. In one attack, U.S. forces at Al-Dhafra Air Base were forced to take cover and employed a missile defense system.
The Saudi-led coalition has also intensified its air operations in Yemen, conducting strikes that have resulted in civilian deaths, including one on a detention center that killed dozens of people and provoked a State Department appeal for restraint.
In a letter to Malinowski last month, the State Department highlighted the Houthis' ongoing missile and drone attacks - more than 240 on Saudi Arabia in the first eight months of 2021 - and the danger they pose to the 70,000 Americans who reside there.
The department said that, as officials sought to carry out Biden's promise to cut off backing for offensive operations, they had concluded that maintenance "was important to Saudi Arabia's self-defense capabilities, as the [Saudi air force] fighter fleet plays a critical role in UAS intercepts and in the defense of Saudi Arabia's territory and its people." UAS is an acronym for drone aircraft.
One aide, who spoke on the condition of anonymity to discuss a measure that had not yet been made public, said that if the bill becomes law, the Saudi military might be able to continue flying its F-15s if it devoted some jets entirely to defensive operations.
While the Biden administration has approved the sale of some arms to Saudi Arabia, including air-to-air missiles that officials say are not related to offensive strikes in Yemen, it has halted the sale of other arms, including precision-guided munitions like those that have been used in previous Yemen strikes.
"Stopping the provision of precision-guided munitions while continuing to service the planes that deliver those munitions is not an effective strategy," Malinowski said.
---
---
---
---