Disagreements emerge over timing of sanctions on Russia as Kremlin shrugs off the threat
By
Ellen Nakashima, Karoun Demirjian
The Washington Post
February 3, 2022
---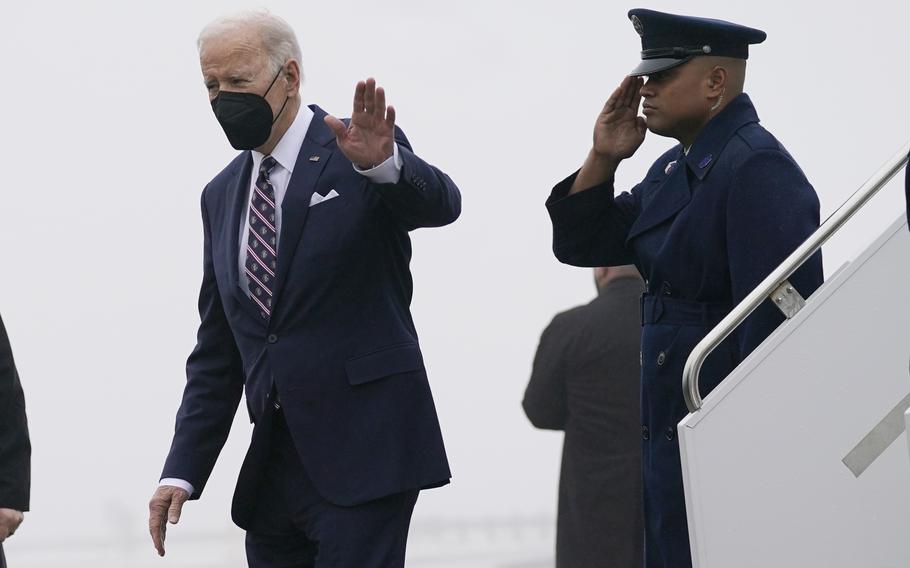 As the Biden administration pursues diplomatic options to prevent a Russian invasion of Ukraine, officials have loudly talked up a favored tool of coercive foreign policy: sanctions.
The economically "devastating" sanctions President Joe Biden has threatened could make the projected cost of war so steep, it should make Russian President Vladimir Putin rethink any plans to attack, officials have said.
But analysts caution that the deterrent power of even the most hard-hitting measures is only as strong as the United States and its allies are explicit and unified about the consequences of invasion. And so far, some say, that clarity and unanimity are lacking.
Disagreements over whether to impose sanctions on a significant number of Russian officials and entities now - as opposed to waiting for Russia to attack - have complicated action in the U.S. Senate, where Democrats and Republicans have been negotiating an agreement to impose some mandatory sanctions on Russia. And though the Biden administration has stressed that planned sanctions would target at least some of Russia's largest state-owned banks, they have been reticent to name which ones specifically.
The debate is not surprising, analysts say: Though sanctions have become a common tool of American foreign policy, the United States has never attempted to wield this level of punitive economic measures against an economy as large and intertwined with Europe's as Russia's is. There is also reason to believe there will be painful spillover effects, particularly in Europe and for international corporations. But, some caution, the United States has no choice but to make a decision about what it will target and communicate it clearly to Russia - and to do so soon.
"Once the tanks are rolling, the game is over," said Edward Fishman, a former State Department official who worked on Russia sanctions policy during the Obama administration and is now at the Center for a New American Security. "No foreign leader, least of all Vladimir Putin, is going to put his tail between his legs and go back. There's a narrow window . . . and I think that window is before a decision to invade has been made."
Administration officials have said they have a twin set of measures ready to go as soon as the first shots are fired. One is a package of financial sanctions against some of Russia's largest banks. The second involves export controls that would aim to starve some of Russia's strategic industries of key components, such as semiconductors - nearly all of which are made or designed with U.S. equipment or software.
"What we want Putin to understand is that they're going to face through those two mechanisms - a set of financial sanctions and export controls - a level of economic damage that they just haven't felt before," said a senior administration official who spoke on the condition of anonymity because of the matter's sensitivity.
Moscow has mostly dismissed the threats.
"We've been sanctioned so many times that we've lost count," Russian Ambassador to the United Nations Vasily Nebenzya said this week. "We've learned to live with it. It will not harm Russia only if implemented . . . It will backfire, and we will respond."
U.S. policymakers are aware that many of the sanctions that could most hurt Russia would have a disproportionate knock-on effect on Europe, risking a rift with European capitals that plays into Putin's hand. That dynamic led to weaker U.S. sanctions following Russia's 2014 annexation of Crimea, when the Obama administration put a premium on forging a united transatlantic front.
For that reason, the Biden administration is focused first on measures that it believes have European buy-in, such as banking sanctions - though not all countries may target the same banks - and export controls.
"We and our allies have a full range of high-impact sanctions ready to go, both immediately after a Russian invasion and in waves to follow," National Security Council spokesperson Emily Horne said. She added that no options have been ruled out.
Some analysts also are skeptical, though, that the administration's sanctions will alter Putin's calculus.
"I find it hard to believe that any plausible sanctions package, even one that is significantly more painful than what was implemented beginning in 2014, will deter Putin," said Samuel Charap, a Russia specialist at the Rand Corp. No economic measure, he added, "would create more pain" for Putin "than the geopolitical pain of 'losing Ukraine' " to the West.
Asked about the threat of sanctions, Kremlin spokesman Dmitry Peskov on Wednesday said Moscow has "contingency plans - risk-hedging plans and plans to minimize [the] consequences of . . . unpredictable steps."
Alexander Gabuev, a senior fellow with the Carnegie Moscow Center, notes that Russia has foreign currency reserves of at least $630 billion.
But the reserves can be depleted, experts said. Successive waves of sanctions in 2014 and a collapse in oil prices led to a steep drop in the value of the ruble, forcing Russia to draw down its reserves by roughly a third to prop up the currency. "If there's a crisis, money goes really fast - as it did in 2014," said Brian O'Toole, a former senior Treasury official who worked on the Ukraine-related sanctions. "They have a bigger reserve to start with today. But that's not a guarantee it won't go fast this time, too."
The administration believes that banking sanctions, probably imposed in the first wave, will impose a heavy upfront cost to the Russian economy, said a person familiar with the administration's deliberations who spoke on the condition of anonymity to discuss the sensitive matter. "They'll trigger capital flight, and probably a near-term decline in the value of the ruble," the person said. "They'll likely drive up Russian inflation."
Such sanctions will effectively cut off the targeted banks from the Western banking system, or all banks that clear transactions in dollars. "Ninety-nine point nine percent of dollar transactions around the world are cleared through New York," said O'Toole. Any transaction - including one in euros - that passes through an American bank would be barred.
The United States is expecting unity with the Europeans on these sanctions - at least on messaging. Whether the Europeans impose their own sanctions on the same banks, in practice, O'Toole said, no major European bank is going to transact with a Russian bank subject to sanctions for fear of getting cut off from the U.S. banking system. "They all need dollars," he said, "so they're not going to cross that line."
The administration warns the sanctions it is developing are much weightier than those imposed in 2014, which, among other things, restricted access to capital markets for state-owned banks and Rosneft, a major Russian energy company. Those steps may have reduced Russia's economic growth by 2.5 to 3% a year, according to an Atlantic Council report.
Some former U.S. officials contend the sanctions led Putin to agree to a 2015 peace deal for eastern Ukraine known as Minsk II, though that deal has never been fully implemented. The Obama administration could have ratcheted them up after it became clear in 2016 that the Russians weren't upholding their end of the deal, said Daniel Fried, then State Department coordinator for sanctions policy.
"In retrospect," said Fried, "maybe we should have."
The United States and Britain also are threatening sanctions against Russian elites and their families that would cut off their access to Western banks, and bar them from traveling in the West.
Energy sanctions are still possible, said a person familiar with the administration's planning, though they are not likely in any first wave.
Some analysts said that Russia's belief that the United States won't impose an embargo on energy exports because of the effect it would have on Europe has shored up its confidence it can weather other punishments. Over the last decade, oil and gas accounted for more than 40% on average of the government's annual revenue. And energy prices are surging.
"It's very hard to imagine the West employing a partial embargo on Russian oil and gas sales right now when prices are so high," said Gabuev. "Cutting Russian oil and gas out of the market will send prices into the stratosphere and Putin knows that very well."
On Capitol Hill, Democrats and Republicans say they are close to a compromise bill that would combine mandatory and discretionary sanctions. The prospective deal includes mandatory sanctions against senior Russian military, diplomatic and intelligence officials, as well as instructions to impose sanctions on Russian banks in the event of an invasion, they say. But lawmakers appear to be stopping short of explicitly ordering Biden to punish giants such as Sberbank, VTB and Gazprombank, which would have the greatest impact. Instead, they are giving him instructions to select a few banks from a list of about a dozen.
The two parties disagree, however, over how many Russian officials and banks should face immediate sanctions. The GOP wants to impose immediate sanctions against a number of smaller banks, as well as senior government officials and oligarchs, to show that the United States is willing to flex its muscles. But Democrats and the White House worry that acting too harshly before an invasion will weaken the deterrent effect of the overall measures.
The final agreement is likely to include preinvasion measures against a handful of Russian defense officials and oligarchs, as well as at least one smaller bank considered critical to the defense sector, officials said. All preinvasion sanctions probably would carry a national security waiver, meaning Biden could decline to impose them.
The Washington Post's Robyn Dixon and Mary Ilyushina in Moscow and Michael Birnbaum, Steven Mufson and Karen DeYoung in Washington contributed to this report.
---
---
---
---