Whoopi Goldberg suspended from 'The View' after saying Holocaust was 'not about race'
By
The Washington Post
February 2, 2022
---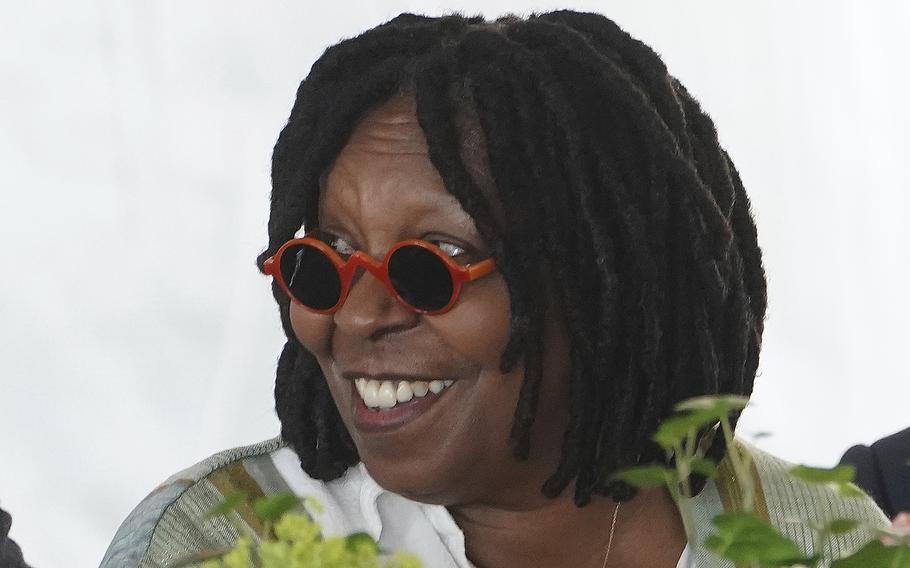 Whoopi Goldberg has been suspended from ABC's talk show "The View" for two weeks after claiming on the show that the Holocaust was "not about race" but rather "about man's inhumanity to man" - comments that sparked widespread outrage from viewers and members of the Jewish community.
"Effective immediately, I am suspending Whoopi Goldberg for two weeks for her wrong and hurtful comments," Kim Godwin, president of ABC News, said in a statement Tuesday. "While Whoopi has apologized, I've asked her to take time to reflect and learn about the impact of her comments. The entire ABC News organization stands in solidarity with our Jewish colleagues, friends, family and communities."
Goldberg's comments on Monday came as the panel discussed a Tennessee school district's decision to ban the graphic novel "Maus," citing nudity and profanity it deemed inappropriate. The Pulitzer-winning book zones in on the horrors of the Holocaust, including the killing of children, Nazi gas chambers and forced labor.
Six million European Jews were systematically killed by the Nazis and their collaborators during World War II, including an estimated 1.5 million children - and Holocaust remembrance and anti-hate groups quickly jumped in to denounce Goldberg's comments.
"Racism was central to Nazi ideology," the U.S. Holocaust Memorial Museum tweeted Monday. "Jews were not defined by religion, but by race. Nazi racist beliefs fueled genocide and mass murder."
Jonathan Greenblatt, chief executive of the Anti-Defamation League, tweeted to Goldberg that the Holocaust "was about the Nazi's systematic annihilation of the Jewish people - who they deemed to be an inferior race. They dehumanized them and used this racist propaganda to justify slaughtering 6 million Jews. Holocaust distortion is dangerous."
Late Monday, Goldberg apologized, tweeting to her 1.6 million followers: "On today's show, I said the Holocaust 'is not about race, but about man's inhumanity to man.' I should have said it is about both. . . . The Jewish people around the world have always had my support and that will never waiver. I'm sorry for the hurt I have caused."
The Nazis believed they belonged to an Aryan "master race" and propagated bogus theories that Jews were racially and physically inferior, targeting also people with disabilities and other groups.
During the discussion on "The View," which also touched on another school district's decision to remove "To Kill a Mockingbird" from its required reading list, Goldberg, who has co-hosted the program since 2007, said she was surprised that it was the nudity in the novel that made school officials uncomfortable and not the Holocaust itself.
In response to her co-host Joy Behar, who suggested that the school officials may not "like history that makes White people look bad," Goldberg said: "This is White people doing it to White people, so this is 'y'all go fight amongst yourselves.' "
Later during the discussion, the 66-year-old added: "The Holocaust isn't about race. . . . It's not about race. It's about man's inhumanity to man."
Goldberg continued: "These are two White groups of people. . . . The minute you turn it into race, it goes down this alley."
She added: "It's how people treat each other. It's a problem. It doesn't matter if you're Black or White - cause Black, White, Jews, Ita[lians], everybody, eats each other." She also spoke in support of students reading "Maus," saying it was necessary for kids "to learn about man's inhumanity to man however it exposes itself."
Goldberg later said she did not mean to "upset a lot of people" with her comments. Speaking to Stephen Colbert on "The Late Show" on Monday night, Goldberg acknowledged that "people were very angry, and said, 'No, we are a race.' "
Goldberg told Colbert that as a Black woman, race is "a very different thing to me." "As a Black person, I think of race as being something that I can see," she said, adding that the Holocaust wasn't "based on skin. You couldn't tell who was Jewish."
There is some debate over how to best define Judaism and Jewishness today. The Anne Frank House has previously written: "Jews are not a race, and categorizing people according to race is wrong and dangerous. Even so, some people still believe in the concept. If it is the basis for their hatred of Jews, it is undoubtedly racist."
The official Twitter account of the Auschwitz Memorial in Poland encouraged Goldberg to "use and share" its trove of information on the Holocaust.
Others on social media called on the program to feature Jewish voices. "Next time you plan on talking about the #Holocaust maybe have a Jewish person sitting at the table?" read one of many tweets condemning the group's discussion.
---
---
---
---