Democrats look for bipartisan deal on China economic bill as rest of agenda founders
By
Marianna Sotomayor, Jeanne Whalen
The Washington Post
January 27, 2022
---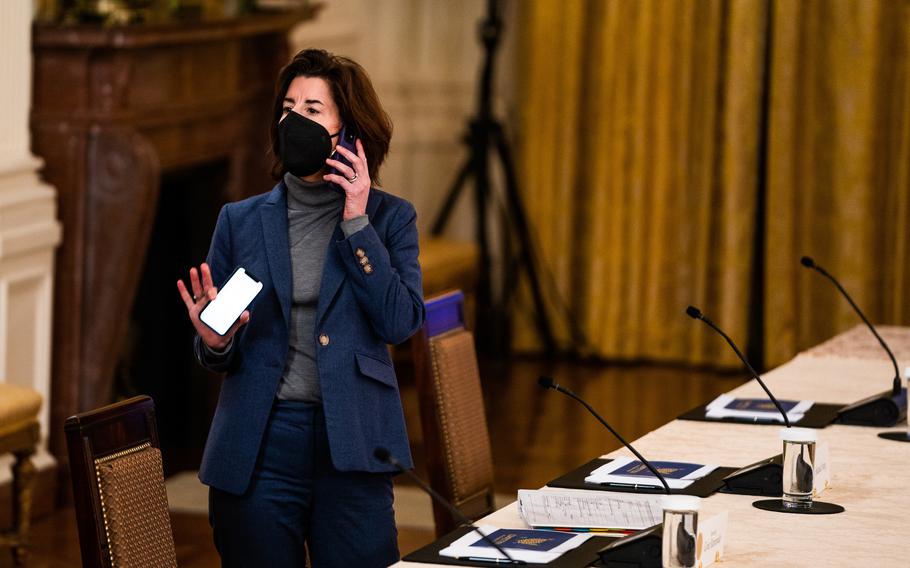 WASHINGTON - Democrats are turning their focus to legislation aimed at making the United States more economically competitive with China in hopes of scoring a bipartisan accomplishment as other aspects of the party's agenda founder.
As soon as next week, the House is expected to consider a $250 billion proposal to strengthen U.S. technology, manufacturing and research as the Biden administration tries to address global shortages in areas such as computer chips that have contributed to the surge in inflation.
The Senate passed a similar bill last year with the support of 18 Republicans and key Democrats, and administration officials said they believe they can forge a final deal to be signed into law this spring. Democrats are betting that shared worries about the threat posed by China and support for boosting domestic manufacturing can overcome the bitter partisan mood ahead of the midterm elections - a similar playbook that was used for the infrastructure bill signed into law last year.
"There's broad bipartisan agreement around the urgency of the problem and the need to get this done quickly, and I think people are committed to sitting at the table to work out the differences," Commerce Secretary Gina Raimondo said in an interview.
The House released its legislative proposal Tuesday, and so far Senate Republicans who supported their chamber's legislation have signaled they are open to a deal. House Republicans have panned the legislation, with some arguing it should contain more punitive measures aimed at the Chinese government and others complaining they weren't given a chance to offer more input.
The House's proposed America Competes Act keeps key tenets of the Senate bill, including $52 billion in federal subsidies to incentivize construction of factories to produce computer chips, which are in short supply globally. This has led automakers and other chip users to slash production of their products, which in turn has caused a spike in car prices that is fueling inflation.
Republicans have also called for the chip funding, warning that the United States must become less reliant on chips produced in China and Taiwan.
But the House bill goes further than the Senate legislation by including $45 billion in loans and grants to support domestic manufacturing of critical goods and $600 million to construct manufacturing plants to make solar products, as well as opening green card opportunities for entrepreneurs and those with degrees in science, technology, engineering and mathematics. It also includes funds to prevent pandemic-related shortages of goods like personal protective equipment and vaccine vials caused by a reliance on overseas manufacturing.
Like the Senate bill, the House legislation authorizes new funding for the National Science Foundation to support research and development, though it differs with the Senate legislation on how that funding should be deployed.
An aide to a GOP senator who supported the Senate bill said there "needs to be real negotiations to address differences" between the two bills. Both Republican and Democratic House aides said new language on trade, climate, foreign policy and research are just four areas that need to be reworked. The aides spoke on the condition of anonymity to describe private deliberations.
Earlier this week, before the House language was released, a key Senate Republican expressed optimism that a deal could get done.
"We're not going to get distracted this time, and the Democratic leadership in both the House and the Senate will see this thing across the goal line," Sen. Todd Young, R-Ind., said at an event this week hosted by Punchbowl News. The Senate bill "is perhaps the most bold and comprehensive China competitiveness legislation that our country has ever passed."
Young led the effort to pass the Senate proposal along with Majority Leader Chuck Schumer, D-N.Y., who has made the legislation a top priority as he seeks reelection.
The renewed push to prioritize a global-competitiveness package seven months after the Senate passed its version comes as Democrats' other domestic policy priorities have been stymied by opposition from Senate Republicans and a pair of centrists in their own party. A multitrillion-dollar package that would expand programs in areas such as education, health care and climate change prevention has stalled, and voting rights legislation was once again blocked this month.
With most of the party's agenda on ice and President Joe Biden's approval rating sinking, Democrats are worried about losing the House and Senate in the upcoming elections.
House Democrats facing the toughest reelection contests this fall argue the party needs to focus more on economic issues that address the concerns they are hearing back home, such as the rising cost of food and other goods. The competitiveness bill would also allow them to offer voters a policy response to Republican arguments that Democrats are not aggressively countering China as both a rival in financial markets and a potential adversary on the world stage.
"We continue to hear from constituents who are rightly concerned about supply chain backlogs and the rising price of goods," a group of 25 House Democrats wrote to party leaders on Wednesday, urging them to put the legislation on the floor next week. "It is incumbent upon us to take swift action in response to these concerns and seize a once-in-a-generation opportunity to set the course for America's economic future."
Raimondo has taken a lead role for the administration in pushing the House to act and reaching out to Senate Republicans to try to keep at least 10 of them on board so the final bill can be cleared by Congress.
She expressed confidence the Republican votes will be there when needed, noting that the tenor of the conversations she is having is reminiscent of bipartisan talks she led on broadband expansion that was ultimately included in the bipartisan infrastructure bill signed into law in November.
"There were disagreements on exactly how we would get it done, and so we had to do the hard work of compromising, but it happened. I foresee a similar path here," she said.
House Republicans are much less supportive of the competitiveness legislation, reminiscent of a situation last year when a group of Senate Republicans negotiated the infrastructure deal with Democrats despite harsh criticism from their colleagues in the lower chamber.
The sharp disagreement over the infrastructure package, which was fueled by former president Donald Trump, centered on whether Republicans should agree to any legislation supported by Democrats, even on issues that are not inherently partisan.
A similar dynamic is emerging on the competitiveness bill, with key members of the House GOP quickly criticizing the proposal as not tough enough on China.
Republican Study Committee Chairman Jim Banks of Indiana slammed the legislation as "weak and unserious" and said it fails "to do enough to counter the malign Chinese Communist Party activity happening within the United States, which should be our primary concern."
Supporters of the bill disagreed, saying it includes tough new rules for trade with China.
One provision would make it harder for U.S. retailers and others to import low-cost goods from China without paying import duties or other taxes. The measure prohibits goods originating in China and certain other nonmarket economies from entering the country under the "de minimis rule" of the 1930 Tariff Act, which allows for duty-free import of goods under $800 in value.
Imports that aren't charged duties at the border "gain a significant competitive advantage" over goods produced in the United States, House Democrats said in a release touting the legislation, particularly when those imports are produced in countries such as China that provide "unfair benefits to their companies."
The Coalition for a Prosperous America (CPA), an advocacy group representing U.S. manufacturers, applauded the measure, calling it a blow to Amazon and other e-commerce retailers that have benefited by selling low-cost items from China that enter the country duty-free. Amazon did not immediately respond to a request for comment.
The House bill "is a monumental shift in U.S. trade policy and incredibly positive. It's one of the most pro-[American] worker pieces of legislation ever released in Congress," said Nick Iacovella, a spokesman for the CPA.
The House legislation also includes a bipartisan measure that would establish a review process to screen planned U.S. investments in China and "other countries of concern" to ensure that they aren't offshoring manufacturing capacity that is critical to national security, House Democrats said.
Medical supplies, masks and other personal protective equipment, as well as goods needed to maintain the nation's electrical grid, are some of the items deemed critical under the measure, which is absent from the Senate legislation.
"Firms operating in critical industries would need to report outbound investments to certain foreign markets (such as China) and how that might compromise U.S. national security," House Democrats said. The government "would, under limited circumstances, have the ability to block certain outsourcing activities while undertaking a review of the transaction."
The lack of Republican support in the House has put a focus on where liberal members of the Democratic caucus stand because their votes will be needed to get a bill through the chamber given the party's slim majority.
Several liberal Democrats were critical of the Senate-passed bill for not including language condemning anti-Asian rhetoric that has increased during the coronavirus pandemic, which originated in China. Democrats on the House Foreign Affairs Committee said they have heeded their concerns by including language condemning anti-Asian rhetoric and violence and calling on the United States and other governments to fight racism directed at Asian communities.
Liberal lawmakers who count themselves as part of the "Squad" and the Congressional Progressive Caucus have not commented on the bill, saying they are reviewing the legislation.
Democrats who have pushed for legislation to address the United States' lack of manufacturing capacity and to provide funding for research and development in areas where the country is competing with China said the party should not let internal disagreements sink the bill.
"If you're for adding more technology infrastructure and manufacturing in the heartland of this country and across this country, you should be for this bill. That should be the central message we should keep harping on," said Rep. Ro Khanna, D-Calif., a member of the Congressional Progressive Caucus.
The Washington Post's Mike DeBonis contributed to this report.
---
---
---
---