Virginia attorney general urges Supreme Court to overturn Roe
By
Justin Jouvenal, Jessica Contrera and Laura Vozzella
The Washington Post
January 22, 2022
---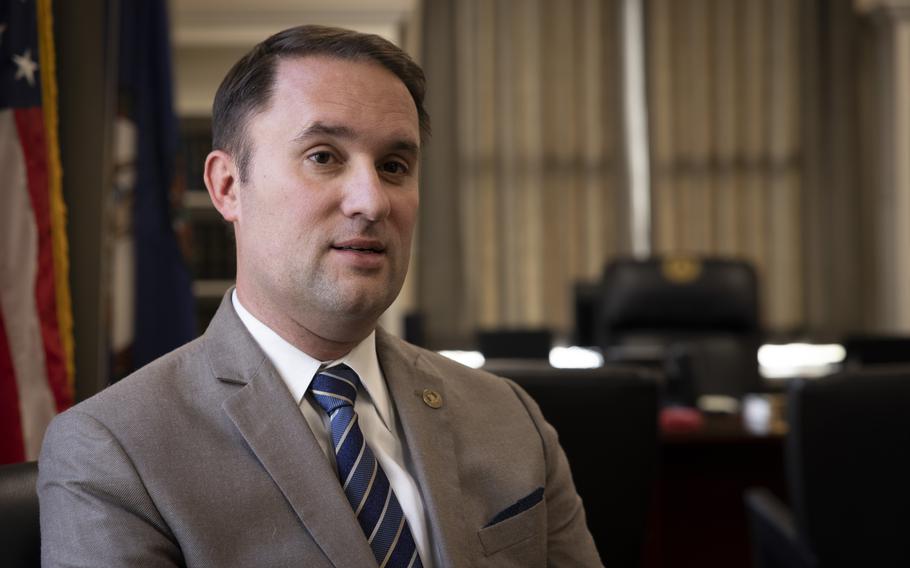 Virginia's new Republican attorney general announced Friday night that the state was withdrawing from a legal brief defending a woman's access to abortion, arguing that the landmark Roe v. Wade decision should be overturned.
Jason Miyares said Virginia would no longer be part of a friend-of-the-court brief before the Supreme Court against Mississippi's restrictive ban on abortion after 15 weeks.
The move marks a major change on abortion policy in Virginia, at a time when antiabortion advocates say they have more momentum than ever for the Supreme Court to overturn the Roe decision.
Virginia's previous attorney general, Democrat Mark Herring, was a vocal supporter of abortion rights and signed onto the brief opposing Mississippi's law with 23 other attorneys general last year. He signed similar briefs against abortion bans in Texas and South Carolina.
But in November, Virginia elected Republican leaders - Gov. Glenn Younkin, Lt. Gov. Winsome E. Sears and Miyares - who oppose nearly all abortion access.
Though the issue was not a focal point of the election, Democrats have expressed fear that the new administration will move quickly to roll back abortion rights in the state.
Less than a week after taking office, Miyares's letter signaled that he believes in doing just that. Declaring that Roe was "wrongly decided," he withdrew Virginia's support for the position that Mississippi's near-total abortion ban is unconstitutional. The issue, the letter argued, should be left up to the states.
Nationally, Miyares's move will have little impact on the Supreme Court case, since Virginia is not a party in the lawsuit. The Supreme Court has the discretion to use friend-of-the-court briefs or ignore them in arriving at its decisions.
But on the state level, the action could be the first of many to change the landscape on abortion rights in the Commonwealth. The attorney general's decision came the same day Youngkin tweeted his support for those rallying against abortion at the "March for Life" in Washington D.C.
"The Governor fully supports the AG's decision to remove Virginia from the brief," Rebecca Glover, Youngkin's communications chief, wrote in an email Saturday.
Abortion rights advocates anticipated acts like these from Youngkin and Miyares. Tarina Keene, executive director of NARAL Pro-Choice Virginia, said they are still "horrifying" to watch.
"This is a clear assault on freedom, liberty and bodily autonomy," Keene said. "They do not care about the harm they will inflict on hundreds of thousands of families in this state, especially rural, lower-income, young and people of color who already have a hard time accessing the health care they need."
While Keene was seething after reading the attorney general's letter, antiabortion groups were rejoicing.
Victoria Cobb, president of the Family Foundation of Virginia, said she is confident that the Commonwealth has "turned a corner."
"There is just tremendous energy, excitement and optimism around the issue of human life in this moment in Virginia," Cobb said. "We now have office holders that respect the sanctity of human life and are acting from that respect."
Both sides of the abortion debate are anxiously awaiting the Supreme Court's decision on the Mississippi case, known as Dobbs v. Jackson Women's Health Organization. The case centers on the constitutionality of a ban on abortion after 15 weeks of pregnancy. The questions asked by the justices during oral arguments, and the court's current 6-to-3 conservative majority, have led many to believe the 49-year-old landmark decision is likely to be weakened or overturned this June.
If Roe is overturned, abortion will become illegal in 12 states. More than a dozen others could quickly ban or significantly restrict abortion access soon after.
In Virginia, attention could return to the changes made to abortion laws in 2020, which repealed mandates that required an ultrasound and 24-hour waiting period, ensured abortion clinics do not have to meet hospital-level building codes and allowed nurse practitioners to perform procedures.
In the letter from Miyares to the court, Virginia Solicitor General Andrew N. Ferguson argued that Roe v. Wade and another significant decision upholding access to abortion are unconstitutional. Abortion, he wrote, is "one of the most hotly contested political questions of our day," and should be left to the people, rather than the court, to "resolve these questions for themselves."
"Virginia is now of the view that that Constitution is silent on the question of abortion, and that it is therefore up to the people in the several [s]tates to determine the legal status and regulatory treatment of abortion," Ferguson wrote.
Miyares's move on the friend-of-the-court brief comes two days after he reversed course on another legal effort by Herring, pulling Virginia out of a coalition of states seeking to defend the Environmental Protection Agency's plan to reduce greenhouse gas emissions from existing power plants.
Miyares, who took office Saturday, was part of a conservative wave that swept Republicans into the top three offices in the state. He promised in a recent interview with Fox News that there was a "new sheriff in town."
---
---
---
---