Activists brave cold, pandemic fears to rally for what they hope is the end of Roe v. Wade
By
Caroline Kitchener, Ellie Silverman and Michelle Boorstein
The Washington Post
January 22, 2022
---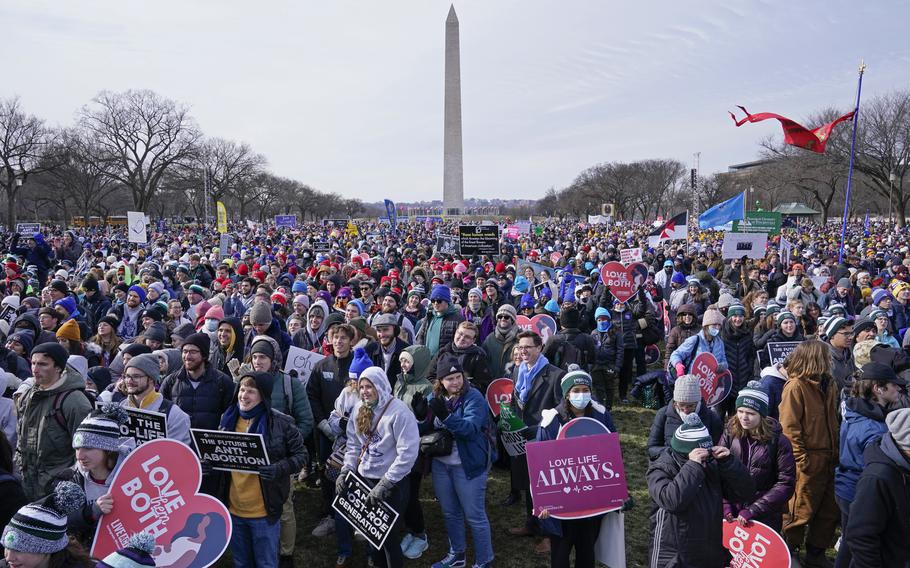 WASHINGTON — Elated cheers interrupted speeches, young people declared themselves inspired and longtime antiabortion activists said their work was finally paying off as thousands who gathered for the March for Life 2022 Friday exuded a new kind of hope.
Protesters on the National Mall huddled close to one another as temperatures hovered around 20 degrees. But the annual event, in its 49th year, was upbeat, a reflection of what some attendees said was confidence that the Supreme Court this year may overturn the Roe v. Wade decision that legalized abortion nationwide — and prompted the creation of the march.
"One day at the Smithsonian there will be a display of the pro-life movement ending abortion," Melanie Frei, 66, of Tomah, Wis., said as she stood on the Mall between various museums. "We ended slavery, we ended segregation, and now we'll end abortion."
Katie Gooding, a 19-year-old sophomore at Liberty University, held a sign that declared her a "pro-life lawyer fighting to practice in a post-Roe nation."
Gooding, who is a prelaw student, said she was inspired by the abortion ban passed in Texas, which has outlawed almost all abortions after six weeks of pregnancy since September. "That case is the reason I'm going into law."
Gooding said she had started attending antiabortion protests at age 16 and never imagined that Roe might fall so soon. "I'm very hopeful."
The event for the most part had its usual mild, family-friendly vibe — a sharp contrast to the angry, confrontational antiabortion activism increasingly on display, including late last year when the Supreme Court heard Dobbs v. Jackson Women's Health Organization.
The case is reviewing the constitutionality of a Mississippi ban on abortion after 15 weeks and could determine the future of Roe. With a 6-to-3 conservative majority, the court has signaled its willingness to weaken or even overturn the 1973 precedent.
At one point during the start of the march, police formed a barrier around about 40 people.
The group, which held a banner proclaiming that "Strong families make strong nations," was the Patriot Front, a white supremacist organization. Its leader, Thomas Ryan Rousseau, led chants of "Reclaim America," and counterprotesters supporting abortion rights yelled at the group to go home.
The Patriot Front also joined a March for Life event in Chicago earlier this month and marched on the National Mall last month.
Asked Friday about the group's appearance, a March for Life spokesperson said in a statement that the "March for Life promotes the beauty, dignity, and worth of every human life by working to end the violence of abortion. We condemn any organization that seeks to exclude a person or group of people based on the color of their skin or any other characteristic."
Also in the crowd during the pre-march rally was a small group from the nativist organization America First.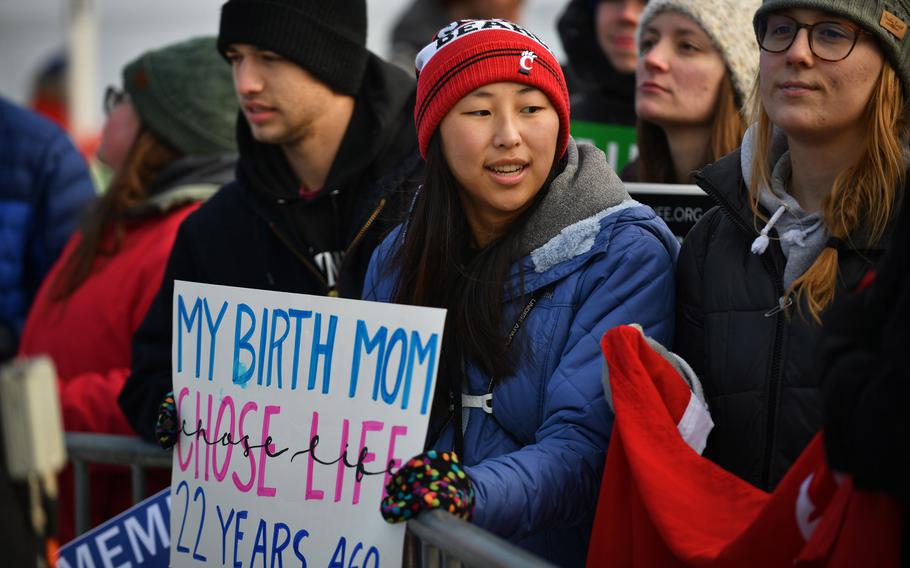 The march takes place each year on or around the anniversary of Roe v. Wade's decision. It also comes as the Supreme Court considers the Mississippi law.
The justices initially allowed a Texas law prohibiting abortions after about six weeks to stand while a legal challenge worked its way through the courts. In December, the justices said the case could continue only against Texas licensing officials who oversee nurses, physicians and pharmacists — while again leaving the law in effect.
Both the Mississippi and Texas laws prohibit abortions well before the point of viability — when a fetus could survive outside the womb, usually about 24 weeks. Roe guaranteed a person's right to an abortion up to viability.
If Roe is overturned, abortion will become illegal in 12 states, with more than a dozen others likely to ban or significantly restrict the procedure soon after.
Kristan Hawkins, president of Students for Life of America, told The Washington Post this week that her group has been readying for this moment.
"Roe being reversed really is only the beginning, and that's what we've been preparing for," Hawkins said. "Having this army for this ground game of this fight that will go state by state."
Some protesters on Friday said they were particularly worried about abortion in the form of medication and the potential for abortion pills to be delivered illegally through the mail.
In past years, abortion rights groups have largely avoided the March for Life, said Jamie Manson, president of Catholics for Choice. But this year, with Roe vulnerable, Manson said the antiabortion activists "need to be answered."
The group Thursday projected abortion rights messages on the side of the Basilica of the National Shrine of the Immaculate Conception, the largest Roman Catholic church in the United States and one of the most prominent Catholic landmarks in Washington. One read: "Pro choice Catholics, you are not alone."
"The people coming to this march are coming in very triumphant and very emboldened, with no regard for how this will affect women, how this will affect the poor, how this will affect people of color," Manson said. "So we have to speak back to them this year."
As usual, the crowd at the March for Life skewed young, with many students from Catholic high schools and colleges wearing their school gear and carrying signs and banners with antiabortion slogans. Catholic clergy are also very visible every year, and speakers usually include religious perspectives in their talks. Evangelical groups in recent years also began attending and holding side events during the week.
At an early morning "Mass for Life" Friday at the Cathedral of St. Matthew the Apostle in downtown D.C., a message was read from Pope Francis: "Only when the sacredness of the human person is respected and their rights recognized can the many forms of social injustice be overcome."
Abortion foes in recent years have aimed to highlight more secular, science-based arguments - in 2018, the march's theme was "Pro-life is pro-science." However, the religious aspect of the movement remains very prominent "because of the current influence of White evangelicals and Catholics and because the right-to-life movement has also thrown itself into related conflicts about religious liberty in the context of birth control, same-sex marriage, and so on," abortion movement historian Mary Ziegler said in an email.
"What is striking is that emphasizing faith - something that once was used against the antiabortion movement - is now something many in the movement embrace," she wrote.
The role of religion in the movement has been heightened again by the presence in the White House of President Biden, a Catholic who supports abortion rights. Some bishops have attacked Biden's argument that his faith leads him to respect others' choices and consciences, and they say he is a dangerous model of a public Catholic.
Emma Gladd, 16, said she doesn't agree with Biden's views on abortion.
"If he's Catholic, he should fight for all lives," said Gladd, who wore a Donald Trump beanie with an American flag design and the former president's slogan: Keep America Great. "He just doesn't support a lot of the things that we support."
She was at the march with others from her school in Augusta, Ga. Being antiabortion is an important part of being Catholic, she said. Students pray about it at school, talk with their friends in their antiabortion club and fundraise to help women with unplanned pregnancies opt against abortion.
"It's amazing to see so many other people who are so hopeful," Gladd said of the big crowd. Her friend, Caroline Jackson, 17, agreed. "It's good to know you're not alone."
---
---
---
---