Wife of DC police officer who took own life after Capitol riot presses city to recognize his death
By
Peter Hermann and Meagan Flynn
The Washington Post
January 21, 2022
---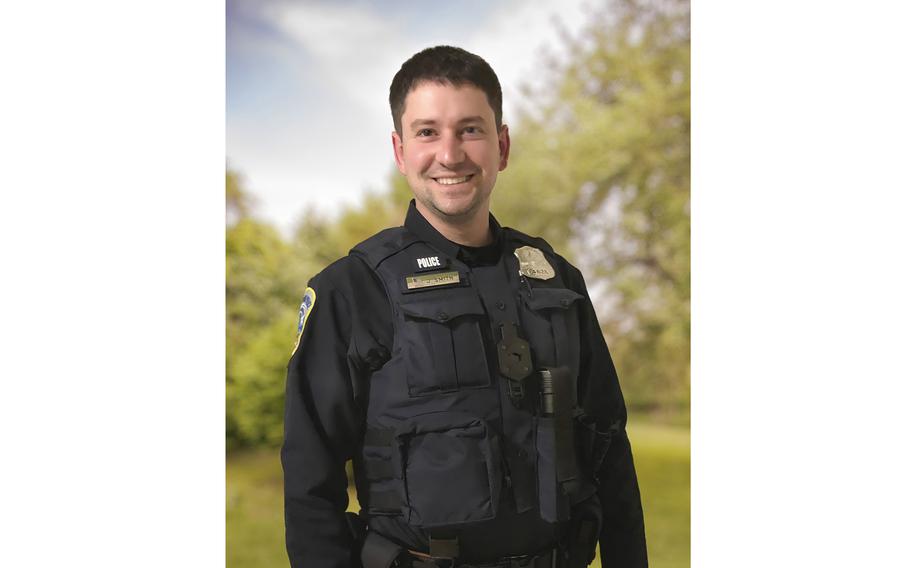 WASHINGTON — District of Columbia police officer Jeffrey Smith died by suicide in the aftermath of the Jan. 6 insurrection, an act his family believes was the result of injuries he received when he took a blow to the head with a crowbar, or similar object, as he defended the U.S. Capitol.
But a little over a year later, city officials have not yet said whether they will grant his widow's request to consider his death to be in the line of duty.
Smith's wife, Erin Smith, wrote in an op-ed in The Washington Post that she is pressing for official recognition and that her husband's "sacrifice deserves to be remembered." Such a designation by the District could result in additional financial benefits or, separately, his inclusion on the D.C. police list of fallen officers.
Though D.C. officials say no official decision has been made, Rep. Don Beyer, D-Va., Erin Smith's congressman, said he spoke to Mayor Muriel Bowser, D, this month and she stated the District does not consider Smith's death to be in the line of duty. A spokeswoman for Bowser declined to address the mayor's conversation with the congressman.
Smith's case is pending before the D.C. Police and Firefighters Retirement Relief Board, which votes on pension claims and whose members are appointed by the mayor. Beyer said Bowser "was pretty clear that she expected it was going to be denied."
Beyer, who has been advocating for Smith's family, said he thinks there is a clear link between Jeffrey Smith's service at the Capitol and his death. "It's really abundantly clear that Officer Smith would be alive today if he hadn't been there on January 6," Beyer said.
If the District disagrees, he urged officials to let Erin Smith know so she can continue fighting her case, possibly through the courts.
"If they don't say anything, then she's just in limbo," Beyer said.
Suicides by police officers are rarely recognized as line-of-duty deaths. But advocates are trying to change that, saying that the stress of the job, and sometimes physical injuries, can take a significant toll on officers' mental health and deaths by suicide are often directly linked to an officer's service.
Jeffrey Smith's family says he suffered a traumatic brain injury at the Capitol that they say went undiagnosed at the city's medical clinic in the days after the insurrection, and was unrecognized by Smith himself.
The retirement board has asked the D.C. police and the separate Police and Fire Clinic — run by a private contractor to treat injured first-responders — to weigh in on whether Smith's duties Jan. 6, 2021 were the "sole and direct" cause of his death.
D.C. Police Chief Robert Contee and two police department lawyers told the board in a letter they would not respond to those questions. Their letter says there is "no direct evidence of Officer Smith's mindset at the time of his death" and they "cannot reasonably opine" whether Smith's death was linked to physical or psychological injuries from Jan. 6. To do so, the letter says, "would be pure speculation."
Dustin Sternbeck, a D.C. police spokesman, said the Police and Fire Clinic "is the appropriate agency to provide a medical assessment" to the retirement board. He said, "The vender has not indicated to us whether they intend on complying with the retirement board's request."
The chief operating officer of the clinic, Marian Booker, did not respond to requests for comment. E. Lindsey Maxwell, the interim director of the D.C. Department of Human Resources — which has oversight of the retirement board — said the board is committed to evaluating Erin Smith's claim "in a fair and equitable manner." He said the matter remains under consideration and would not comment further.
On Jan. 11, the board gave the clinic and the District another 30 days to answer its questions.
Smith's attorney, David Weber, said "the one person who can least afford to continue waiting is the widow."
Smith's fight to have her husband's death recognized as in the line of duty mirrors that of the family of another officer who took his own life after battling rioters, Capitol Police officer Howard Liebengood.
Rep. Jennifer Wexton, D-Va., Liebengood's and his wife's congresswoman, has been pushing federal officials to approve his family's request. But she said the work extends beyond that, as Liebengood's wife, Serena Liebengood, has been advocating to ensure officers have access to greater mental health resources. Last year, Wexton helped secure funding to boost mental health resources for the Capitol Police and to establish the Howard C. "Howie" Liebengood Center for Wellness.
"They have been very instrumental in turning their grief into action and working to get the wellness center up and running," Wexton said of the Liebengood family. "I don't see them giving up," no matter what hurdles they encounter in getting Liebengood's death formally recognized, she said.
Two other D.C. police officers who were at the riot also took their own lives in the months afterward; their families have not spoken publicly.
Though Jeffrey Smith and Howard Liebengood's deaths have not been formally recognized as having occurred in the line of duty, police chiefs from both the Capitol and D.C. forces have invoked their names at times. In August, their relatives were invited to the White House as President Biden awarded the Congressional Gold Medal to officers who responded to the insurrection.
Sens. Tim Kaine and Mark Warner, D-Va., have joined Beyer and Wexton in imploring local and federal officials to recognize the deaths as directly related to the violence at the Capitol.
"Officer Smith and Officer Liebengood devoted their lives to serving our democracy," Kaine and Warner said in a statement. "We continue to urge the District of Columbia and federal officials to grant their families the respect, recognition and benefits afforded to law enforcement officers who have lost their lives in the line of duty."
Beyer said it's unlikely that Congress could find a legislative solution to designate Smith's death as in the line of duty if administrative or legal avenues fail, particularly given House Democrats' support for D.C. autonomy. But he and Wexton are working with Rep. David Trone, D-Md., on a bill that would make officers suffering from post-traumatic stress disorder or who die by suicide eligible for benefits if their trauma is related to their duties. A spokesman for Sen. Tammy Duckworth, D-Ill., said she would be introducing a similar Senate bill on Thursday.
Erin Smith's attorney, Weber, said Smith more than anything wants her husband's name engraved on the National Law Enforcement Officers Memorial in the District and listed among the fallen heroes by D.C. police.
Even if Smith prevails before the retirement board, D.C. police and the national memorial, which is run by a nonprofit organization, each have their own criteria, and would not automatically include her husband.
"We do not consider suicide to be a line of duty death," said Marcia Ferranto, the chief executive officer of the National Law Enforcement Officers Memorial Fund.
That said, Ferranto would not rule out an exception, and she encouraged Jeffrey Smith's family to apply. "We look into every case individually," she said, promising a "deep dive" into the particulars.
Weber's filings to the retirement board contain medical reports from two doctors supporting his claim linking the assault at the Capitol to his death, including Jonathan L. Arden, a forensic pathologist and former chief medical examiner for the District. Arden concluded that Smith lost consciousness and then exhibited "mood and behavioral changes."
In the the letter to the retirement board, Contee said Smith denied suffering pain and was alert and in a "normal mood" when seen at the medical clinic hours after the riot. At a follow-up visit Jan. 14, 2021, the letter states, Smith "was feeling well" and did not have a headache, nausea or an unsteady gait.
He was cleared to return to work the next day, Jan. 15, 2021, and was on his way in when he shot himself in his vehicle on the George Washington Memorial Parkway.
---
---
---
---