Democrats scramble to resurrect 'chunks' of $2 trillion spending plan backed by Biden
By
The Washington Post
January 20, 2022
---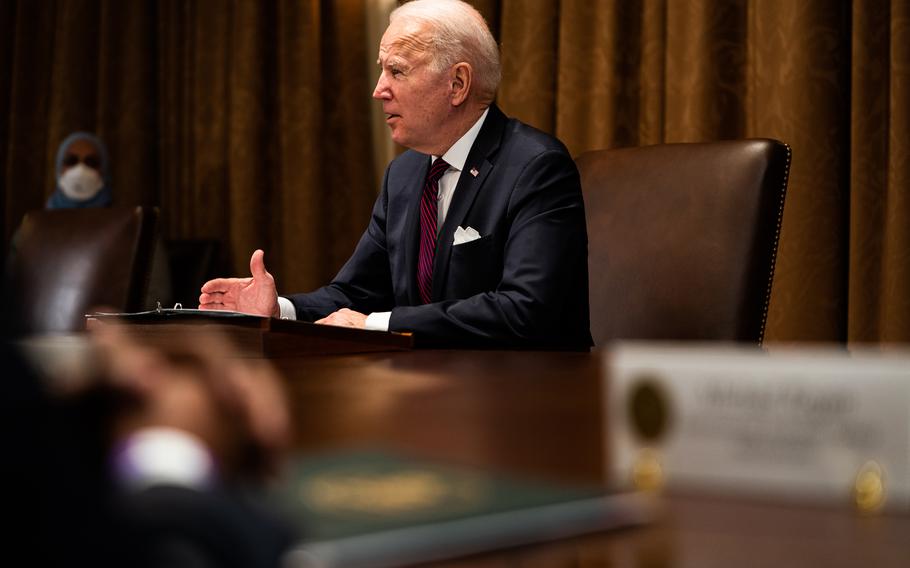 SPENDING 1554 words · 1 photo Democrats scramble to resurrect 'chunks' of $2 trillion spending plan backed by Biden (c) 2022, The Washington Post · Tony Romm · NATIONAL, POLITICS, CONGRESS, WHITEHOUSE · Jan 20, 2022 - 5:17 PM WASHINGTON - Democrats on Thursday scrambled anew to scale back what once was a roughly $2 trillion package to overhaul the nation's health care, education, climate, immigration and tax laws, pledging to deliver one of President Joe Biden's top priorities - even if they weren't exactly sure how.
The revived conversations on Capitol Hill followed a day after Biden acknowledged the obvious at a news conference: The bill, once the centerpiece of his economic agenda, simply could not pass Congress in its current form and had to be broken into "chunks" to survive.
For Democrats, Biden's comments quickly resurfaced a series of critical, familiar and uncomfortable questions. How would they slim down the size and scope of their proposal to win over Sen. Joe Manchin, D-W.Va., the moderate holdout who repeatedly has upended the party's policy ambitions? What might be part of a smaller package, anyway, and how would they decide which components to keep or jettison?
Biden himself loosely sketched out a pathway when he spoke to reporters this week, pointing to the possibility that Democrats could focus on policy areas including climate change, universal prekindergarten and prescription drug prices. By Thursday, White House press secretary Jen Psaki stressed the president generally would push to achieve "as big of a chunk as we can get."
But the move toward a narrower approach in a bid to satisfy Manchin still threatened to spell an end to the party's plans to enhance Medicare, for example, or extend an expanded child tax credit program - an idea the president himself all but admitted is doomed. On Capitol Hill, meanwhile, Manchin appeared to interpret the remarks as a potentially reset on a debate that already has spanned nearly a year.
"We'll just be starting from scratch," Manchin told reporters.
Even the title of the bill - known now as the Build Back Better Act, and modeled on the president's 2020 campaign slogan - seemed to be a matter for debate.
"We may have to rename it," House Speaker Nancy Pelosi, D-Calif., told reporters at her weekly news conference, though she joined other Democrats in emphasizing that the uncertainty afoot would not keep them from continuing the fight.
"What the president calls 'chunks,' I would hope, would be a major bill going forward. It may be more limited, but it is still significant," she said.
The flurry of questions only illustrated the long road ahead for Democrats in a debate that has dogged the majority of Biden's presidency. Advancing trillions of dollars in additional federal spending never was going to be easy for a party that boasts a narrow majority and no shortage of ideological divides. But the task only has become more complicated as tensions between Manchin and his fellow Democrats continue to rise - and the decisive 2022 congressional elections draw closer.
"Everybody's going to go home, and people are going to say, 'Get things done that really help us'," said Sen. Ron Wyden, D-Ore., the leader of the tax-focused Senate Finance Committee, in an interview before lawmakers departed for a week-long recess Thursday.
The infighting reached its nadir in December, when Manchin officially outlined his long-presumed opposition to Democrats' $2 trillion social-spending plan. Even though the proposal represented a significant departure from what party lawmakers initially sought, Manchin still rejected it out of a fear it would add to the deficit and further worsen the country's struggles with inflation.
Manchin's stance ultimately doomed Democrats in the Senate, who needed his vote to advance the measure using reconciliation, a legislative tactic that allows the party to sidestep a GOP filibuster. It also enraged the White House, where Biden had been in active negotiations with Manchin for weeks. The administration almost immediately issued a rare, public rebuke of the West Virginia lawmaker at the time, further ending all hope that a deal could be reached in the waning hours of the year.
Entering January, Democrats tried to let the debate cool off, choosing instead to focus on voting rights - another area where the party and Manchin ultimately found themselves at sharp odds. So the same tensions that had hamstrung them in recent months quickly resurfaced as lawmakers prepared Thursday to pivot back to their stalled spending plan.
"We have tried for five months to do what the American people overwhelmingly want, and that is pass legislation which addresses the long-neglected needs of working people," lamented Sen. Bernie Sanders, I-Vt., the chairman of the Senate Budget Committee. "So the current direction that we have followed for the last five months has failed. We've got to move in a new direction."
Sanders had crafted the initial agreement that paved the way for Democrats' original, roughly $3.5 trillion proposal. The initial blueprint aimed to expand Medicare to include dental, hearing and vision benefits, provide paid family and medical leave to millions of Americans and invest billions of dollars into affordable housing.
By Thursday, each of those ideas appeared at risk of severe cuts, either because of Manchin's sustained opposition to the specific policies or their contribution to the bill's overall costs. The looming changes prompted Sanders earlier in the week to say he would support a candidate who challenges Manchin in an upcoming Democratic primary election.
Responding to the threat, the West Virginia Democrat on Thursday dismissed a challenge as "life in politics today." Manchin added that he and the president "haven't had conversations yet" about the future of the Build Back Better Act, though he acknowledged negotiations are likely to resume soon.
In doing so, the senator sketched out his latest vision for the retooled bill.
"The main thing we need to do is take care of the inflation, get your financial house in order, get a tax code that works," he said. "Take care of the pharmaceuticals - you're gouging the people with high prices. We can fix that."
"We can do a lot of good things," Manchin added.
Privately, many Democrats have taken particular issue with what they say are Manchin's ever-shifting positions. They contend he has agreed to compromises only to change course, telling Biden at one point last year he supported around $1.8 trillion in spending only to take his own counter-offer entirely off the table just days later. Many in the party say they see no reason to negotiate publicly over potential counteroffers until Manchin and the president can reach an ironclad resolution.
But some Democrats on Thursday still harbored hope for a political breakthrough sooner than later. A day after Biden endorsed a scaled-back approach, Wyden said he sensed a new willingness among his party to wheel and deal, citing the fact that "they've heard the president say this."
Wyden put forward his own rough outline in recent weeks: He said Democrats could focus on addressing climate change, extending tax cuts that lower health premiums and empowering the government to negotiate drug prices for seniors on Medicare.
"I remain very optimistic that we can get big pieces of the plan over the finish line, including reducing the price of prescription drugs, expanding opportunity with early education, making child care more affordable addressing the climate crisis," added Sen. Chris Van Hollen, D-Md., in an interview, echoing some of the same priorities.
With climate change, in particular, Wyden, Manchin and other top Democrats have maintained for weeks there is now more alignment than dissent over rethinking the tax code so that it incentivizes cleaner energy. Democrats last year scaled back their more aggressive proposals - responding to concerns aired by Manchin, who represents a coal-heavy state - to punish the worst polluters.
"I think what we need to do is quickly establish where we have agreement among the 50 of us Democrats . . . and then go forward," Sen. Tina Smith, D-Minn., who has worked closely on climate change policy, said in an interview Thursday.
Many Democrats also have called for an extension of a child tax credit program that had paid monthly sums to families until it expired at the end of December. Wyden on Thursday said he would "fight like hell" to revive the benefits, which Democrats first authorized as part of a coronavirus stimulus package adopted last spring.
But the fate of that tax credit - much like the rest of the package - still remained in great doubt. Manchin has opposed extended it, as he seeks to limit its availability through new work requirements rejected by the majority of his party. And Democrats had yet to find a resolution that might bridge their growing divide in the debate.
"It's critically important that we keep pushing because I don't think we've seen a policy have such an important in such a short period of time," said Rep. Suzan DelBene, D-Wash., the head of the centrist-leaning New Democrat Coalition.
As the roughly $2 trillion Build Back Better Act began to stumble last year, the bloc last year called on Democrats to focus their spending on a few, core priorities, including the child tax credit, rather than warring without end over a package that might not have a chance to pass. With debate resuming, DelBene said she thought others in the party had started to come around on that approach.
"I think there had been broad support," she said Thursday, "and definitely feel like that has increased over time."
---
---
---
---