NC delays challenge to Madison Cawthorn's eligibility for Congress
by
Will Doran
The Charlotte Observer
January 15, 2022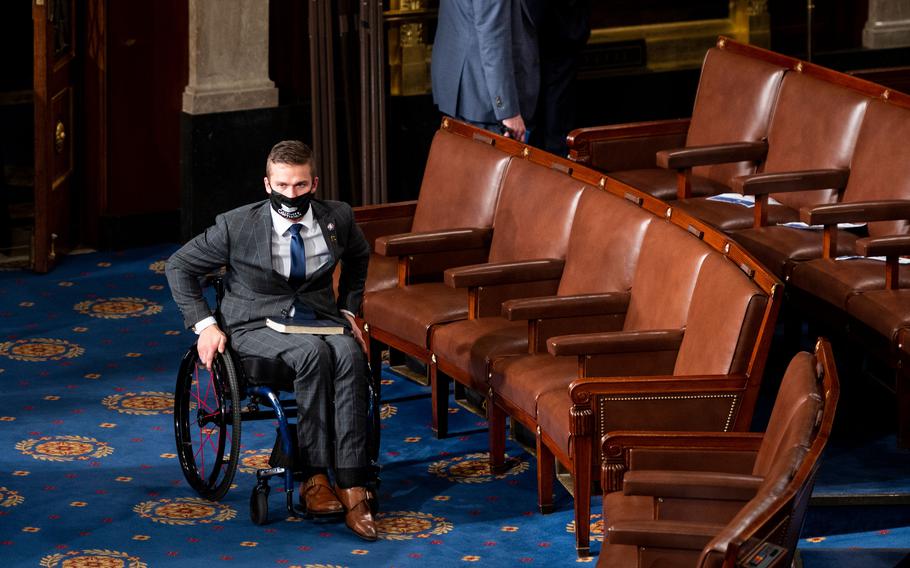 (Tribune News Service) — Questions of whether Republican Rep. Madison Cawthorn should be allowed to run for re-election to Congress — due to his support for overturning the 2020 election, plus accusations that he helped plan the Jan. 6, 2021 attack on the U.S. Capitol — are being put on hold.
The reasons for the delay are slightly complicated. So are the legal arguments, which boil down to a part of the U.S. Constitution that hasn't been used much in the 150 years since it was written.
Cawthorn, for his part, says he stands by his actions and doesn't think he will be banned from Congress when it's all said and done.
"It's just a political tactic," he said in a recent interview with Fox News. "I don't believe it has a snowball's chance in hell of actually accomplishing its task."
The case has grabbed national media attention, and some national legal experts agree that Cawthorn is probably right and will be allowed to run again.
However, some say that even if it fails, the challenge might still succeed in a different way — by forcing the 26-year-old lawmaker from Hendersonville to testify about just how involved he was in planning the attack on Congress.
Several months ago Rolling Stone wrote that multiple Jan. 6 organizers who are now helping Congress investigate the violence that day say they worked closely with several far-right members of Congress or their staff — Cawthorn, Texas Rep. Paul Gosar, Colorado Rep. Lauren Boebert and Georgia Rep. Marjorie Taylor Greene.
"We would talk to Boebert's team, Cawthorn's team, Gosar's team like back to back to back to back," one of the organizers told Rolling Stone.
Will the challenge work?
No state has the power to block people from running for Congress, University of Iowa law professor Derek Muller wrote for the Election Law Blog. No matter how unqualified someone might seem, he said, only Congress itself has the authority to decide who is eligible to serve in Congress.
State elections officials shouldn't even be allowed to keep a child off the ballot, he added — let alone a sitting member of Congress — and if that child went on the win the election, it would be up to the rest of Congress to vote on whether he or she should be sworn in.
"It's left for the people to choose their candidates, and for Congress to judge whether those candidates are qualified," Muller wrote.
He also noted that the Democratic-majority House of Representatives could have attempted to expel Republicans like Cawthorn who tried to overturn the election, but hasn't. It takes a two-thirds majority to kick out a member of the U.S. House, and in all of American history it has only happened five times — three for fighting for the Confederacy and two for bribery scandals.
Other analysts were less dismissive. Slate legal writer Mark Joseph Stern wrote that the legal case "is a long shot" but might work. And, he added, there are other ways for Cawthorn's opponents to measure success.
"Even if the challenge fails to keep Cawthorn out of Congress, it could still succeed in forcing him to reveal new details about his involvement in the Jan. 6 assault," Stern wrote.
That's because unlike in a criminal trial, where the burden of proof is on the accuser, North Carolina law says that in election challenges it's the accused who has to prove he or she did nothing wrong. So for Cawthorn to be allowed on the ballot, he can't just sit back and let things play out — he will have to argue why he shouldn't be banned from running again.
That might include letting his accusers, whose attorneys include two former N.C. Supreme Court justices, question him under oath and force him to provide emails, text messages or other documents.
"Challengers intend to depose Representative Cawthorn before the hearing, and request subpoenas for witnesses and documents, including documents that Representative Cawthorn or his staff may possess involving the planning of the January 6 events that could shed light on his qualification for office under Section Three," their legal challenge states.
Section Three is the part of the 14th Amendment that they say disqualifies Cawthorn from running for re-election. Originally written to stop Confederate soldiers and sympathizers from rejoining Congress after the Civil War, it says anyone who took an oath to defend the U.S. — like members of Congress — but who then went on to participate in rebellion or insurrection against the government, is banned from serving in the military, in Congress or as president.
Who decides, and why it's delayed
In North Carolina when someone challenges a candidate's eligibility for office, the first step is for state elections officials to create a special panel to hear the arguments. That panel has to be made up of people from within the district the candidate is seeking to represent.
And that's why the case against him has now been delayed.
Cawthorn currently lives in and represents a western North Carolina district, but he's planning to run for re-election in a different district, in the Charlotte suburbs. Members of Congress don't have to live in the district they represent, unlike politicians at other levels of government. Complicating matters even further is the fact that there's an ongoing lawsuit over the state's congressional districts that could eventually lead to them being thrown out and re-drawn.
For that reason, the N.C. State Board of Elections asked to be able to delay the hearing into Cawthorn.
They were supposed to get started earlier this week — but argued it would be a giant waste of time for everyone involved if they had to start over with a new panel, if the districts do get overturned.
A court agreed, so now the redistricting lawsuit has an added level of suspense: Not only will it determine the maps, it will also determine which counties get to send residents to decide on Cawthorn's eligibility, plus how quickly the hearings will happen.
A ruling could come within a month. On Friday the N.C. Supreme Court announced it would hear oral arguments on Feb. 2 in the redistricting case.
Once the Cawthorn hearing does happen, the initial panel's ruling can be appealed to the full N.C. State Board of Elections, which currently has a Democratic majority. And their ruling can be further appealed to the N.C. Court of Appeals.
For more North Carolina government and politics news, listen to the Under the Dome politics podcast from The News & Observer and the NC Insider. You can find it at link.chtbl.com/underthedomenc or wherever you get your podcasts.
©2022 The Charlotte Observer.
Visit charlotteobserver.com.
Distributed by Tribune Content Agency, LLC.
---
---
---
---