Biden announces new efforts to boost testing, deliver high-quality masks to Americans
by
Andrew Jeong, Ellen Francis, John Wagner
The Washington Post
January 13, 2022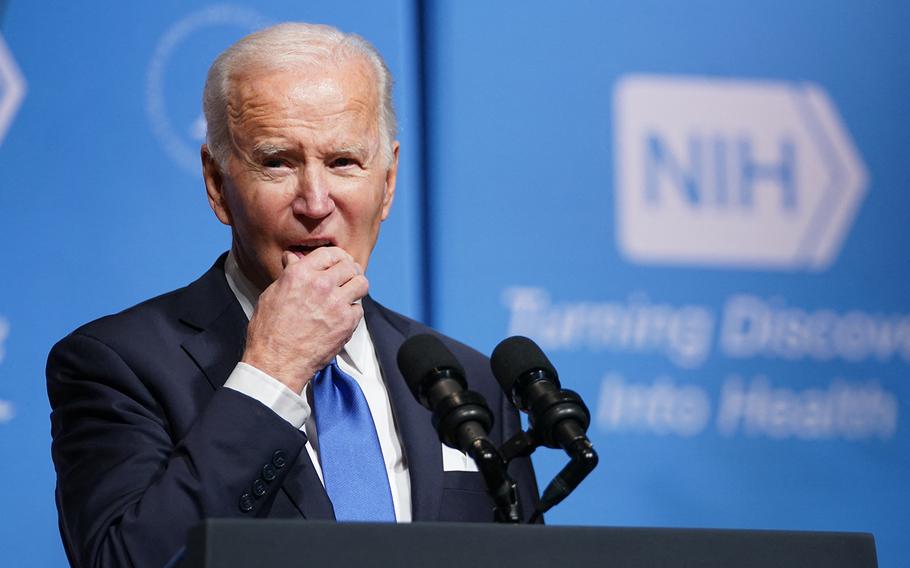 VIRUS 325 words Biden announces new efforts to boost testing, deliver high-quality masks to Americans will be led (c) 2022, The Washington Post · Andrew Jeong, Ellen Francis, John Wagner · NATIONAL, HEALTH · Jan 13, 2022 - 3:00 PM WASHINGTON - President Joe Biden on Thursday announced plans to distribute free masks, purchase an additional 500 million coronavirus tests and deploy military medical teams to six more states as he updated the nation on his administration's latest steps to address the spike in cases of the omicron variant.
Calling it a "patriotic duty" to wear a mask, Biden said his administration would share details next week on how it will make "high-quality" masks available free. He also previewed the government's plans to buy and distribute twice as many free coronavirus tests as he pledged last month.
The president said the government is deploying military medical teams to help struggling hospitals in New York, New Jersey, Ohio, Rhode Island, Michigan and New Mexico - six states he described as "hard-hit."
"Next week, we'll announce how we are making high-quality masks available to American people for free," he said. "I know we all wish that we could finally be done with wearing masks. I get it. But they are a really important tool to stop the spread" of the omicron variant.
"So please, please wear the mask," he added.
In addition to vaccines, medical experts have noted that wearing high-quality masks correctly decreases the chances of contracting the virus. But costs and backlogs have made it difficult for some people to obtain such masks in a timely manner.
The president reiterated the importance of getting vaccinated to protect from the most harmful effects of the coronavirus and noted that the virus continues to spread, in part, because tens of millions of people remain unvaccinated. Biden shared statistics showing that the majority of those hospitalized for covid-19 are not vaccinated.
"I've been saying that ... this is a pandemic of the unvaccinated," Biden said. "And I mean by this, right now, both vaccinated and unvaccinated people are testing positive. But what happens after that could not be more different if vaccinated people test positive."
---
---
---
---