A machete, a crystal meth burrito and other items spotted by TSA
by
Lori Aratani
The Washington Post
January 10, 2022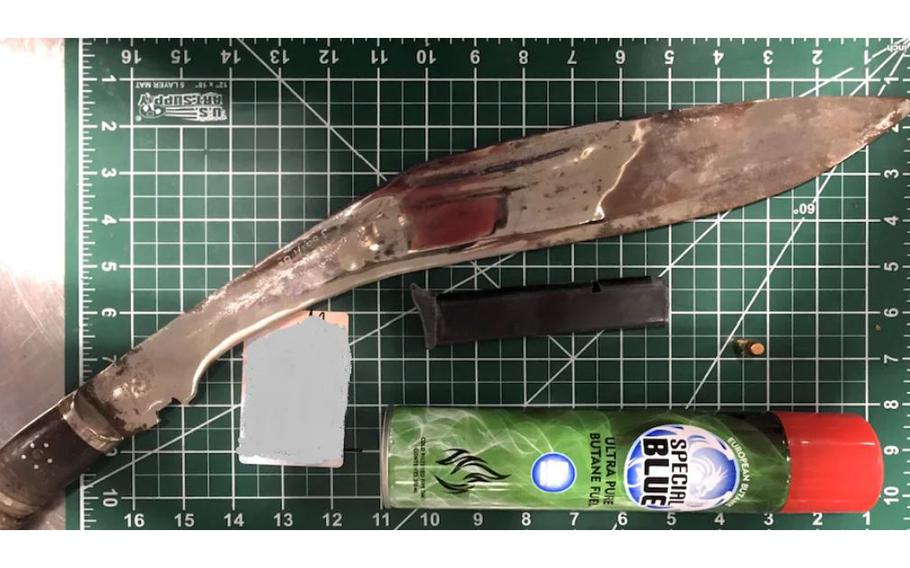 Never bring a chain saw through an airport security checkpoint.
That is one of the many lessons that travelers could take from the Transportation Security Administration's list of the top 10 "unusual items found at security checkpoints nationwide in 2021," which the agency released Monday.
The chain saw, flagged at a security checkpoint at the Louis Armstrong New Orleans International Airport, is a big "no," as are nine other items that made the list, including a burrito filled with crystal meth that officers at Houston Hobby Airport flagged in April.
The list is a head-scratching collection of items.
Take No. 4, spotted in March at Reagan National Airport outside Washington. TSA officials described it as a "well-worn, heavy-duty, wooden-handled machete." And that wasn't the only item officers found in the traveler's carry-on: There was ammunition and a canister of flammable butane fuel, officials said.
As a reminder, the agency notes: "Knives of any type — including machetes — are not permitted to be carried through an airport security checkpoint. Ammunition and butane fuel also is prohibited from being carried onto a flight."
The release of the list is a rare bit of levity for an agency that has faced challenges throughout the pandemic, including a significant increase in the number of firearms seized at checkpoints and a sharp rise in the number of positive coronavirus cases among its employees.
In October, TSA officials said they had caught 4,495 firearms at security checkpoints, the most in the agency's 20-year history. That translated to roughly 11 guns for every 1 million passengers screened, the agency said. By comparison, during the previous annual record for gun seizures in 2019, 4,423 firearms were found, a rate of 5 per million passengers screened.
TSA also is struggling with a rise in coronavirus cases among employees, including those who work at airport security checkpoints.
As of Monday, the agency reported 3,694 cases, an increase of more than 1,900 from the start of the year. Last week, TSA temporarily closed two checkpoints at Phoenix Sky Harbor International Airport because of staffing issues tied to the rise in infections. Since the pandemic began, 34 TSA employees and two screening contractors have died after contracting the virus.
---
---
---
---