Patients wait in ERs for days as COVID-19 patients overwhelm St. Louis-area hospitals
by
Michele Munz
St. Louis Post-Dispatch
January 7, 2022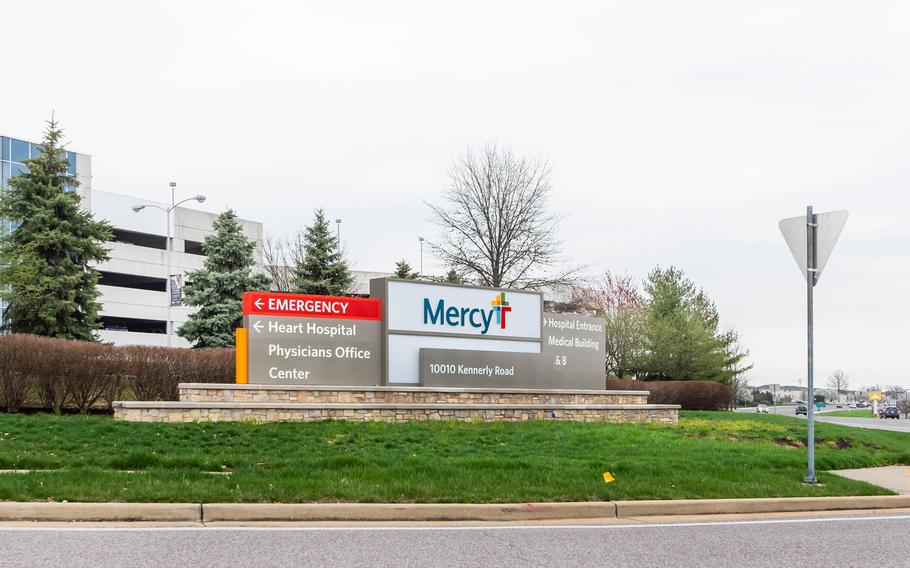 Stars and Stripes is making stories on the coronavirus pandemic available free of charge. See more stories here. Sign up for our daily coronavirus newsletter here. Please support our journalism with a subscription.
ST. LOUIS (Tribune News Service) — People unsure of their illness leaving before they are seen by doctors. Sick patients waiting for hours, sometimes days, in an emergency room because there is nowhere for them to be admitted. Others dying in small-town hospitals unable to access the services they need in urban centers like St. Louis.
Those are some of the scenarios Dr. Aamina Akhtar, chief medical officer for Mercy Hospital South, said are playing out in emergency departments across the region as the hyper-infectious omicron variant pushes COVID-19 hospitalizations to record levels and sickens health care staff.
People with a serious illness can be stabilized in an emergency department, but if they need to be admitted, that's where the trouble starts.
"You become what we call a 'boarder.' You are that patient in limbo," waiting in a room or even a hallway, with staff trying to provide the best care they can, Akhtar said. You may never get the care you really need.
"Some of these boarders may sit for hours, sometimes days and sometimes long enough they get discharged from that status — so never reaching the level of health care we would like to provide," she said.
Akhtar gave the example of a patient showing up with kidney failure at an emergency department in a rural area. Doctors would typically transfer that patient to a larger facility with capability to perform hemodialysis and let the patient recover.
But now, hospitals in St. Louis and other urban areas are not able to take those patients because they don't have the staff to care for them.
"We also unfortunately know that in some cases, these patients continue to wait, and that transfer never happens," Akhtar said. "Some of these patients unfortunately end up staying in the small ER rooms and pass away from clinical conditions that have easy medical solutions."
Breaking records
Leaders of St. Louis-area hospital systems say they are trying to do the best they can with the resources they have, but they are running out of options with the exponentially increasing number of patients.
By Dec. 10, the number of patients with confirmed cases in the St. Louis region's hospitals had doubled in just a few weeks to 501. On Tuesday, the number doubled again, exceeding 1,000 for the first time during the pandemic.
On Thursday, St. Louis-area hospitals reported 1,158 patients with confirmed COVID-19 — setting a record for the fourth day in a row, and well above last winter's peak of 962. More than two-thirds are unvaccinated.
Predictive models indicate the numbers could double again in a couple weeks, literally taking the curve off of the current chart.
The hospitals also reported losing 21 patients to COVID-19, the most in one day since Jan. 13 of last year.
During the start of the latest surge, on Dec. 2, 83-year-old Barbara Finch of Clayton went to the emergency room at Barnes-Jewish West County Hospital in Creve Coeur, with a severe headache and loss of balance.
Doctors discovered she had pneumonia and an irregular heartbeat. Finch said she waited three days in the emergency room — sharing a public bathroom, unable to shower and eating ice cream for dinner — until there was room for her at a hospital with a cardiac unit.
Thankfully, her health continued to improve, she said, but it was a very loud and frightening three days. Finch partly blamed the unvaccinated for taking up resources.
"We have a way to end this pandemic, and we have not done it because people are so selfish that they refuse to get a vaccine that would protect me and others," she said.
'Stretched to the max'
BJC HealthCare on Wednesday postponed all elective procedures, and officials with SSM Health, Mercy and St. Luke's Hospital said they are postponing procedures and shuffling staff where needed on a daily basis.
Staff shortages are compounding the problem. Akhtar said hospitals are seeing three to four times the number of workers out sick than is typical at this time, some even having to leave mid-shift.
"Trying to understand how to take care of those patients when their caregivers are too ill to be here is extremely challenging," she said, "and trying to understand how you continue to supply care in a safe manner with the numbers predicted, it's hard to wrap your head around how that's possible."
Dr. Matthew Broom, chief medical officer at SSM Health St. Louis University Hospital, said those out sick include laboratory technicians, radiologists and ambulance drivers, which also adds pressure to those trying to take care of patients.
Hospitals can't discharge patients to a rehabilitation or nursing home to free up beds, because staff at those facilities are also out sick.
"Our teams are really being stretched to the max of what they can do," Broom said.
Kansas City area hospitals are also seeing the most ever COVID-19 patients, and doctors there and across Kansas spoke about the crisis facing emergency departments during a virtual meeting Wednesday.
Dr. Richard Watson said people are dying at a five times higher rate in emergency rooms because they can't get transferred to hospitals providing the level of care they need.
"Those patients are there upwards of 20 hours-plus in the emergency room and then passing while waiting for transfer to another facility," said Watson, who founded Motient, a company contracting with the state of Kansas to help manage hospital transfers.
Broom, with St. Louis University Hospital, said he's worried about patients in his own emergency room as well as others, whether they are 5 or 150 miles away.
"We want to say yes to every single patient, but I think our hospital, much like every other hospital in the region, really can only accommodate the amount of patients up to whatever amount of staffed beds they have on any given day," Broom said.
Dr. Robert Poirier, clinical director of the Barnes-Jewish Hospital emergency department, said the department's 70 to 80 beds have been consistently full, with 40 to 50 people waiting to be seen. Volumes are up to 30% higher than what is typical.
"You are focused on those you can benefit the most and that are the sickest," Poirier said.
The type of care patients need and whether they are infectious with COVID-19 impacts how long they may need to wait if they need to be admitted. It can vary from a couple hours to a couple days, Poirier said.
Specialists from other floors try to visit patients waiting in the emergency department, and emergency physicians try to consult often with them, he said, "but it does make it harder to focus on the new patients when you have to keep up the care for some of your patients that have been in the ER for a while."
Hospital leaders also said people seeking COVID-19 tests are jamming emergency departments, where providers are required to screen everyone coming through the door.
Mercy St. Louis Hospital on Dec. 27 saw the most people ever come through the doors of its emergency department in one day, said Dr. Alok Sengupta, chairman of Mercy's emergency department.
"A lot of it is patients with milder symptoms who just want to know if they have COVID or not, and then there's patients coming in who just want to be tested from exposure," to an infected person, Sengupta said. He urged residents with mild or no symptoms to seek testing options through their doctor or visit a state testing site or clinic.
While seriously ill people are seen first, the seriousness of some patient complaints are not immediately obvious. Overwhelmed emergency rooms take longer to get to those patients.
"There are times when someone has a chief complaint that doesn't necessarily sound emergent and their vital signs are normal, but once we see them and do tests, we find out there is something emergent going on, that's who our concern is for, patients who fall into that bucket," Sengupta said.
Poirier with Barnes-Jewish said he also worries about patients taking a downturn while waiting to be seen or admitted, especially with the worsening projections.
"As clinical chief of the emergency room," he said, "it's definitely what keeps me up at night."
-------
©2022 STLtoday.com.
Distributed by Tribune Content Agency, LLC.
---
---
---
---