Competing vigils planned in DC as nation marks Jan. 6 anniversary
by
Ellie Silverman
The Washington Post
January 6, 2022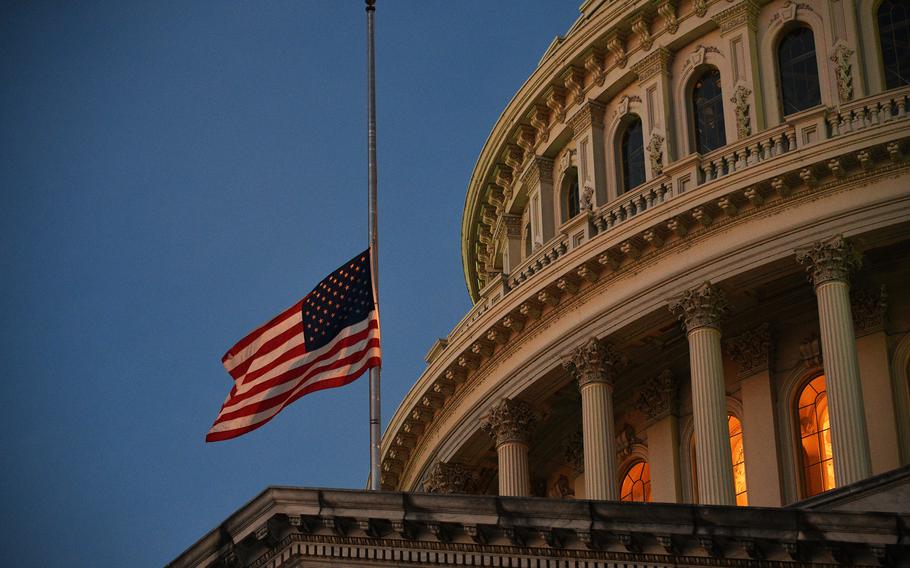 Every time Harper White looks at the U.S. Capitol dome, he thinks back to the day, one year ago, when he barricaded himself inside a congresswoman's office a few steps from the House floor and heard the sound of gunfire.
He remembers trying to hide in a wooden storage unit half his size. His job as a Capitol Hill staffer was his first full-time work after graduating from the University of Kentucky, and he was trapped during a violent attack - one that many Republicans and right-wing groups have defended by pushing false and misleading accounts.
White, a 25-year-old legislative assistant and correspondent for Rep. Rosa DeLauro, D-Conn., will be speaking to an anticipated crowd of hundreds on Thursday outside the Capitol on the anniversary of a violent mob's entry into the building to try to stop Congress from ratifying the 2020 electoral college vote. Less than three miles away, a smaller crowd is planning to gather outside the D.C. jail to support people who were charged in the insurrection and are being held there - people the demonstrators call "political prisoners."
These rival events reflect the fact that a year after the Capitol riot, much of the country remains divided on what happened. As most Democrats and many others have condemned the violent attack on the country's democratic process, a majority of Republicans continue to believe that President Joe Biden was elected illegitimately or fraudulently, and some have sought to recast those charged in the Jan. 6 attack as martyrs.
Thirty percent of Americans say there is solid evidence of widespread fraud in the 2020 election, according to a recent Washington Post-University of Maryland poll. Almost 3 in 10 Americans say Biden's election was not legitimate. Among people who voted for Donald Trump in 2020, 69% now say Biden was not legitimately elected, according to the poll.
This counternarrative is not only untruthful, experts say, but dangerous.
"It suggests that we've actually moved beyond just partisanship," said Cassie Miller, a senior research analyst with the Southern Poverty Law Center. "Americans are living in two wildly different realities and are viewing each other increasingly as enemies that they have to contend with."
Capitol Police Chief Thomas Manger acknowledged the events planned for Thursday at the D.C. jail and outside the Capitol but said during a news conference on Tuesday that he did not anticipate security concerns.
"We're aware of several events that are planned for Thursday. Most of them aren't of much concern to us," Manger said. "There's no intelligence that indicates any problems for us."
D.C. police issued a permit to Look Ahead America, the right-wing group behind the widely anticipated but sparsely attended rally outside the U.S. Capitol in September, for its event on Thursday, D.C. police spokeswoman Kristen Metzger said Wednesday.
"As with all First Amendment demonstrations, [the Metropolitan Police Department] will be monitoring and assessing the activities leading up to and on January 6 in collaboration with our local and federal law enforcement partners," Metzger said in a statement in response to questions about security concerns. "MPD members will have a visible presence around the city during this time."
Organizers for both groups of demonstrators said they do not plan to engage with each other.
The vigil outside the Capitol, near the Reflecting Pool on the National Mall, is being organized by a coalition of more than 100 groups to denounce last year's insurrection. This vigil is one of hundreds organized across the country to reject false claims of election irregularities and push legislators to pass federal voting rights protections and expansions, organizers said.
This vigil is scheduled to begin at 4:45 p.m. with remarks from leaders of liberal organizations and elected officials.
Those gathering on the Mall are calling for the Senate and President Biden to enact the Freedom to Vote Act, a voting rights bill, and the Protecting Our Democracy Act, which includes reforming oversight of the executive branch, among other legislation such as a measure for D.C. statehood. Organizers point to restrictive voting legislation passed by Republican-led state legislatures around the country and say the Jan. 6 attack highlights the need for federal voting rights protections and expansions before the next election.
"No one is above the law, no matter how much power they wield in Washington, but January 6 exposed the cracks in our democracy," Lisa Gilbert, the vice president of Public Citizen, one of the groups behind the vigil, said in a statement. "If we don't patch up those cracks before November 2022, we can expect more sabotage, more corruption, and potentially more violence."
Federal prosecutors in D.C. have charged more than 725 people with various crimes in connection with the Jan. 6 insurrection. Of those arrested, 225 were charged with assault or resisting arrest, and more than 75 were charged with using a deadly or dangerous weapon against police officers.
During the attack, when hundreds of rioters forced their way into the U.S. Capitol, 140 officers were injured. Other people died, including Ashli Babbitt, who was fatally shot by a Capitol Police officer as she attempted to breach a set of doors inside the Capitol during the riot, and Rosanne Boyland, who authorities said had been "trampled by the mob." Capitol Police officer Brian Sicknick was sprayed with a chemical irritant, suffered two strokes and died the next day.
Outside the D.C. jail, a group will gather for a different vigil at 6 p.m., one that advocates for those charged in connection to the insurrection, as well as honoring Babbitt and Boyland. Inside the jail, there are 39 people detained on charges in connection with the insurrection, Keena Blackmon, a spokeswoman for the D.C. Department of Corrections, said Tuesday.
"We're standing up for these people. We're not letting their suffering, their persecution, go forgotten, and we're going to continue to raise public pressure and public awareness," said Matt Braynard, the executive director of Look Ahead America, the group behind the vigil. "Our movement is growing. We're picking up momentum and our message is penetrating."
There will be other vigils across the country in support of those charged in connection with the insurrection, Braynard said. His group also held a protest in front of the jail in July, when about 100 people rallied and chanted, "Let them go!"
When Braynard's group announced plans to protest outside the U.S. Capitol in September, it attracted substantial attention from the media, law enforcement and public officials, including a heightened security response from local and federal agencies and the reinstallation of the temporary Capitol perimeter fencing. Ultimately, journalists, police officers and counterprotesters outnumbered the demonstrators.
Braynard's group anticipates 50 people at Thursday's vigil, according to a permit application the group submitted to D.C. police and provided to The Post. Despite the small anticipated attendance, experts warn that the group's beliefs are widespread among Republicans and the far-right.
"The same online movement that coordinated the January 6 riots - even down to the same users - are continuing to post about hangings and civil war," Rita Katz, executive director of SITE Intelligence Group, which monitors online extremism, said in a statement. "The U.S. government can arrest every single rioter who entered the Capitol building last year, but it won't make these dangerous incitements disappear, or prevent another January 6, because those behind the keyboard, who played vital role in organizing, coordinating and mobilizing the community for January 6, continue to incite and recruit, and proved to be untouchable."
Those who lived through the attack - sheltering in place, hearing the violent mob, watching rioters storm the seat of the U.S. government - say the trauma has continued to linger.
Some lawmakers and staff are still receiving counseling to deal with post-traumatic stress, and threats against lawmakers are at an all-time high.
Many people living and working on Capitol Hill are still fearful and angry. After the attack, their neighborhood turned into a fortress. An eight-foot-high black metal fence topped with razor wire surrounded the U.S. Capitol for months. There were concrete barriers, security checkpoints and armed National Guard members.
"I'll never look at the Capitol without the reminders of that day and the reminders of the fragility of our democracy," said White, who lives on Capitol Hill. "We should not let anyone deter us from the work we do here, not let anyone deter us from doing what's right."
The Washington Post's Tom Jackman contributed to this report.
---
---
---
---