White House closes in on three remaining Fed nominations
by
Rachel Siegel
The Washington Post
January 5, 2022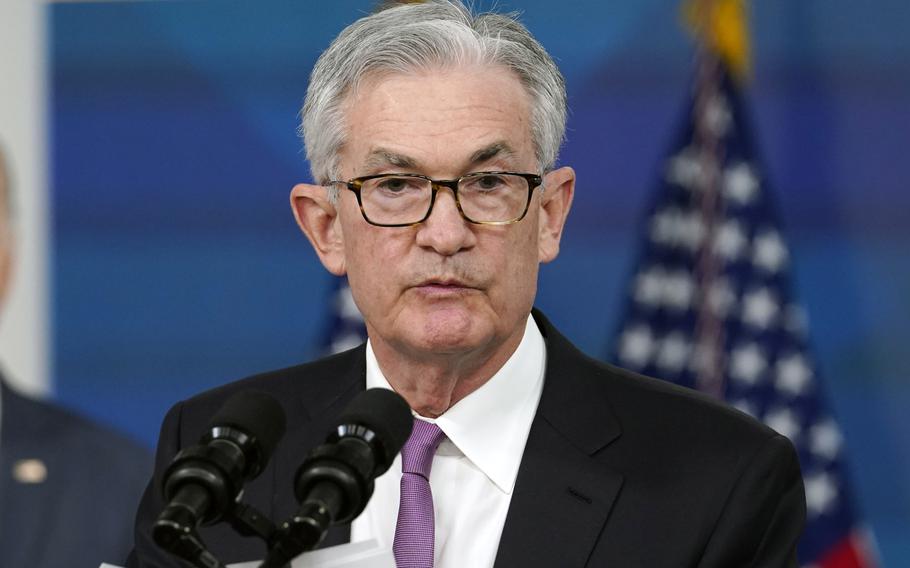 FED 1022 words White House closes in on three remaining Fed nominations WASHINGTON - The White House is strongly considering nominating Sarah Bloom Raskin to become the Fed's top banking regulator, and Lisa Cook and Philip Jefferson as Fed governors, according to people familiar with the decision-making progress.
The nominees would complete President Joe Biden's roster to the Fed's seven-seat board, while appealing to Democrats who have pushed for stronger Wall Street oversight and those who have pressed for more diversity within the Fed's top ranks. If confirmed, Cook would be the first Black woman on the Fed board in its 108-year history. Jefferson would be the fourth Black man on the Fed board.
Raskin has a track record for policymaking, having served as deputy secretary of the Obama administration Treasury Department from 2014 to 2017. She also served as a governor on the Fed board from 2010 to 2014.
Raskin has also called attention to the risks climate change poses to the financial system and the need for regulators to respond in her more recent work in academia.
Cook is among the country's more preeminent economists and teaches at Michigan State University, with a focus on macroeconomics, economic history, international finance and innovation. She worked at the White House's Council of Economic Advisers during the Obama administration and has held visiting appointments at the National Bureau of Economic Research, the University of Michigan, and the Federal Reserve Banks of New York, Chicago, Minneapolis and Philadelphia.
Jefferson is vice president for academic affairs and dean of faculty at Davidson College. He previously worked as an economist for the Federal Reserve's board of governors as well as for the New York Fed. His research has focused on inequality, how business cycles affect poverty rates, and the role of education as a shield against unemployment. The Wall Street Journal and Bloomberg previously reported on Jefferson's candidacy.
Raskin, Cook and Jefferson did not respond to requests for comment Wednesday morning. The White House declined to comment.
Biden has had a tremendous opportunity to shape the central bank, which is grappling with the highest inflation in nearly 40 years, and decisions over when to raise interest rates in response. To the frustration of many close to the Fed, White House and Hill, Biden's selection process has been repeatedly delayed as the administration tends to its long list of economic priorities, from stimulus packages to infrastructure deals. There has been at least one vacancy on the board for Biden's entire time in office.
In November, Biden announced he was renominating Jerome H. Powell to a second term as chair. He also elevated Fed governor Lael Brainard, the central bank's only Democrat, to vice chair.
Those decisions were widely seen to signal consistency at the Fed, and Democrats and Republicans broadly support Powell's renomination, given his leadership during the covid crisis. But current Fed board members are exclusively White. Fed experts looked to Biden's remaining nominations as a test of his own commitment to make the Fed more representative of the country it serves.
"My additions will bring new perspectives and new voices," Biden said when he nominated Powell and Brainard in November. "I also pledge that my additions will bring new diversity to the Fed, which is much needed and long overdue, in my view."
Raskin's possible nomination could appease Democrats and left-leaning economists, who have been concerned about who would succeed Randal Quarles as the Fed's top banking regulator. Quarles, who left the Fed in December, was sharply criticized by many Democrats for leading the charge to loosen restrictions on the banking system put in place after the Great Recession.
Some Democrats, including Sen. Elizabeth Warren, D-Mass., were also critical of Powell getting a second term, since Powell regularly sided with Quarles on banking issues. Powell himself has said he defers to whoever is in the banking role to steer the Fed's regulatory agenda, as he has under Republicans and Democrats alike.
People close to the Fed and White House anticipated Biden would tap a more progressive banking regulator, like Raskin, to balance Powell, a Republican who was initially tapped for the top job by former president Trump. But it hasn't always been obvious who would be right for the job. Many Fed experts say the wonky role is best suited for a lawyer deeply versed in Wall Street regulation. Liberals have also pushed Biden to nominate someone who would focus on the ways climate change threatens financial stability.
Fed experts say Democrats likely found their match in Raskin, who holds a degree from Harvard Law School and teaches at Duke University School of Law. Raskin is a distinguished fellow of Duke Law School's Global Financial Markets Center and has spoken about the economic and financial stability risks tied to climate change.
In September, Raskin wrote in a column that while none of the country's regulatory agencies had been designed to mitigate climate-related financial risks, "all U.S. regulators can - and should - be looking at their existing powers and considering how they might be brought to bear on efforts to mitigate climate risk."
"Most of the necessary tools are already there," Raskin wrote in September. "What is lacking is a willingness to break the habit of acting only after a disaster. Financial regulators must reimagine their own role so that they can play their part in the broader reimagining of the economy."
Still, Raskin's focus on climate may make for a tougher confirmation battle among Senate Republicans and some moderate Democrats, who argue climate issues don't fit neatly within the Fed's mandate of stable prices and full employment, or pertain to bank supervision.
The Fed stakes much of its reputation on an independence from politics. But it can never fully escape Washington's churn. A president's nominees are typically vetted by the Senate Banking Committee and confirmed by the full Senate.
It's unclear how long that process will take. Confirmation hearings for Powell and Brainard are scheduled to take place before the Senate Banking Committee next week. Powell, Brainard and Raskin have all been confirmed by the Senate before.
The Washington Post's Tyler Pager and Jeff Stein contributed to this report.
---
---
---
---