Garland: DOJ will hold those responsible for Jan. 6 riot accountable 'whether they were actually present or committed other crimes'
by
Matt Zapotosky, Devlin Barrett
The Washington Post
January 5, 2022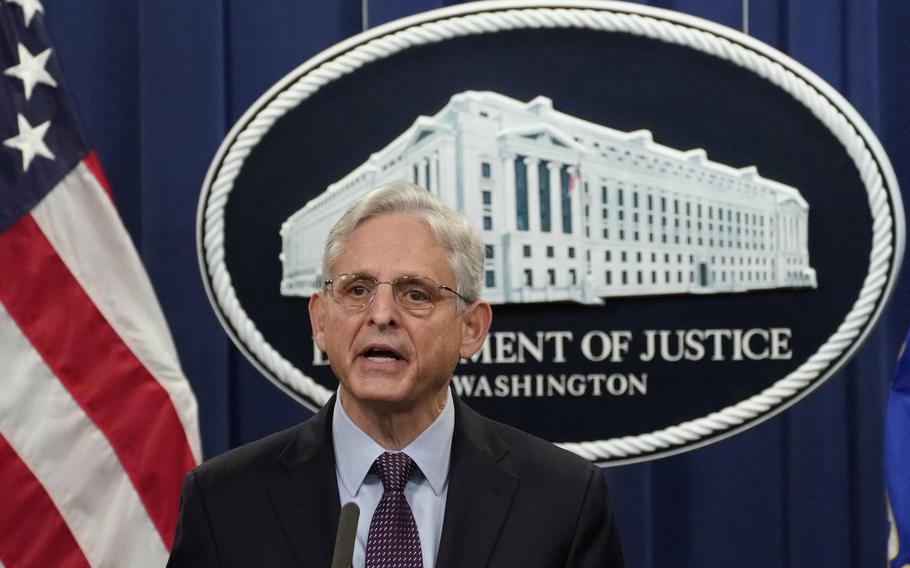 Attorney General Merrick Garland on Wednesday will vow to hold all those responsible for the Jan. 6 riot at the Capitol accountable, whether they were actually present or committed other crimes surrounding the day's events.
"The Justice Department remains committed to holding all January 6th perpetrators, at any level, accountable under law - whether they were present that day or were otherwise criminally responsible for the assault on our democracy," Garland will say, according to an excerpt released by the department in advance of the mid-afternoon address. "We will follow the facts wherever they lead."
Garland has been under pressure to do and say more about the Jan. 6 riot, and to focus more acutely on former president Donald Trump and his associates for their actions leading up to and on that day. Debate has raged on Twitter, television and newspaper editorial pages over whether Trump could be charged with a crime, and, if not, what that might mean for future transfers of power.
Former federal prosecutor Joyce Vance said before Garland's speech that the department was right to be quiet about the investigation as it unfolded, but added that the silence has fueled worries the probe might not be sufficiently aggressive and broad.
"The problem with believing in opaque investigations, I think we're all questioning a little bit, 'what if DOJ is not doing it?' " Vance said.
Federal prosecutors in D.C. announced last week that they have charged more than 725 people with assault, resisting arrest and other crimes in connection with the events of Jan. 6. About 165 people have pleaded guilty, the U.S. attorney's office said.
Some legal analysts say criminal charges for Trump and others seem less likely, however, given that public evidence has not pointed to a grand conspiracy that involved the president or his top allies directing rioters to breach the Capitol.
A Washington Post review of court records last year found that the vast majority of those charged federally were not known to be part of far-right groups or premeditated conspiracies to attack the Capitol. Instead, they were a collection of everyday Americans, including community leaders, small-business owners, teachers and yoga instructors, who gathered in Washington to protest or try to stop the congressional certification of President Biden's victory.
"There's no grand conspiracy that the FBI found, despite arresting hundreds of people, investigating thousands," said Jonathan Turley, a George Washington University law professor.
---
---
---
---