Shaken by the Jan. 6 attack, Capitol workers quit jobs that once made them proud
by
Paul Schwartzman and Peter Jamison
The Washington Post
January 1, 2022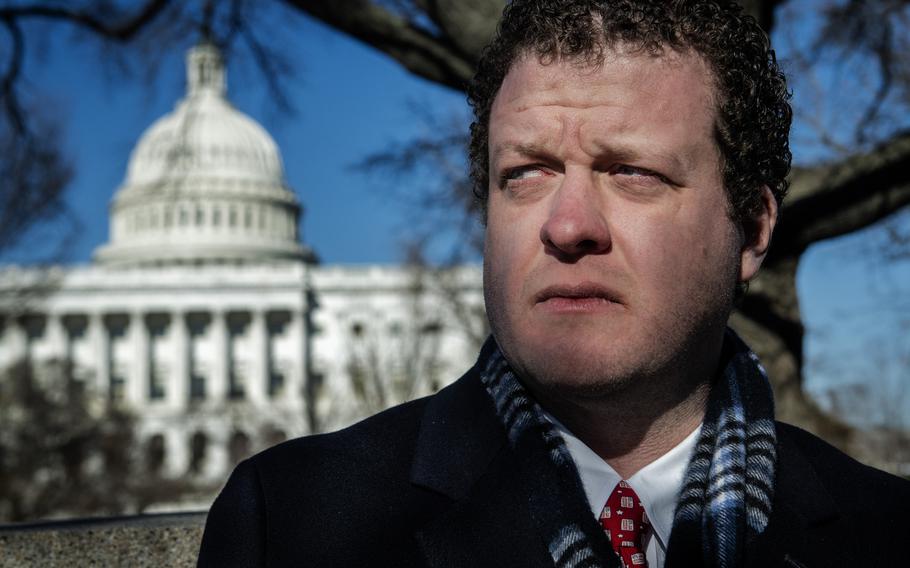 The House staffer quit after awakening one night and imagining a pack of Proud Boys amassing outside his apartment door. Another left after questioning whether strangers he encountered had helped plot the attack. A police officer resigned, still agitated by the frantic voices of co-workers she recalled hearing on her radio scanner that day.
"What's the plan?" one had asked.
"I've got an officer down!" another had shouted.
A year ago, they all worked at the U.S. Capitol, a citadel of American democracy they believed was as impervious to attack as any center of Washington power. But Jan. 6, 2021, upended all that. An invading mob destroyed that sense of security - not only on that day but in the long year that followed.
"There's a dark cloud over Capitol Hill," said Jodi Breiterman, a Capitol Police officer who submitted retirement papers in November after almost 21 years on the force, and will officially leave the agency in mid-January. "I look at officers' faces, and they've changed. They've lost weight and they don't know why."
In the months since the insurrection, senators and representatives have chronicled the trauma of Jan. 6, recalling how they cowered behind seats in the House chamber and barricaded themselves in offices as Trump acolytes pounded on doors and shouted threats of violence.
Yet alongside the political leaders, there were hundreds of Capitol workers who suffered their own trauma that day. They are the supporting cast on the edges of Washington's biggest stage: the legislative aides, police officers, custodians and cafeteria workers who keep the business of government moving and ensure that the Capitol is safe, clean and well-functioning.
In many cases, they soldiered on after the insurrection, entrenched in positions that can be high-pressure and demanding even on routine days. But for other Capitol workers, Jan. 6 became a psychic tipping point, a reason to leave jobs that had made them targets for threats and potential danger.
"The idea that you're in a place where your life is at risk was just - on top of everything else - the clinching factor for me," said Rich Luchette, 35, a former senior adviser to Rep. David N. Cicilline, D-R.I.. "It becomes overwhelming at some point."
A sign of the enduring trauma, Luchette said, occurred a week or so after the insurrection, when the sounds of partying neighbors woke him up in his Navy Yard apartment. As he opened his eyes, his first thought was: "Are there Proud Boys out in the hallway?"
Luchette had considered looking for a new job before Jan. 6. By July, he had found one.
In any given year, staff turnover at the Capitol is constant, making it difficult to quantify the number of employees who quit or retired because of the insurrection. More than 100 U.S. Capitol Police officers had departed as of early December, a figure that was a sharp increase over the previous year.
On a typical day, the 290-acre Capitol complex is a veritable city unto itself, spread out over multiple blocks, with its own subway system, an array of cafeterias and a workforce approaching 30,000 people.
Jan. 6 was anything but typical, with the coronavirus having kept many employees at home. Yet, no matter where they were as the riot unfolded, Capitol employees could not help but feel violated as they saw rioters invade and vandalize their workplace.
Another former House staffer, a Democrat who quit months after Jan. 6, said the toll of that day grew as time passed.
"I got to the point where my mental health just took an absolute nose dive because I was still trying to process all this stuff," said the former aide, who spoke on the condition of anonymity because she fears retribution from Trump supporters.
Death threats continued to arrive daily by phone from constituents who were convinced that Democrats had stolen the election. "It absolutely broke me to know that people would be fine if my boss was dead, if I was dead, if my co-workers were dead," she said. "The American people stopped believing in the institution. And if they don't believe in it, what the hell are any of us doing working for it?"
Tyree Douglas, 34, knew long before Jan. 6 that he wanted out of his laborer job at the Capitol, where he felt underpaid and trapped after 10 years of picking up garbage, delivering cups and ice to members' offices, and cleaning bathrooms, if needed.
Douglas, a cancer survivor, had taken a medical leave at the start of the pandemic. Although he was not working on Jan. 6, he said the riot was another signal that he should not return.
"The dangers, the risks were not helpful," he said. "I did not need that in my life."
But Douglas, who was then president of AFSCME union Local 626, which represents hundreds of laborers and custodians, said few blue-collar workers could afford to quit after the attack, even if they wanted to leave.
Hours after the riot ended, some were back at work, repairing doors, removing broken furniture and cleaning up cigarette butts, shattered glass and other trash left behind.
- - -
By Jan. 6, the usual rigors of working at the Capitol had mushroomed after four years of the turbulent Trump presidency, the unceasing acrimony between Republicans and Democrats, and hostility from constituents. The pandemic, in its 10th month, added another level of unprecedented strain.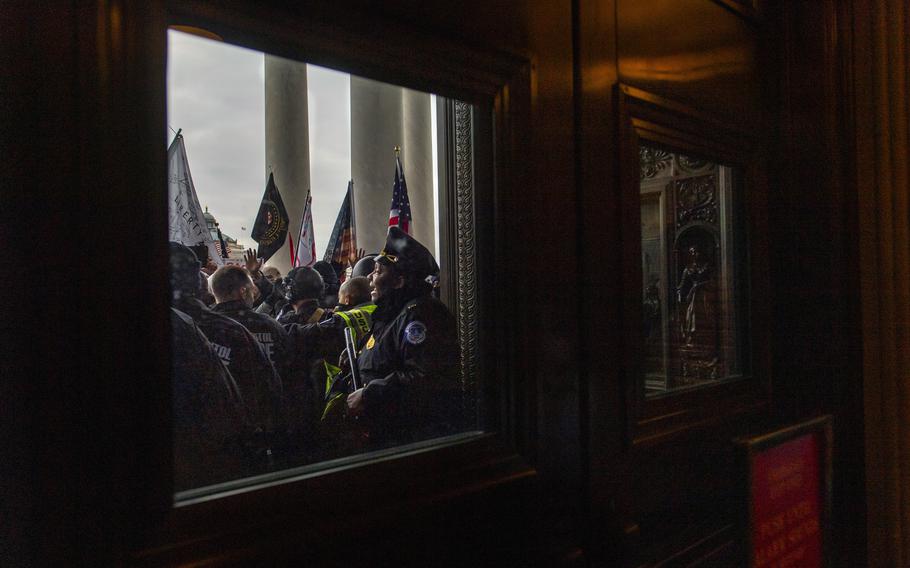 After the insurrection, heavily armed platoons of National Guard troops and 10-foot-high fencing surrounded the campus.
Yet there were additional incidents that caused alarm. Later in January, police arrested a 71-year-old man from West Virginia after noticing him leaving his car improperly parked near the Capitol. In his vehicle, they found a handgun, 20 rounds of ammunition, paperwork related to the Jan. 6 rally, and a list of U.S. and state lawmakers.
A few months later, a motorist rammed his car into two Capitol Police officers, killing one and injuring the other.
Then, in August, a Trump supporter who had expressed disgust for President Joe Biden parked his pickup truck outside the Library of Congress and told police he had a bomb. That his claim turned out to be false did not ease the anxiety engulfing the Capitol.
"There is definitely just this large sense of doom," said Aaron Fritschner, who has remained in his job as deputy chief of staff to Rep. Don Beyer, D-Va.. "There's definitely an ever-present fear about what kind of threats are out there, but at this point it's not as much a question about, 'Is there going to be another one?' It's like, 'How long is it going to be and what form is it going to take?'"
- - -
Brian Baird, a former Democratic congressman from Washington state and a longtime clinical psychologist, visited the Capitol in early December for a series of meetings. As he walked between offices, Baird said he was astonished by the sorrow he detected as he greeted police officers, some of whom he had known from his days as a legislator.
"Whereas before the people would always be very positive, upbeat, conversational and positive, there was now more a sense of withdrawal, tension, sadness, resignation," Baird recalled in an email. He described the mood as "heartbreaking despondency."
"I saw one officer who I hadn't met before and I asked him point blank, 'How are you all doing?'" Baird said. "His answer in words was 'We're doing okay' but the way he said it and the expression did not look or sound at all okay."
By early December, a total of 135 officers had left the 2,000-member Capitol police force in 2021, compared with the 80 who departed the previous year, said Tim Barber, a department spokesman. He added that "not all of these departures are because of Jan. 6."
A police officer who confronted the rioters that day said he remains on the job only because he has not worked long enough to retire with adequate benefits and has no other options available. He described his emotional recovery as difficult, in part because he did not get time off. On Jan. 7, he was back on the job.
The officer, who spoke on the condition of anonymity because of the sensitivity of the subject, said an especially painful part of his post-Jan. 6 experience was hearing Republicans minimize the insurrection's significance. One even compared the rioters to tourists. At moments, the officer said, he has had to pass those same lawmakers in the halls of Congress.
"You sign up to do your job for the right reasons and all that stuff and then you see people don't even appreciate what you've been through," he said. "You've got people that we protect that were literally out there pumping the crowd up. What the f---?"
Jodi Breiterman's two-decade career with the Capitol Police had its ups and downs. She was honored as officer of the year in 2011. But after she leaked a photo of an unattended police firearm to a reporter in 2015, she was demoted from sergeant, and later filed a lawsuit against the agency alleging gender discrimination. But through it all, she loved her job and envisioned staying another 10 years - until Jan. 6.
The events of that day and the ensuing weeks of distress altered her plan.
On the day of the insurrection, Breiterman was part of a group of officers who responded to a bomb threat near the Capitol. Away from the worst of the fray, Breiterman listened as her police radio transmitted the panicked calls for help from fellow officers who were battling the mob outside the Capitol. Months later, she said the voices from her radio still intrude on her thoughts at the most unlikely moments.
"When I take a shower, I hear the radio," she said. "The calls were terrible."
For 22 consecutive days beginning on Jan. 6, Breiterman worked around the clock, staying in a Washington D.C. hotel where the department put her up with other officers whose grueling schedules kept them away from their families.
She eventually resumed a normal schedule, commuting from her home in Maryland. As weeks stretched into months after the attack, the National Guard troops eventually left their posts and lawmakers returned to work. But something was different, she said. The anger, terror and despair that had consumed the Capitol on Jan. 6 never seemed to recede.
All the while, Breiterman said, officers seldom talked about what had transpired.
"Are you okay?" she recalled asking a fellow officer whose vacant stare alarmed her.
"No," the officer replied. "I'm not."
- - -
When he left the Capitol complex late on Jan. 6, Jabir McKnight, then the communications director for Rep. Sheila Jackson Lee, D-Tex., arranged for a friend to pick up him and a co-worker in a car.
At another time, McKnight might have called an Uber. But in the hours after the insurrection, he wondered if his driver could have been part of the mob at the Capitol, some of whom carried Confederate flags and shouted racial epithets.
"You didn't know who was who," said McKnight, who is Black, describing a feeling of uncertainty that metastasized as the days passed. He found himself questioning how the insurrectionists had been able to traverse the Capitol as if they knew where they were going and gain access to places he himself could not get into.
"The way they were navigating the building was among the most frightening parts of the experience," he said. "Were you let in? Did you have prior understanding?"
McKnight, 24, had started his job only seven months earlier, arriving in Washington from Philadelphia, where he grew up before graduating from Lincoln University. Although he had no set plan, he expected to work at the Capitol for a year or two, maybe longer, gaining exposure to politics, policy and the ways of Washington.
But Jan. 6 created a "fork in the road," he said. The riot echoed the vitriol of the white supremacist march in Charlottesville in 2017 and a 2020 plot orchestrated by extremists to kidnap Democratic Michigan Gov. Gretchen Whitmer.
McKnight began to re-evaluate his purpose and how he could be "part of positive change in a way that is most authentic for me." He also was concerned about his safety at work, where he now felt like "anything could happen."
"It wasn't a one-day event," he said of Jan. 6, recalling the weeks of round-the-clock news coverage, mounting security and fear of new attacks. "I wasn't comfortable. We were all uncomfortable."
By the end of February, McKnight had taken a new job at an IT consulting firm.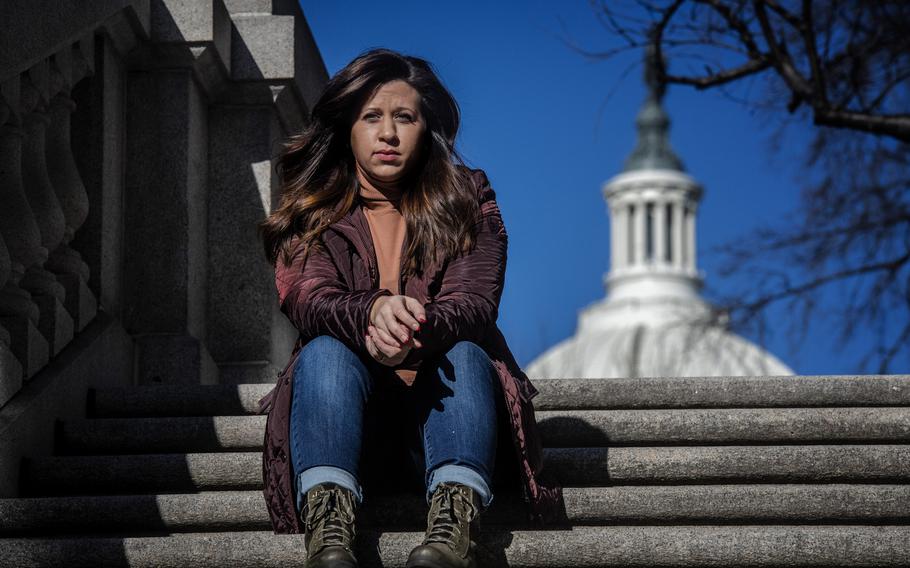 Others such as Gabby Richards were already exhausted by the tumult of Trump's presidency, his tweets, the debates over his border policy, impeachment, the Mueller report and the pandemic.
But Jan. 6 became the decisive factor in her departure, the moment that "pushed me over the edge," said Richards, 28, who left her job in February as communications director for Rep. Mary Gay Scanlon, D-Pa.. "You get to the point where you're like, 'Okay, we're done.'"
Richards was working from home in Philadelphia on Jan. 6, communicating throughout the riot with her boss, who was alone, barricaded inside her Capitol office. In the ensuing days, Richards found herself cataloging the "what-ifs" from that day - what if there had been no pandemic and the Capitol had been open? What if there had been the normal retinue of staffers on hand? What if there had been school tours and tourists?
"The what-ifs associated with that day are terrifying in the same vein as what happened," she said.
A month after the insurrection, Richards returned to the Capitol and walked with Scanlon through Statuary Hall, a setting that typically inspired in her a sense of awe. Instead, she could not help but think about the insurrectionists who had been there, an association she compared to the "stench" of a house fire that takes "forever to get out."
"It felt like something bad had happened, and I didn't want to be there anymore," she said.
Democrats were not the only ones who felt anguish.
A former Republican staffer who was at the Capitol complex on the day of the riot said it was difficult for aides within her caucus to cope with what had occurred as many GOP leaders began downplaying the attack's severity.
"There was just a lack of candid conversations about what had taken place," said the staffer, who spoke on the condition of anonymity because of the politically sensitive nature of the subject. She said she was shaken to know that a mob riled by a Republican president - the leader of her party - had gone to the Capitol and done "the worst possible thing they could do."
"These were the very people we were supposed to be working on behalf of," she said.
- - -
Months after the insurrection, Jay Rupert has grown accustomed to recurring dreams of the mob storming into his office inside the Capitol, above the entrance to the East Front, where he had locked himself in with a cluster of journalists.
In actuality, the rioters had screamed, "We're gonna get you!" and "We're gonna kill you!" as they banged on the door. But no one had made it inside, except for in his dream, where he is prepared to fight.
"I want to bash them in the face," said Rupert, 49, deputy director of the House Periodical Press Gallery. "I can only do it in my dream."
Another House employee, a friend he's known for more than two decades, was shaken enough by Jan. 6 to leave. But Rupert said that the mob had only made him more committed to the Capitol, where he has worked in various capacities for 25 years.
"I came to that defiant conclusion that night," he said. "You're not going to stop me from doing what I do."
The constant reminders of that day - the ubiquitous video footage, the unrelenting news coverage - have made the past year daunting.
When he walks downstairs from his office to the area inside the entrance of the East Front, he often thinks about what he saw that day as the mob assembled outside - "the faces in the windows," their expressions twisted with rage.
He remembers the police officer who looked at him and warned, "You gotta get the f--- outta here." He remembers looking at his boss and saying, "How did this happen?" In his office, he remembers grabbing a fire extinguisher he would use to pummel anyone if they got through the door.
Several months later, after reading an article about police miscommunications on that day, he punched his kitchen wall out of frustration. On another day, when a relative compared the insurrectionists to people who protested the Vietnam War, he replied: "Don't go there with me. It won't end well."
A year removed, he said he largely feels secure at the Capitol, that the riot was a "once in a lifetime occurrence." But he also acknowledges a "sliver of doubt" when he thinks about the complex reopening to the public.
When that happens, he said, it will be impossible to know if someone who had been part of the mob is "in my hallway taking a tour."
What if they sneak a knife in? he wonders. What if they find his office?
The thought, he said, "makes my head want to explode."
- - -
The Washington Post's Meagan Flynn, Tom Jackman, Peter Hermann and Aaron C. Davis contributed to this report.
---
---
---
---