NASCAR could red-flag sponsorship deal related to 'Let's go Brandon!' chant
by
Liz Clarke
The Washington Post
January 1, 2022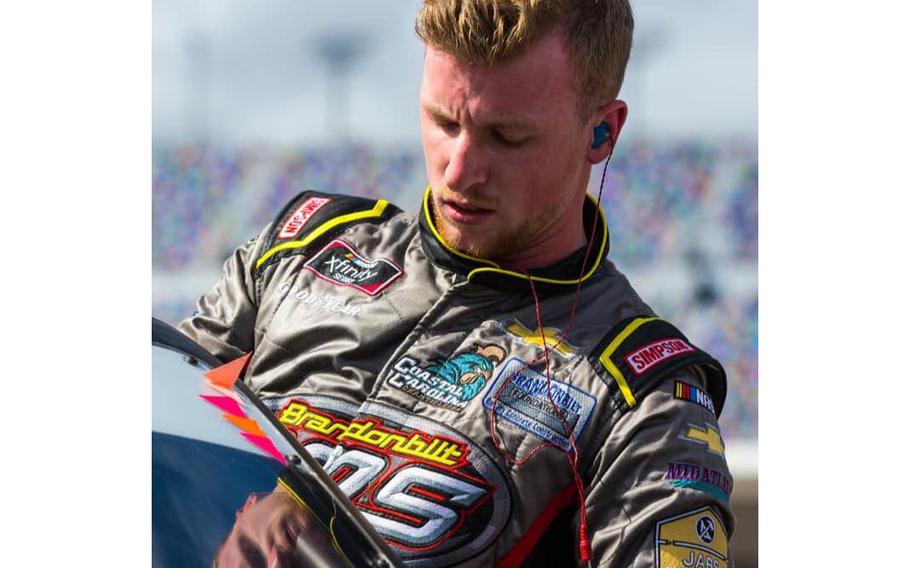 The NASCAR driver whose victory in a second-tier race last fall inadvertently spawned a coded vulgar insult of President Joe Biden has unveiled a plan to compete next season in a car sponsored by a cryptocurrency that has been spun off the phrase.
But it appears that Woodbridge, Va. native Brandon Brown, 28, who was little known before his Oct. 2 victory in an Xfinity Series race at Talladega (Ala.) Superspeedway, may have jumped the gun in publicizing photos of his No. 68, red-white-and-blue Chevrolet sponsored by LGBcoin, a near-valueless cryptocurrency inspired by the slogan "Let's go Brandon!"
NASCAR must approve all racecars' sponsors and paint schemes. According to a NASCAR employee familiar with the governing body's deliberations, it has not yet approved the LGBcoin sponsorship.
Based on previous comments by NASCAR President Steve Phelps, who has led efforts to make stock-car racing more inclusive, the racing body could be hesitant to grant a green light to the divisive message, however coded.
Political analyst Larry J. Sabato, director of the University of Virginia's Center for Politics, encouraged NASCAR to reject the plan.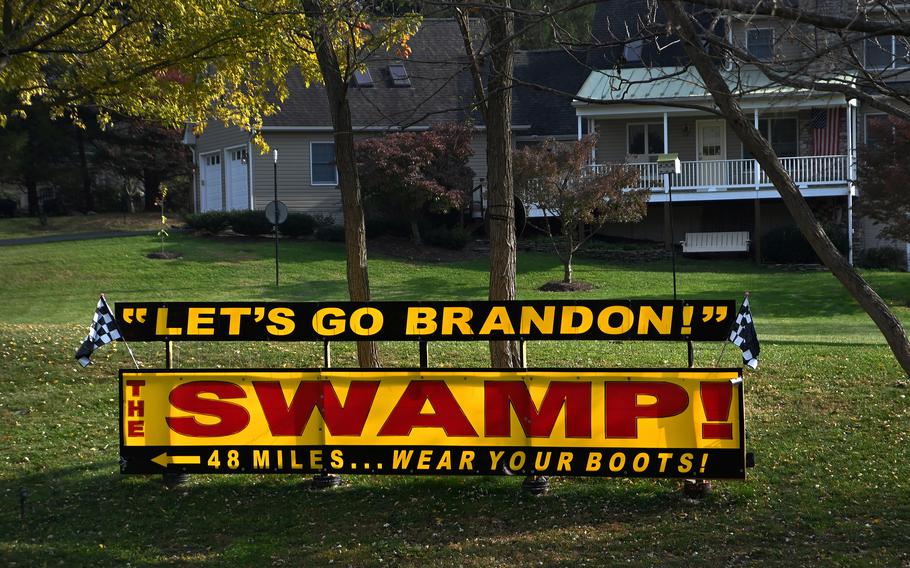 "'Let's Go Brandon' is nothing more than a rude middle finger to President Biden by Trump supporters - and there's no question NASCAR fans are disproportionately pro-Trump," Sabato wrote in an email exchange. "For the most part, NASCAR has admirably tried to disassociate itself from partisan and racist nastiness, so let's hope they do the right thing and nix this sponsorship deal. . . . This is not the image NASCAR should want to project."
Phelps, who was asked during his season-ending news conference how he felt about NASCAR being associated with the "Let's Go Brandon!" chant, called it "unfortunate."
"We do not want to associate ourselves with politics, the left or the right," Phelps said. "We obviously have, and we've always had, as a sport tremendous respect for the office of the president no matter who is sitting.
" . . . Do we like the fact that it kind of started with NASCAR and then is gaining ground elsewhere? No, we're not happy about that. But we will continue to make sure that we have respect for the office of the president."
Phelps added that NASCAR would block any instance in which the phrase was used in conjunction with NASCAR's logo or trademarks.
It's unclear if Brown realized that NASCAR must approve sponsorships before his Fredericksburg-based team, Brandonbilt Motorsports, announced Thursday its 33-race deal with the cryptocurrency meme coin LGBcoin.io for the 2022 NASCAR Xfinity Series season. Neither he nor a team spokesman responded to a request for comment.
The news release makes no mention of Biden and characterizes the product, which a disclaimer makes clear has "no intrinsic value" and should not be bought with any intention of resale, as "America's Coin" that "aims to inspire positivity and unity, grounded in a strong belief of the American dream."
James Koutoulas, founder of Typhoon Capital Management and the investor behind the coin, called Brown an exemplar or perseverance and "truly America's Driver."
"We are proud to support Brandon this season, to help him continue his American dream," Koutoulas said in the team's news release. "If we do our job right, when you think of us, and you hear, 'Let's Go Brandon,' you'll think and feel, 'Let's Go America.' "
The story of how Brown's name came to be appropriated as a euphemism for "F--- Joe Biden" requires explanation.
After Brown's first career victory, at Talladega, the crowd erupted in chants of "F--- Joe Biden," which an NBC Sports reporter conducting the trackside interview apparently heard as "Let's go Brandon!" She announced on-air that the crowd was voicing its support for the driver.
The phrase quickly caught on as coded message of animus toward Biden that was chanted en masse at several sporting events and rallies. Last week, an Oregon man used the phrase during a Christmas Eve call-in event with Biden and first lady Jill Biden, prompting an avalanche of attention; he later said he was considering a run for office. Rep. Lauren Boebert, R-Colo., wore a red dress emblazoned with "Let's Go Brandon" to a Nov. 4 meeting with former president Donald Trump at his Mar-a-Lago resort in Palm Beach, Fla., and afterward tweeted a photo with the caption: "It's not a phrase, it's a movement! #LGB."
Brown has been less explicit about his own views.
In a Dec. 20 op-ed in Newsweek, he wrote of his fear of "being canceled" by sponsors over the controversy and explained how, at heart, he is a pure racer with no time for politics.
But Brown also alluded to his growing solidarity with those who feel the current administration is out of step or doing them harm.
"I'm also no longer going to be silent about the situation I find myself in, and why millions of Americans are chanting my name," Brown wrote. "I hear them, even if Washington does not."
Corporate sponsorship is the lifeblood of auto racing because prize winnings don't come close to covering the costs of fielding even moderately competitive cars.
As Brown noted in his Newsweek commentary, " . . . in my world, there is no car to drive without the sponsors."
Under that economic model, NASCAR's racecars serve as rolling billboards designed to capture the attention of ticket holders and TV viewers as they whiz by at nearly 200 miles per hour.
But just as the Federal Communications Commission regulates what products can be advertised on television, NASCAR regulates what products can be emblazoned on the cars that compete in its events.
It has been a tricky line to police - even before the current divisiveness in American politics and the viral spread of "Let's go Brandon."
In recent decades, NASCAR has allowed racecars to be sponsored by political candidates, but has not permitted explicit political messaging.
NASCAR has allowed NRA billboards trackside but drew the ire of gun-rights activists in 2019 for rejecting ads from makers of assault rifles.
While NASCAR years ago barred displays of the Confederate flag on its racecars, the sport triggered a backlash among a segment of its supporters by extending that in June 2020 to a ban on fans' displays of the Confederate flag in its grandstands and infields.
The question NASCAR now faces regarding Brown's LGBcoin sponsorship is whether it will allow a car to be used as a billboard to promote a product that its manufacturer insists is patriotic yet is viewed by many as a coded message of political hate.
---
---
---
---