Air Force dining facility is first to get salad-serving robot
by
Chad Garland
Stars and Stripes
December 26, 2021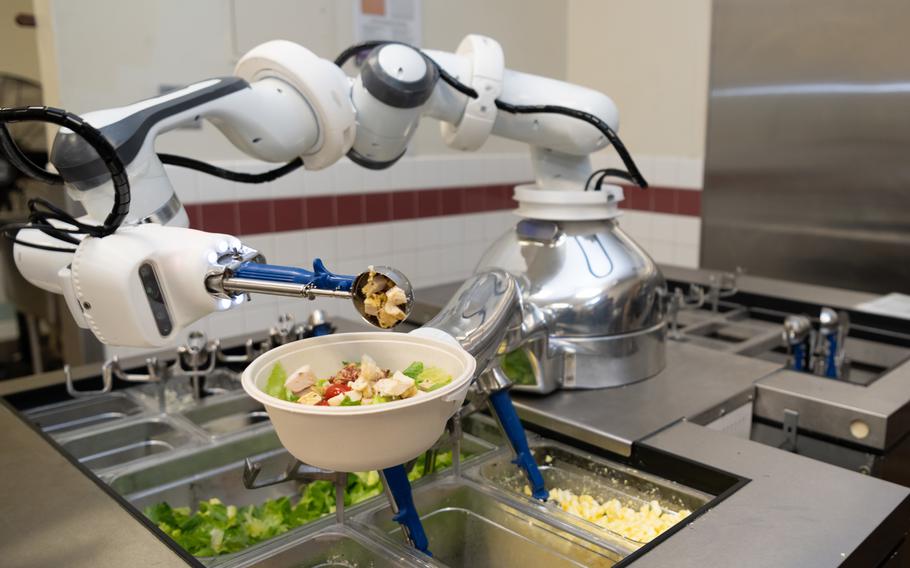 One chow hall worker doling out bacon bits and cherry tomatoes at an Air Force chow hall doesn't need a hair net or face mask.
Northern California's Travis Air Force Base is the first in the military to get a "hygienic robot arm" named Alfred at its Monarch dining facility, the 60th Air Mobility Wing said Thursday.
Alfred was developed by Boston-based startup Dexai Robotics to cut food waste, reduce risk of germ transmission and free up human hands for other activities, the wing said in a statement.
The base northeast of San Francisco is part of a Defense Logistics Agency proof-of-concept for the system, the statement said, quoting Maj. Hewko Tyler, 60th Force Support Squadron operations officer.
"Will Alfred be able to provide the reduction in food waste, improvements in sanitation and manning benefits as projected?" Hewko said. "We are excited to find out."
Photos show the robot filling bowls with ingredients from a salad bar in the facility's kitchen as various base leaders look on and record the event on their smart phones Dec. 9.
The robot's helping hand could let kitchen staff focus on other tasks, such as running grills or focusing on flight kitchen orders, dining facility manager Tech Sgt. Eddie Hurtado said.
"We get pulled in so many different directions that anywhere where we can free up some time is a benefit to us," Hurtado said.
Using a robot arm adapted to kitchen cleanliness standards, the system has specialized machine vision and other programming to recognize ingredients, pick and scoop items using separate utensils, and put portions into a container, says a contract award description on SBIR.gov, a site for government small business innovation research funding.
It takes eight seconds for each ingredient and "minutes" for a full order, Dexai's website says. Teams of robots could collaborate for faster preparation. The system tracks each order so it can provide a heads-up when inventory is running low or show what ingredients are most popular, the company says.
The Defense Logistics Agency awarded more than $99,000 to the 16-person Massachusetts firm for a first phase of work that would adapt it into a "touchless" system using voice and gesture input so service members could order from an automated salad bar or hot food line without using a touch screen, the description says.
Phase one also included testing the system at an actual military cafeteria, says the description, which lists an initial contract end date of April 26. Phase two was expected to involve more research and testing in a real-world setting, says an earlier solicitation on SBIR.gov, while a third phase would focus on commercialization of the system.
In September, DLA awarded Dexai a two-year research contract worth about $1.6 million, according to data on the website USAspending.gov, which appears to be funding for the second phase.
Alfred's designers were also expected to develop plans for the robot to take on other kitchen duties, such as operating grills, fryers and other equipment, or preparing raw ingredients, the initial SBIR.gov contract announcement said. The robot can fry, saute, stir, stew, bake, grill, chop, slice, dice, blend, mix and more, it said.
Videos on Dexai's website say Alfred takes 15 minutes to set up and show it dishing out ice cream, grilling a steak and preparing a Greek salad.
"Whatever the DLA and the Air Force find to be the most appealing feature — maybe it's the speed, the safety or the sanitation — the Dexai team can focus on that as part of their product development," Travis Air Force Base said.
If the trial is successful there, Alfred may be installed elsewhere under a proposal to put systems at up to 10 different dining facilities, the base said.
---
---
---
---