1,100 meals passed out on Christmas Eve
by
Joe Gilroy
The Lima News, Ohio
December 25, 2021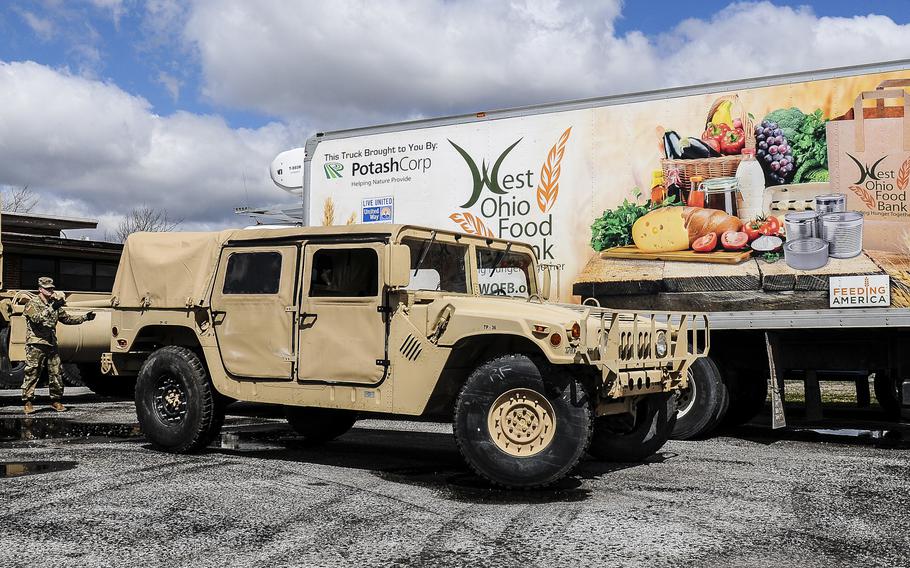 OHIO (Tribune News Service) — When she heard the news that the Lima Community Christmas Dinner was canceled again this year, a sadness washed over West Ohio Food Bank CEO Tommie Harner — then she decided to act.
"There wasn't much time to put something together but I couldn't sit by without at least trying to help those in need," Harner said.
Volunteers have worked hard to serve a free Christmas dinner to those in the community who might otherwise be alone or without the resources to enjoy a holiday meal since 2003 and Harner felt COVID had already taken so much. Then she learned the committee had canceled the Christmas dinner just 10 days before it was to be held. Harner reached out to partner organizations to do what at first seemed impossible — put together a well-organized event on the fly. Harner was able to do that and more as she assembled a group capable of providing 1,1000 meals to those in need and countless bags of dog food in a week.
"We love to partner with different community partners. We serve as 11 counties, so whatever we can do to help make sure people are getting fed for the holidays," Harner said.
Kyle Catlett and Kenny Miller, the event coordinators, said the committee's decision to cancel this year's event was made with safety in mind.
"The Lima area has been dealing with increasing levels of COVID-19 cases and hospitalizations," Catlett said. "With cold and flu season coming, we felt there were additional risk factors to consider. It was an extremely difficult decision for us, as we love serving Lima/ Allen County in this manner. But to err on the side of caution, this is the choice we felt we needed to make at this time
"It's so rewarding to know that all these people are getting this meal to take home and they're going to have something," Harner said.
Other than turn the lives of organizers and volunteers upside down for a week and a half, Friday's event at the West Ohio Food Bank was a big success. They put quality food in many stomachs, they witnessed a lot of love and got to hear lots of laughter and joy from both the volunteers and the food recipients. It also came with a final silver lining of its own — a longtime volunteer for the Lima Community Dinner has decided to start another annual Christmas dinner next year.
Mike Melvin has helped organize the Lima Community Christmas Dinner since its first year and says he will be offering a dinner at the Eagles starting at 11 a.m. In addition to helping organize many community events in Lima throughout the year, Melvin is also passionate about taking care of the men and women who served in the military. He is the Honor Flight representative for Lima and has been responsible for making it possible for hundreds of U.S. veterans, many of whom were injured during combat, to witness their life's dream of taking the honor flight.
Melvin recently put a "feeler out there" to Eagles officials and the club was happy to offer them the space. Talking about next year awakened an enthusiasm in Melvin that grew into a frenzy when he talked about how the venue will have ample parking and the seating to facilitate a sense of family and friendship that only breaking bread with someone else can do.
___
(c)2021 The Lima News (Lima, Ohio)
Visit The Lima News (Lima, Ohio) at www.limaohio.com
Distributed by Tribune Content Agency, LLC.
---
---
---
---