Providers of care packages to troops socked by supply chain issues, heavier demand brought on by pandemic 
by
J.P. Lawrence
Stars and Stripes
December 23, 2021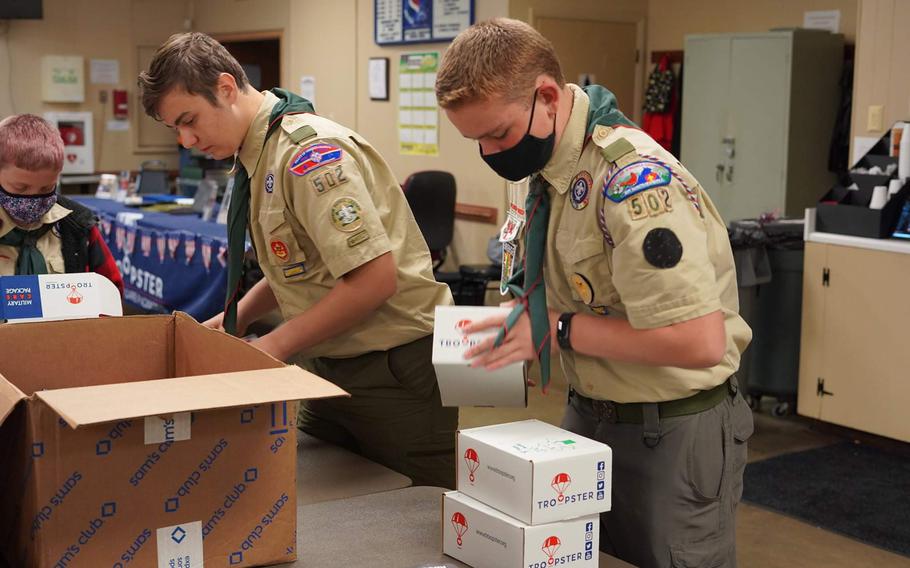 The supply chain disruptions adding to the cost and difficulty of sending gifts this year are having an outsized impact on groups that ship thousands of care packages to troops overseas.
On top of persistent readjustments, they are facing a large uptick in orders despite a drop in troop deployment levels.
"Holidays are always hard (for Americans stationed abroad), but when you add the uncertainty of what's happening back home, care packages have more of an impact," said Amy Palmer, CEO of the San Antonio, Texas-based charity Soldiers' Angels.
Freight charges to ship pallets of goodies to troops increased by an estimated 30% to 40%, Palmer said. Demand is also increasing, even though the withdrawal of U.S. forces from Afghanistan over the summer reduced the American military footprint overseas.
Soldiers' Angels began sending more boxes to troops on short rotations to South Korea after requests from there, Palmer said.
Previously, 30% of the charity's care packages each year went to troops in Afghanistan, she added. 
U.S. bases in the Middle East, Europe and the African country of Djibouti also are receiving a steady flow of care packages, groups said. 
Another group, Packages from Home, is also receiving more requests for deliveries to overseas troops. Demand is up 44% this year, said Meghan Richards, program director for the nonprofit operation in Glendale, Ariz.
Others interviewed for this story said their groups have seen similar upticks in requests.  
But fulfilling these requests is more difficult this year because of the tangled supply chains resulting from the pandemic. 
"We've had to change a lot of our standard products because the cost of everything increased," said Chelsea Mandello, founder of the Norfolk, Va.-based nonprofit Troopster Care Packages. 
Troopster swapped out protein bars and body wipes for cheaper options this year, Mandello said. Even the boxes for the care packages have become more expensive.  
A recent survey by the forecasting company Oxford Economics said disruptions will continue for months before "mostly" easing by the second half of 2022. 
Volunteer groups have found ways around the disruptions, such as shipping out their gifts earlier than usual.  
The American Legion Auxiliary, which helps volunteers send care packages, is offering training on how to navigate postal and logistics issues.  
Soldiers' Angels has had to buy supplies in smaller batches from wherever it can source them. And Packages from Home staffers have had to do more legwork to fill the greater number of requests, Richards said.  
She added that toilet paper and individually packaged "to-go" peanut butter have proved particularly difficult to find.
"If something is sold out online that we need, we end up tracking it down in local retail stores and picking it up ourselves," Richards said.  
---
---
---
---