'It should be like welcoming our veterans': Iowa parishes rally to help Afghan families who aided US forces
by
Tom Barton
Quad City Times
December 16, 2021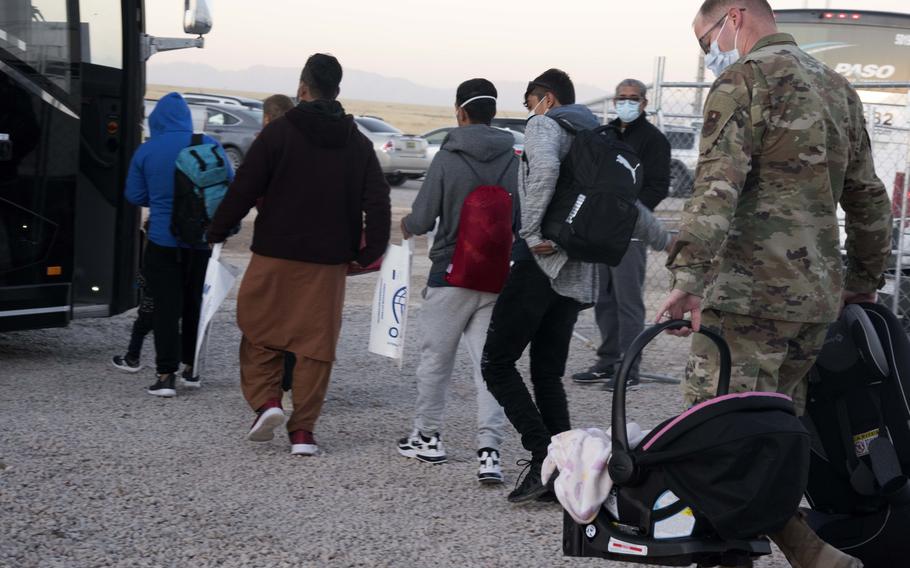 DAVENPORT, Iowa (Tribune News Service) — Bonnie Byrne of Davenport stood near the doorway and directed traffic as Charles Cassel of Bettendorf helped lug a bookcase up the steep driveway of the five-bedroom, two-story home in Rock Island.
Girls upstairs. Boys downstairs.
Roughly a dozen volunteers spent the afternoon Wednesday moving and setting up furniture, appliances, kitchenware and houseware items ahead of the anticipated arrival next month of a family of 11 from Afghanistan being resettled by World Relief Quad Cities.
"They're coming from all around the world to a strange place with languages and customs and all kinds of things they don't understand," said organizer Ryan Burchett of St. Paul the Apostle Catholic Church. "We hope that in a small way our presence here and our efforts here help to soften what is a difficult situation for them and allow them to feel welcome in our community."
Quad-Cities World Relief expects to resettle 175 Afghans by mid-February after American troops withdrew from Afghanistan earlier this year and the Taliban overthrew the nation's government in Kabul.
As of mid-November, more than 25,000 Afghans have departed U.S. military installations to resettle and start new lives in communities across the country, according to the latest figures from the U.S. Department of Homeland Security.
About 45,000 Afghan evacuees were still in the process of completing their resettlement and remained at temporary housing sites at seven military installations in Indiana, New Jersey, New Mexico, Virginia and Wisconsin, according to DHS.
Prior to entering the United States, Afghan evacuees must successfully complete a rigorous screening and vetting process that includes biometric and biographic screenings conducted by intelligence, law enforcement and counterterrorism professionals. Evacuees also receive critical vaccinations, including COVID-19.
As of last week, close to 70 Afghans had resettled in the Quad-Cities so far.
"We usually get a family maybe once every one or two weeks. We have 31 people to settle this week," said Quad-Cities World Relief Donations Coordinator Jerry Myers. "Donations, though, have been going fast," creating a need for furniture, including beds, couches, chairs and kitchen tables.
Winter coats, hats, mittens and bicycles, which provide an easy form of transportation, are also in high demand.
"They come here with basically nothing," Myers said.
Typically, World Relief receives about 48 hours of notification before a family shows up, Myers said.
"Fortunately, the community has responded," he said. "The phones have been going off about donations ... and reaching out to help these people."
When word got out that the Quad-Cities would start to see an influx of Afghan refugees, Burchett went to work and put out a call for help.
Over the course of two weeks, parishioners from St. Paul, Holy Family, St. Alphonsus and St. John Vianney Catholic churches collected more than 200 donated items to furnish the rental home for the Afghan refugees whose lives have been upended and families torn apart by decades of war.
"Some of them have left family members back at home," said Omidullah Barikzay, an Afghan immigrant working with World Relief to help refugees acclimate to their new home and chart a new life in an unfamiliar country.
"Because of the whole chaos and road blockages," many in Kabul were forced to leave family in outlying provinces behind, unable to reach them, Barikzay said. "Their wives, kids are left back home."
Barikzay was born in Afghanistan. His family moved to Moscow when he was 3 years old and has lived in Rock Island since 2012.
He serves as an interpreter, helping translate as refugees navigate health appointments, housing, transportation, shopping and paperwork. Often, he's one of the first faces families see when they arrive at the Quad Cities International Airport, serving as a familiar, reassuring and welcoming presence.
He emphasized those being resettled helped Americans during the 20-year war in Afghanistan, working in the U.S. embassy or in the Afghan government or military.
"They worked directly with the U.S. government or a U.S. contractor and provided services or helped the U.S. mission in Afghanistan so we have to keep that in mind," Barikzay said. "They're coming here because the situation forced them to be here. Their life was in danger."
Many, he said, served side by side with U.S. soldiers as interpreters.
"It should be like welcoming our veterans," Barikzay said. "Many of them were on the battlefield with the U.S. forces. ... They helped our interests in Afghanistan so we should welcome them here."
Even if it's just a simple greeting like "As-salamu alaykum," which is Arabic for "Peace be upon you" as a sign of respect and welcome, he said.
Barikzay said it's going to take time for the refugees to adjust and heal both from the enormous physical and mental health toll that decades of conflict have left, including the residual trauma of fleeing Taliban-controlled Afghanistan.
"You had small toddlers being passed over razor wire fence," to U.S. soldiers by desperate crowds in the hope of getting them to safety at Kabul international airport amid a frenzied and chaotic evacuation, Barikzay said. "Some of them have nightmares that they tell me about and (say), 'We still kind of see that.'"
Providing Afghan refugees with the health and mental health services they need to address their depression, anxiety and post-traumatic stress will be crucial, he said.
Barikzay, though, said he is encouraged and grateful for the community's response and support for arriving Afghan families.
"It's really easy to sit here in the Quad-Cities and think about these problems as something that happens clear around the world and are at arm's length," Burchett said. "We have opportunities to walk with these immigrants and migrants right here in our community."
While not of the same faith, "we believe it's important as human beings to be there with them and to help through what has got to be a crazy situation over the last few months for their families," Burchett said. "This is a family of 11 with kids from (ages) 3 to 16. That bends at the heartstrings as well."
(c)2021 Quad City Times, Davenport, Iowa
Visit Quad City Times, Davenport, Iowa at http://www.qctimes.com
Distributed by Tribune Content Agency, LLC.
---
---
---
---