Blinken cuts trip to Southeast Asia short after member of his entourage tests positive for coronavirus
by
John Hudson
The Washington Post
December 15, 2021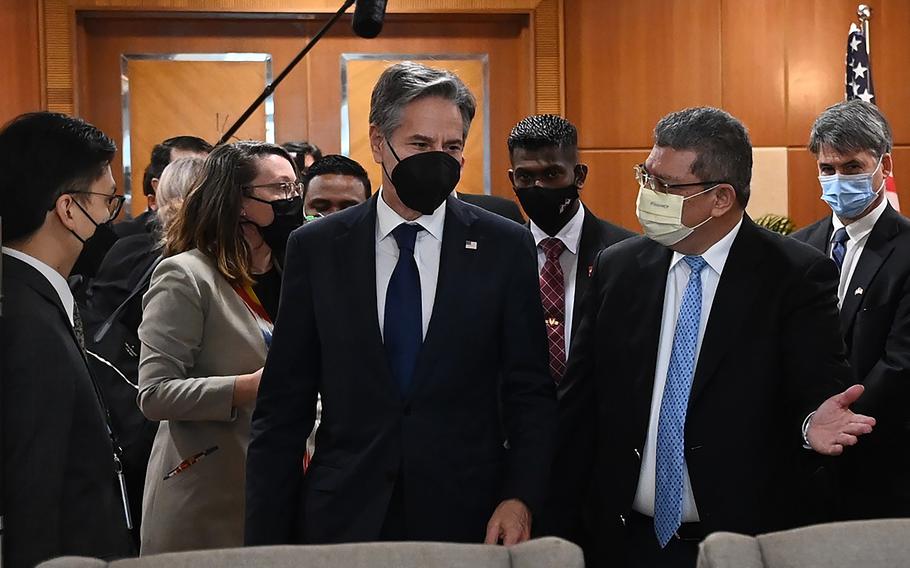 KUALA LUMPUR, Malaysia — Secretary of State Antony Blinken cut short his trip to Southeast Asia on Wednesday after a member of the press corps accompanying him on his visits tested positive for the coronavirus.
Blinken dropped a slate of planned meetings with government officials in Thailand from his swing through Southeast Asia, which included stops in Indonesia and Malaysia.
The truncated trip come as the omicron variant of the virus spreads rapidly across the globe, disrupting business and international travel, including Blinken's first official visit to Southeast Asia, where he has hoped to counter Chinese influence in the strategic and economically dynamic region.
"We learned this morning, through our routine PCR testing, that a member of our traveling press pool tested positive for COVID-19 upon arrival in Kuala Lumpur," said State Department spokesman Ned Price in statement.
The journalist had tested negative in Blinken's previous stop in Jakarta, but after testing positive in Kuala Lumpur began a quarantine for at least 10 days before returning to the United States.
"The individual who tested positive will remain in isolation, and we will continue to adhere to and go beyond CDC guidance, including with our rigorous testing protocol, for the remaining traveling party," Price said.
Price said Blinken expressed his "deep regret" to the foreign minister of Thailand that "he would not be able to visit Bangkok this week."
"He explained that, in order to mitigate the risk of the spread of covid-19 and to prioritize the health and safety of the U.S. traveling party and those they would otherwise come into contact with, the secretary would be returning to Washington, D.C. out of an abundance of caution."
In a carefully worded statement, Price said Blinken and his "senior staff" tested negative, leaving open the possibility that other members of his crew tested positive for the virus.
The highly contagious variant, which is quickly overtaking the delta variant as the predominant strain in the global pandemic, comes amid a flurry of travel ahead of the Christmas holiday season.
Among Blinken's traveling entourage, the prospect of testing positive from the virus and having to remain in Southeast Asia for a 10-day quarantine during the Christmas holiday loomed large.
Instead of resting overnight in Bangkok on Wednesday and meeting with Thai officials in the morning, the State Department said Blinken would do a quick layover in Thailand for logistical reasons and then make refueling stops in Guam and Hawaii.
---
---
---
---