Marine Corps commandant calls for focus on small forces not just hypersonic weapons to challenge China in the Pacific
by
Caitlin Doornbos
Stars and Stripes
December 14, 2021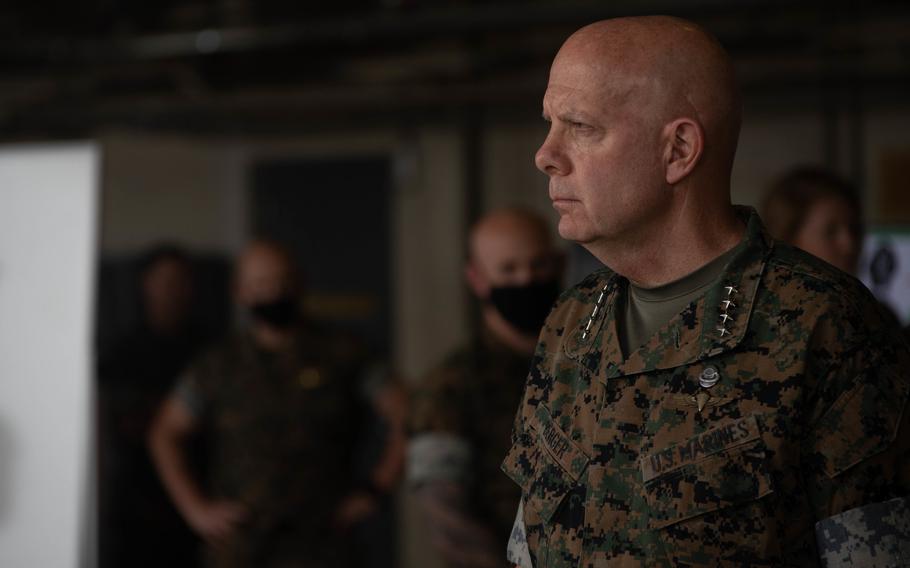 WASHINGTON – Marines – not just hypersonic missiles – are key to preventing a conflict with China and its growing military arsenal, the top general for the Marine Corps said Tuesday.
"The standoff [with missiles] from 1000 miles away works right into [China's] strategy," Marine Corps Commandant Gen. David Berger said during an event at the Center for a New American Security, a liberal-leaning Washington-based think tank. "We have to be in there [with troops], we have to be close-up and forward."
In August, China successfully tested its first hypersonic missile – a feat the United States is working toward but has not accomplished. Some lawmakers, such as Rep. Mike Gallagher, R-Wis., called the test "a call to action" for American arms development, urging more be done to field such weapons.
The missiles, capable of flying five times the speed of sound, could be important in a future fight against China, but Berger said the Pentagon also cannot forget about its most precious assets – its troops – in preventing a war before it starts.
The general said there are two arguments for countering China. The first calls for a "standoff" with China, where the two countries – armed with precision-strike and long-range missiles – keep each other at bay for fear of conflict. The other argues the U.S. should place its forces within a contested area to challenge Chinese operations.
Berger said the answer lies somewhere in the middle.
"I'm convinced that you need both -- you need a whole defense in depth," he said. "The standoff alone plays right into [China's] threat strategy."
To advance his strategy, Berger released a document Dec. 1 outlining his plan for using "stand-in forces" as the Marine Corps continues to adjust its focus from counterinsurgency and counterterrorism operations to addressing near-peer adversaries such as China and Russia.
Berger said the strategy was born out of discussions regarding how the "conventional force -- not strategic, not nuclear … [is] going to deter a peer adversary or a near-peer adversary."
The idea is to disrupt an adversary's plans by sending "small but lethal, low signature, mobile and relatively simple-to-maintain" forces from the Marine Corps, Navy and Coast Guard into contentious regions such as the South China Sea, Berger wrote in a Dec. 1 report on the strategy.
The small forces can then conduct better reconnaissance and counter-reconnaissance "below the threshold of violence" in contested areas, according to the report.
"This allows [the stand-in force] to assist in identifying and countering malign behavior, and if armed conflict does erupt, the joint force can attack effectively first and prevent the enemy from doing so," the report said.
Berger said the strategy's success lies in its counter to China's strategy, which has long involved restricting access in the South China Sea and operating unnoticed.
"Their effort is to make sort of a bubble – a shield – push us way, way out, and then they operate in here without being seen," he said. "That's perfect for them, so they want to do that over and over again."
That's why, Berger said, the "standoff" strategy of pitting the adversaries against each other should be a strategy of last resort.
"Standoff is 'what is the force that you're going to need to fight China and win?' To me, that equals strategy failure," he said. "If we're fighting China, then our strategy has failed."
Berger said the stand-in strategy will help stop a potential conflict before it happens by staying close in the region.
"What we should be asking is, what do we need to prevent conflict from happening? How are we going to assure our partners and allies every day, every week? How are we going to sense what's in front of us [and] every day, paint a picture of what the adversary is doing?" he said. "Stand-in answers a lot of questions.
---
---
---
---