Workers killed in Illinois building hit by tornado include Army veteran
By
St. Louis Post-Dispatch
December 13, 2021
---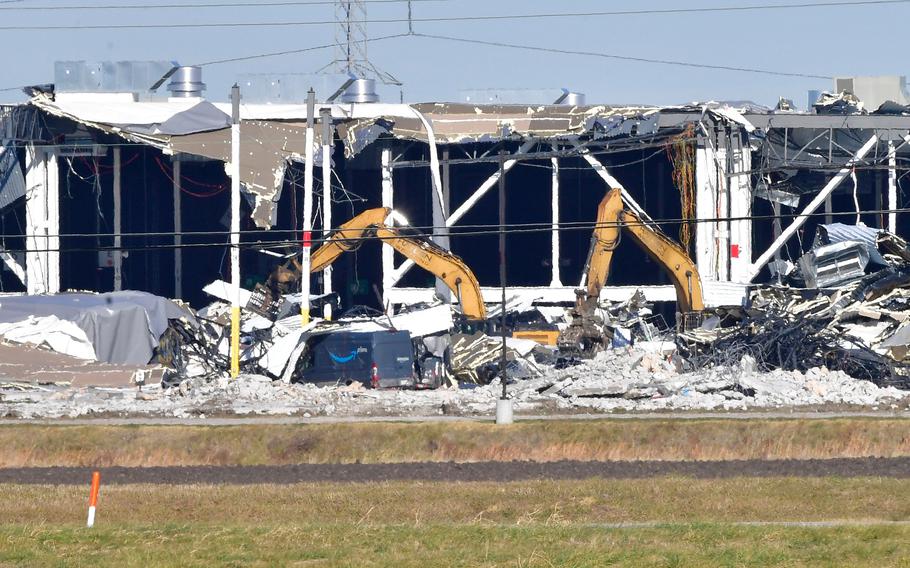 EDWARDSVILLE, Ill. (Tribune News Service) — Jaeira Hargrove and Etheria Hebb loaded up their delivery vans Friday morning at an Amazon facility near Edwardsville and spent the day delivering packages in the Glen Carbon area.
When the weather started turning bad, they returned and quickly parked their vans. A woman told them to head to the bathroom because of a tornado warning, Hargrove said Sunday in an interview with the Post-Dispatch.
Growing up in the St. Louis area, they'd been through warnings before but neither thought they would ever be hit by a tornado, Hargrove said.
They walked to the bathroom, not in a panic.
"We were just standing there talking. That's when we heard the noise. It felt like the floor started moving. We all got closer to each other. We all started screaming," said Hargrove, 33.
The building collapsed as an EF3 tornado smashed into it.
Both Hargrove and Hebb were knocked to the floor. Hargrove was calling out to Hebb, but Hebb didn't respond. She was one of the six people who were killed in the building's collapse.
Officials on Sunday identified the dead as:
— Hebb, 34, of St. Louis.
— Deandre S. Morrow, 28, of St. Louis.
— Kevin D. , 62, of Carlyle, Illinois.
— Clayton Lynn Cope, 29, of Alton.
— Larry E. Virden, 46, of Collinsville.
— Austin J. McEwen, 26, of Edwardsville.
Virden's girlfriend, Cherie Jones, told KTVI Fox 2 that Virden was a U.S. Army veteran who started his job as a delivery driver just a few months ago. The couple has three children younger than 12, she said.
Hargrove and Hebb are cousins, part of a large and close family.
Hebb grew up in St. Louis. Before starting work with an Amazon contractor in October, she worked at Barnes-Jewish Hospital, said another Hebb cousin, DeNisha Robinson, 37, of Florissant. Hebb prepared food for patients.
Robinson was last with Hebb in November, to celebrate their grandmother's 75th birthday.
"She was dancing, smiling; her son was there. She was just full of life," Robinson said. Hebb's son, Malik, turns 2 in the spring.
The family was set to gather next weekend for their Christmas celebration. Now, they are gathering at Hebb's mother's house in Bel-Ridge to mourn Hebb and plan her funeral, Hargrove and Robinson said.
Hargrove said she is still in shock. She's bruised, stiff, sore and in pain. She went to the hospital Sunday but didn't want to stay there with her cousin's death dominating her mind.
Hargrove thinks Hebb didn't suffer: "She didn't move. She didn't respond. And she didn't make any noise."
Hargrove said that a third woman in the bathroom, whose name she does not know, called 911 and told them where the women were. It took emergency responders 10 minutes or less to get there. They had to cut a hole and pull the women out of the rubble. Hargrove and other survivors were taken to the Pontoon Beach police station, where they stayed for about three hours, she said. Both Amazon and her employer have reached out to her since the accident, she said.
Cope's mother, Carla Cope, told the Post-Dispatch Saturday that her son was a maintenance worker. She was on the phone with him right before the building was hit and urged him to get to shelter.
Clayton Cope loved his job, fishing and his coonhound, Draco, she said.
On GoFundMe, a McEwen family friend called Austin McEwen "a beautiful soul, loved by all who met him. He had a wonderful smile and gave big, warm hugs. He was a talented baseball and hockey player. He loved the outdoors and his hunting dogs. He graduated from Vatterott College with a degree in mechanics. He was hard-working, kind and will be deeply missed. He was taken from this world far too soon."
McEwen is survived by his parents and his longtime girlfriend Sara, the post says.
Morrow's grandmother, Betty Morrow, said her grandson had been working at Amazon for several years but wanted to start his own clothing line.
"He was very artistic. He could draw anything. Very smart child," she said.
Dickey's family said Dickey talked often about his co-workers and had a great bond with many. Dickey loved spending time with family and "stole the show and the hearts of his grandchildren anytime he was around," the family said in a statement. "We have lost a very special person."
Dickey is survived three children and five grandchildren. He was a driver supervisor at Amazon, said his son Justin Dickey.
Other relatives could not be immediately reached for comment.
Officials said Sunday no employees were missing, but the Edwardsville Fire Department was still clearing debris from the site and working with Amazon representatives "to account for all of their personnel." Anyone needing to report a relative who might be missing should contact the Edwardsville Police Department at 618-656-2131, officials said.
The National Weather Service said Saturday night that the tornado that hit the Amazon building reached the EF3 category — the third-strongest rating on the Enhanced Fujita Scale, with winds between 136 mph and 165 mph.
The tornado touched down just northwest of the intersection of Interstates 255 and 270, then traveled northeast into Edwardsville.
It triggered the collapse of a 40-foot-high wall about the length of a football field, which brought a portion of the roof down as well, Edwardsville Fire Chief James Whiteford said Saturday.
The building is a "delivery station," where workers prepare orders for delivery by Amazon Flex drivers and partners, Amazon said Sunday. Opened in July 2020, the building totals about 1.1 million square feet and employed about 190 people in multiple shifts.
In a statement, Amazon on Saturday said it was "deeply saddened" by the deaths.
"Our thoughts and prayers are with the victims, their loved ones, and everyone impacted by the tornado. We're continuing to support our employees and partners in the area," the statement says.
The other two Amazon facilities in the area, a fulfillment center and sorting station, are also closed, Amazon said.
Asked about precautions taken, the company said when a facility is made aware of a tornado warning, all employees are told to move to a designated, marked shelter-in-place location. Employees are trained on emergency response, the company said.
Amazon announced Saturday night that it would donate $1 million to the Edwardsville Community Foundation to help in relief efforts.
Edwardsville officials asked residents with significant tornado damage to call 211 for the United Way, where representatives will collect their information and send it to the proper authorities. And they warned residents to only use reputable contractors for cleanup and repairs.
Another EF3 tornado touched down northwest of Augusta and traveled northeast, past Defiance and across the Missouri River before returning to St. Charles County, the weather service said.
An 84-year-old woman, Ollie Borgmann, was killed when her Defiance home was blown off its foundation. Her husband, Vernon Borgmann, also 84, was injured.
Mark Borgmann said his mother was sweet and described her as a "typical grandmother."
The St. Charles County Police Department on Sunday said Highway F in Defiance is open to local traffic only, as crews clean up debris and assess damage.
Missouri Gov. Mike Parson on Sunday traveled to the Defiance area and Pemiscot County, where a child was killed Friday night.
The Weather Service said officials will continue to assess the path and strength of tornadoes that hit Missouri and Illinois.
On Sunday, officials were surveying damage associated with a possible EF2 tornado, with speeds ranging from 111-135 mph, in eastern Reynolds County about 12 miles south of Lesterville and two hours west of Cape Girardeau.
An EF0 hit the area of Wellsville, in Montgomery County, and an EF1 started near Sorento, Illinois, in Bond County, and moved northeast. It strengthened to an EF2 and traveled through Montgomery, Fayette and Shelby counties for dozens of miles, although Marshall Pfahler, a meteorologist with the National Weather Service, said Saturday that officials didn't yet know if path was continuous.
Another tornado was reported to have traveled from Shelby County through Moultrie and Coles counties in Illinois, and another in Cass County.
Two tornadoes were reported near Fayette, Missouri, in Howard County.
The tornadoes here were part of a storm system that included a tornado that hit Mayfield, Kentucky, and traveled for hundreds of miles. At least eight people died there as a candle factory was destroyed.
GoFundMe on Sunday set up a "centralized hub" to track fundraisers for victims of the tornadoes in all of the affected states. The company said the listed fundraisers had been verified by their "Trust & Safety" team.
(c)2021 the St. Louis Post-Dispatch
Visit the St. Louis Post-Dispatch at www.stltoday.com
Distributed by Tribune Content Agency, LLC.
---
---
---
---