'It's been a long time coming': The Citadel honors first Black cadets with portrait
by
Caitlin Byrd
The State
November 22, 2021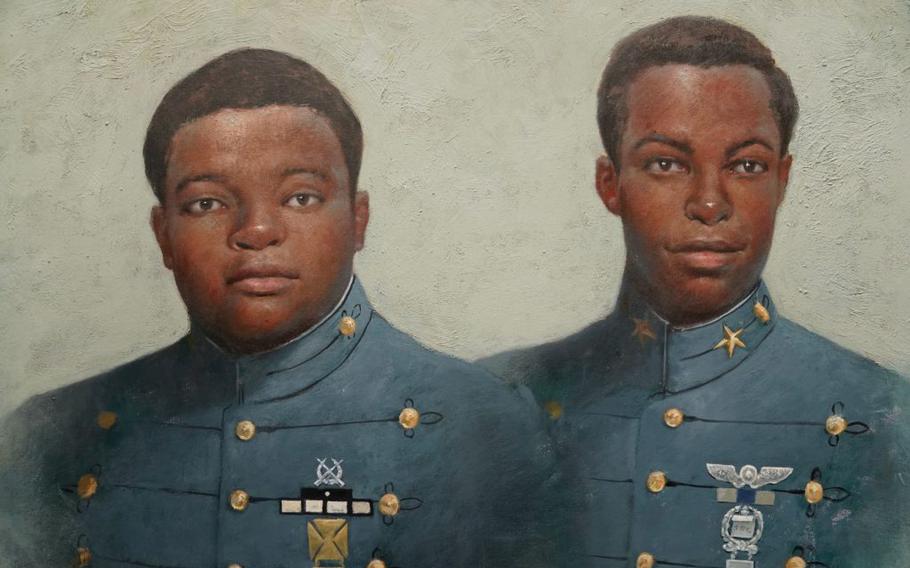 CHARLESTON, S.C. (Tribune News Service) — When 17-year-old Charles Foster reported to The Citadel in the fall of 1966, the Southern military school tried to downplay his historic arrival.
College officials asked the media not to make a fuss. An article published deep inside the New York Times the following day declared Foster's entrance, which desegregated the Corps of Cadets, had gone "virtually unnoticed."
And when a local TV station declined a $125 offer from CBS to interview Foster over the summer, the school's public relations officer sent a memo to the college president, assuring him, "the public exposure was avoided."
Now, more than 50 years after Foster quietly became the first Black student to join The Citadel Corps of Cadets, the military school that once tried to understate his contributions has honored both Foster and Joseph Shine, The Citadel's first two African American cadets.
During its 2021 homecoming weekend, after the pandemic canceled original plans for a large public unveiling in 2020, The Citadel presented a large portrait of both Foster and Shine to a standing-room-only audience.
In the portrait, Foster and Shine appear shoulder-to-shoulder in their blue dress uniforms, immortalized forever. Foster graduated from The Citadel in 1970, and Shine graduated the following year. Both are now dead.
The painting, which is more than 5 feet long and some 4½ feet tall, is now the largest portrait in the great hall of the Daniel Library, according to The Citadel.
"This is really important to us, to the family," Genea Galloway, Foster's cousin, said in a news release. "And to know that he's inspired other African Americans and people of color to get an education here? We're proud of this moment."
It's part of an ongoing effort by The Citadel as the military college seeks to tell its full story by honoring the contributions of Black cadets who both helped integrate the military college and who endured varying degrees of racism at the school.
As Foster walked to and from class, white cadets would shout epithets out their windows at him. Once, while Foster stood in formation with his company, a group of cadets from another company charged at him, screaming and yelling, while dressed as Klansmen in white sheets.
"They're trying to break me. I'm not going to let them do it," Foster told his brother during his first two years at the school. "They're trying to make me seem as if I'm weak. That I can't continue on."
But in a 2019 oral history about his barrier-breaking brother, William Foster said his sibling refused to give up and would often remind himself, "Anything they can do, I can do."
Though Shine was not the first, he, too, overcame obstacles and had to confront racist attitudes during his time at The Citadel when he became the second African American in the Corps of Cadets and the only Black cadet in the graduating class of 1971.
Shine would later tell Alex Macaulay, a historian and a 1994 Citadel graduate who published a book about The Citadel, that the attitudes of his classmates ranged from "supportive" to "outright racists."
When Shine heard a knock at his door one night during his first year, he opened it to find some cadets had poured fingernail polish remover in the shape of a cross on the floor and set it on fire.
"To say the road was difficult was an understatement," said Theodore "Tip" Hargrove III, who spoke at the portrait installation ceremony. "It's no secret about the racism that existed throughout all of America, not just the deep South. But they had allies."
One of those allies was Shine's roommate, Jim Lockridge. He attended the portrait unveiling in honor of his former classmate and roommate.
"This is every emotional for me. It's been a long time coming," Lockridge said in a news release about the painting.
During their senior year, Lockridge and Shine joined other cadets at a local bar. But when Shine ordered a beer, he was denied service because of his race and told he would only get his drink if he moved to a back room. In response, the cadets walked out of the bar in solidarity.
The injustice Shine faced that night prompted Lockridge, who was editor of The Brigadier at the time, to write a piece in the school newspaper.
Beneath the headline "Rights Denied," Lockridge called for a Corps-wide boycott of the bar and vowed not to step foot in the bar until the tavern learned "black is just as beautiful as white."
The Citadel President, Gen. Glenn M. Walters, said the reason the school has portraits in the great hall of the Daniel Library is not only to honor past graduates but to inspire cadets today.
Shine's wife, Judge Margaret Louise Beane Seymour, sat in the front row, waiting, during the portrait ceremony.
"It's an honor to be here. I know Joe would be so proud," said Seymour, a senior United States District Judge for South Carolina who lives in Mount Pleasant.
Shine was a distinguished student, who served on regimental staff his senior year and was a founding member of the college's African-American Society. He later attended Harvard Law School in 1974 and would become an attorney for the city of Charleston.
Shine also served as South Carolina's chief deputy attorney general from 1987-1993.
Cadet Samantha Walton, a senior at The Citadel who is also African American, presented a framed African American Society cadet patch to Shine's wife in his memory.
"Seeing this portrait of these two chivalrous men, in this place with all of these other portraits, is magic," Walton said.
After the unveiling ceremony, Seymour walked up to the portrait to look at her husband and Foster, the young man who encouraged him to keep going.
She took out her phone and took a photo of the portrait, her face mask unable to hide her smile or her pride.
(c)2021 The State (Columbia, S.C.)
Visit The State (Columbia, S.C.) at www.thestate.com
Distributed by Tribune Content Agency, LLC.
---
---
---