Proud Boys leader denied early release from DC jail
by
Paul Duggan
The Washington Post
November 22, 2021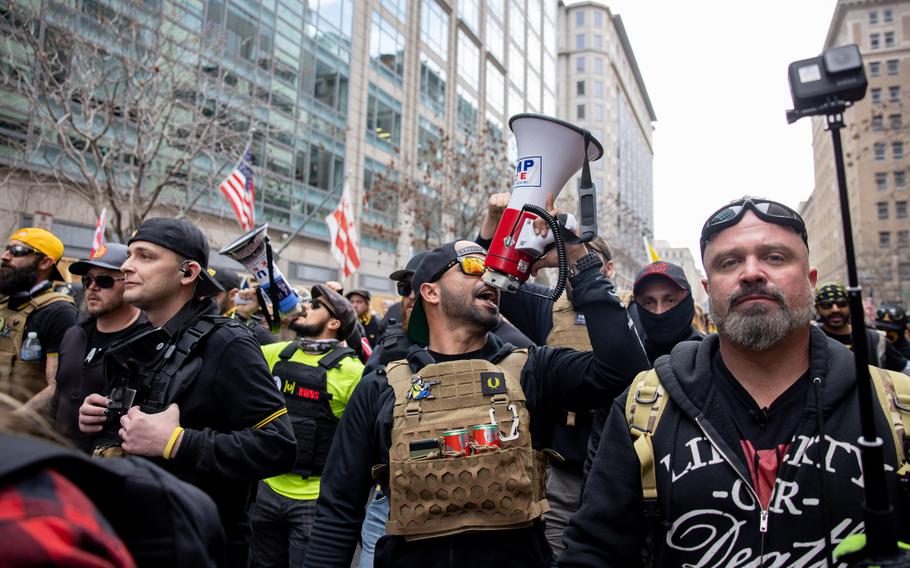 WASHINGTON — Henry "Enrique" Tarrio, a national leader of the far-right group the Proud Boys, has been denied early release from the D.C. jail by a judge who ruled that poor living conditions in the facility are not sufficient reason for Tarrio to be transferred to home confinement.
In a written ruling Friday night, D.C. Superior Court Judge Jonathan Pittman said he largely believed Tarrio's allegations, made at a Nov. 15 hearing, about experiencing unsanitary conditions and mistreatment at the jail. The judge noted that the D.C. Department of Corrections "admits that much of what the defendant has claimed did in fact occur."
But after reviewing Tarrio's three legal arguments for being let out of jail, Pittman said each argument fell short.
Tarrio, 37, has served about half of a five-month term for two crimes, including setting fire to a stolen Black Lives Matter banner late last year during a tumultuous demonstration in Washington after the election defeat of President Donald Trump. Authorities said members of the Proud Boys group, which has a history of violence, stole the banner from a historic Black church in the city.
At the hour-long hearing Nov. 15, Tarrio and his attorney said Tarrio has endured abuse by jail staff members, unhealthy living conditions, poor food and a lack of medical care. The complaints echoed the findings of a surprise inspection of the facility last month by the U.S. Marshals Service, which listed numerous "systemic failures" at the 45-year-old jail in Southeast Washington.
In seeking transfer to home confinement, Tarrio said his Eighth Amendment right against cruel and unusual punishments was being violated at the jail.
But Pittman said that an Eighth Amendment claim would have to be litigated in a lawsuit, with evidence and testimony, and not at a hastily scheduled, 60-minute hearing.
Even if Tarrio prevailed in such a lawsuit, the "appropriate remedy for unconstitutional conditions of confinement is correction of the unconstitutional conditions of confinement, which are experienced by all inmates, not just the defendant," Pittman said in his decision, issued shortly after 11 p.m. Friday.
In addition, Tarrio sought release under a Superior Court rule that allows a judge to reduce a sentence after it has been imposed. But Pittman said the rule does not apply to sentences, like Tarrio's, that are under appeal.
Tarrio also asked to be freed under the District's "compassionate release" statute, but the judge said Tarrio "fails to establish that his case presents 'extraordinary and compelling reasons' warranting a modification," which the statute requires.
Most of the roughly 1,500 inmates at the jail, including Tarrio, have local criminal cases in Superior Court. But several hundred others have federal cases in U.S. District Court. The findings of the surprise inspection prompted the Justice Department to announce that 400 federal prisoners would be transferred from the jail to the U.S. penitentiary in Lewisburg, Pa., a process that authorities said has begun.
The Marshals Service and the D.C. government signed a legal document Nov. 9 in which they agreed to work together to improve conditions at the jail.
The BLM banner that Tarrio admitted burning was stolen Dec. 12 from Asbury United Methodist Church, at 11th and K streets NW, as far-right protesters marched in support of Trump's effort to falsely delegitimize President Joe Biden's election victory.
After pleading guilty to destruction of property and to a charge of attempted possession of a high-capacity ammunition magazine, Tarrio was sentenced to 155 days behind bars. He reported to the jail Sept. 6 to begin serving his time.
---
---
---