Klobuchar and Cotton introduce legislation to regulate Big Tech acquisitions
by
Cat Zakrzewski
The Washington Post
November 5, 2021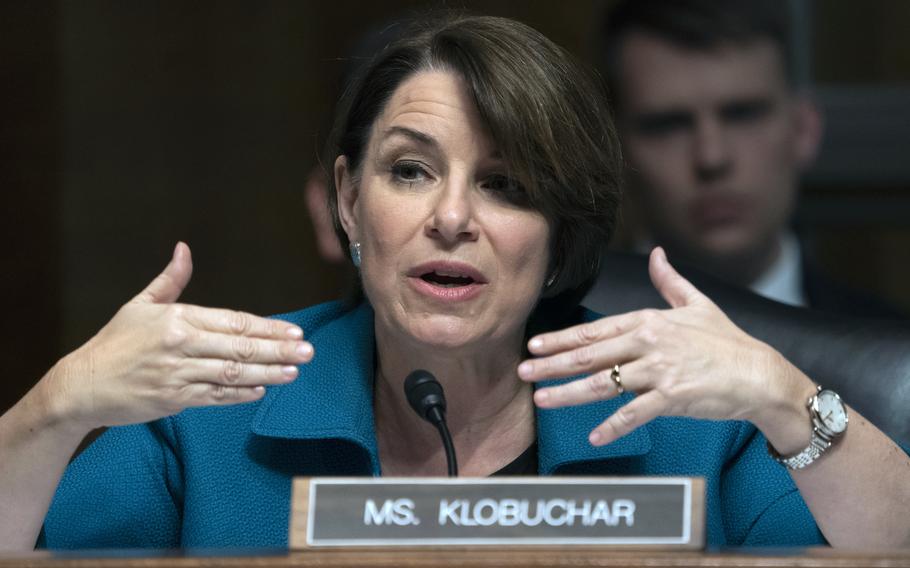 WASHINGTON - Sens. Amy Klobuchar, D-Minn., and Tom Cotton, R-Ark., on Friday introduced legislation that would make it easier for regulators to block large tech companies from buying up rivals or nascent competitors, the latest display of the bipartisan push in Congress to rein in the tech industry.
The Platform Competition and Opportunity Act takes aim at large tech giants' strategy of gaining dominance through buying other companies, which has become a growing concern of Washington lawmakers and regulators. This strategy is central to the Federal Trade Commission's lawsuit against Facebook seeking to unwind the company's acquisitions of WhatsApp and Instagram.
"Today, we're increasingly seeing companies choose to buy their rivals rather than compete," Klobuchar, chairwoman of the Senate Judiciary antitrust subcommittee, said in a statement.
When mergers are proposed, regulators need to prove that they're anticompetitive to block them. But Klobuchar's and Cotton's legislation would shift the burden to the tech giants, requiring them to show that a deal is good for competition in order for it to go through.
The bill is just the latest in a flurry of antitrust proposals that seek to curtail the path that lawmakers say tech giants including Facebook, Apple, Amazon and Google took to dominance. (Amazon founder Jeff Bezos owns The Washington Post.)
In October, Klobuchar and Sen. Charles Grassley, R-Iowa, introduced legislation that would make it illegal for these companies to engage in "self-preferencing," practices that give their own products a boost over those of rivals using their platforms.
After years of rhetoric about cracking down on the tech companies, the bipartisan bills are the strongest sign yet that lawmakers are seeking to dramatically transform the business practices of major tech companies. But the bills are certain to face strong opposition from tech industry lobbyists, and it's unclear if they have enough support to clear either chamber in a narrowly divided Congress.
NetChoice, a tech industry trade group that includes Amazon, Google and Facebook among its members, criticized the bill, saying it would drive investors out of the American tech sector and disadvantage U.S. tech companies globally. Despite the bipartisan support for the legislation, the group sought to pit Republicans against it.
"As Republicans look to take back Congress from the hands of the Democrats, they should not support legislation that provides the Biden administration an incredible amount of unchecked power to run the U.S. economy how they see fit," Carl Szabo, NetChoice's vice president and general counsel, said in a statement.
The House Judiciary Committee already has approved a similar tech acquisition bill that now awaits a vote by the full House, and the introduction of the bill in the Senate indicates that parts of House lawmakers' antitrust package are gaining traction in both chambers. But senators have not yet introduced a companion version of the most controversial House antitrust bill, the Ending Platform Monopolies Act. That legislation would make it illegal for tech companies to operate another line of business that creates a conflict of interest.
New limits on mergers would amount to a fundamental shift in how Silicon Valley companies have operated. Apple, Amazon, Facebook and Google have acquired hundreds of companies over decades to expand their businesses to new sectors. Amazon has used such deals to move beyond its e-commerce foundation into groceries, the "Internet of Things" and autonomous vehicles. Google bought up companies like YouTube and Android to move beyond the search engine into video sharing and mobile phones.
---
---
---